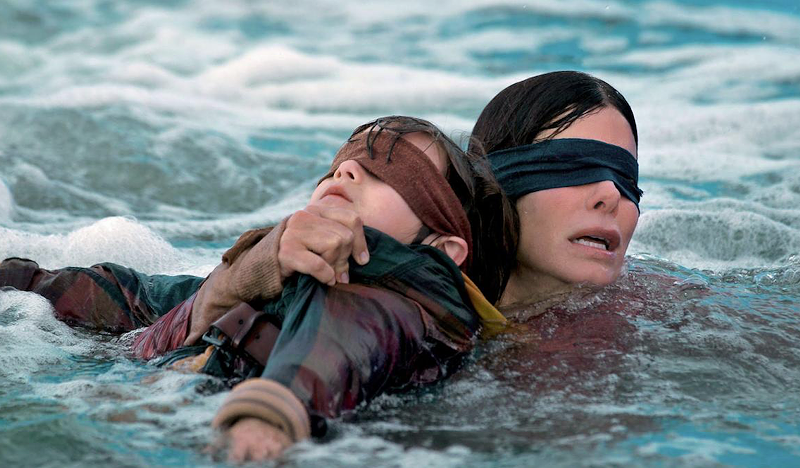 When he's not playing in his rock band the High Strung, which performs at Detroit's UFO Factory on Saturday, Josh Malerman says he's been writing book-length, horror-inclined manuscripts his entire life. That side of his career started taking off five years ago, leading to wide distribution of four more published novels after Bird Box.
Malerman admits that it seems unreal and immeasurably exciting that there's observable mania over Bird Box, which inspired a wave of memes that flooded social media over the holidays and high praise from celebrity fans like Stephen King and Reese Witherspoon. Still, he's keeping his focus on the connective tissue between the story told on screen and the one from his pages, as well as considering the lasting impact of the characters.
"It does feel like a wave. Some of the memes are brilliant," he says."But the thing that excites me most is the story being included in the ledger of great horror stories. This amazing thing of seeing Bird Box settle into the zeitgeist of popular culture parlance... does that mean Malorie's story will be read by a young woman or man in 30 years? That's overwhelming, in the best of ways."
Of the story's massive appeal, Malerman says its because the novel's unseen monster serves as a sort of Rorschach test for audiences. "There's no monster so easily delivered here, so what do you see?" he says.
Malerman says there's more where that came from: Bird Box is one "episode of the same television show," he says, referring to more stories that are in his head. He says there were more than 15 other manuscripts he'd typed out between tours of the High Strung in the years before he got a publishing deal with HarperCollins' Ecco imprint.
Combine that with his 19-year tenure in a band where four other constructive collaborators can shape his song, as well as enduring all the exacting notes from shrewd editors, and he's more than used to being able to loosen his grasp on his art as it grows toward fruition, as long as the core idea remains.
In the case of the movie: "A mother and two children traveling down a river, blindfolded, fleeing an unfathomable entity... that remains intact," he says. "I went to the screening prepared to be conflicted, but prepared to be at peace with it too. Early into the film, I turned to (artist and singer) Allison (Laakko) and said, 'Well, holy shit... it's really good!'"
Malerman says he was humbled when he realized his story wasn't his own anymore. "The movie opens with Malorie's speech to the kids, as the book pretty much does," he says. "But it's when she uncovers the rowboat by the river that I cried for the first time. Because it was then that I saw, with my own eyes, the conceit still intact. From there, I let (director) Susanne Bier take me down the river."

Get our top picks for the best events in Detroit every Thursday morning. Sign up for our events newsletter.