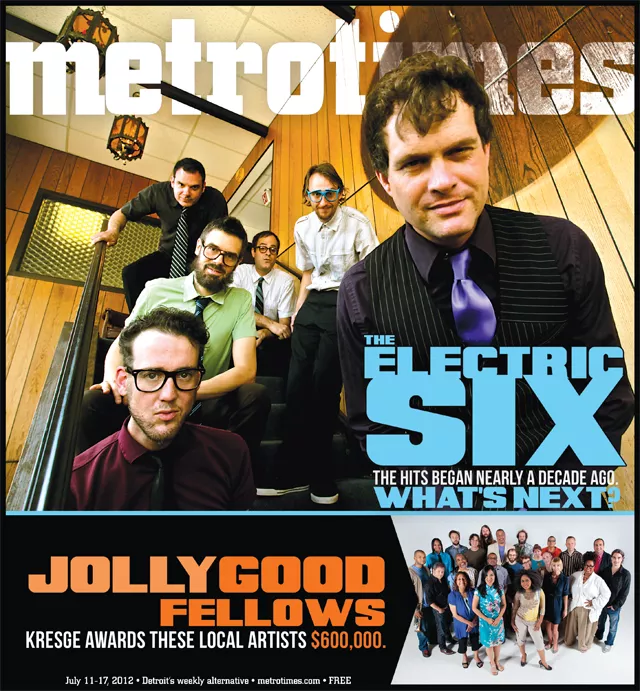 A former General Motor line worker who writes of lives against a backdrop of industrial din. A jazz trumpeter who's played behind the likes of Tony Bennett. An art historian who is exploring ways African-Americans have represented their culture and their struggles. A master of the kanun (a 76-string Middle Eastern harp) and a master of the erhu (a two-string violin-like instrument from China). A poet-psychotherapist who works at the nexus of pain, healing and art. Those are just a few of the 24 Detroit-area artists named as fellows this year by the Kresge Arts in Detroit program.
Divided evenly between the literary and performance arts, the fellows, chosen from a pool of nearly 450 applicants, each receives $25,000 as part of the Kresge Foundation's push to help sustain artistic careers in the area. In addition to the no-strings-attached cash awards, the fellows become part of a program by the group ArtServe Michigan to help with a range of career needs and practices. This marks the fourth round of fellow awards in a schedule that focuses in alternate years on visual arts and literary-performance arts.
The program is administered by the College for Creative Studies, and the fellows are chosen by mixed panels of local and national artists (this year including the likes of Wayne State University's Melba Joyce Boyd and Allmusic.com's Thom Jurek among the local representatives, and author Ishmael Reed and musician Don Byron among the national reps).
And to give the public a sense of what these artists are about, next April, Kresge plans a second installment of its Art X Detroit event, showcasing new works by the fellows of 2011 and 2012 as well as works by the separately chosen eminent artists from those years (authors Bill Harris and Naomi Long Madgett, respectively).
Here are the 24 fellows with samples in print of the works of the literary fellows. Read the online version of this story for links to and examples of the work of the performance artists as well.
LITERARY FELLOWS
CHERYL A. ALSTON
Cheryl A. Alston received a Bachelor of Arts degree in art history and a master's degree in interdisciplinary studies from Wayne State University, where she was the winner of several scholarships and grants. She has worked as an assistant curator at the Charles Wright Museum of African American History in Detroit and has been an intern at the Smithsonian Institution in Washington, D.C., and the Detroit Institute of Arts. She is interested in representation — particularly in the manner in which African American artists have portrayed their culture — and has developed a lecture series on African American artists and religion.
The issue of representation has been a challenging one for African Americans. Before the 1900s, when they were represented visually, it was primarily a negative image, subject to ridicule. To portray and own one's image is to empower one's self. This began to change by the first decade of the 1900s and one of the prevailing themes was lynching, a form of violence used against African Americans since they have been in the United States, but accelerated during Reconstruction, from 1865 to 1877, and during Jim Crow, from 1876 to 1965.
In response, an anti-lynching movement was established. Of the groups and individuals that spoke out against this injustice were African American artists of the visual arts, who, I believe, were champions of the movement because the visual image itself is profound. When they represented these acts of violence, they were not only claiming the racial image, but they were taking a stance against lynching, putting their art and their careers at risk and their lives in mortal danger. This pro-active position against lynching was juxtaposed against the dominant image of the time, that of a voiceless, powerless people. Many of the names of these artists, and their body of work, have been forgotten over time. If this art was taboo, how did it affect the careers and lives of the artists who created it?
From the essay "African American Artists of the Visual Arts: Champions of the Anti-Lynching Movement."
MARY JO FIRTH GILLETT
Mary Jo Firth Gillett's poetry collection, "Soluble Fish," won the Crab Orchard Series in Poetry First Book Award (Southern Illinois University Press, 2007). Her three award-winning chapbooks are Chandeliers of Fish (Poetry West Press, 2004), Tiger in a Hairnet (Small Poetry Press, Select Poets Series, 1999), and Not One (The Writer's Voice, 1998). Her poems have appeared in The Harvard Review, Michigan Quarterly Review, The Southern Review, Gettysburg Review, Third Coast and Green Mountains Review, among other journals. She has won the NY Open Voice Award, a Creative Artist Grant from ArtServe Michigan, and several Pushcart Prize nominations.
Itch, Scratch
—after Stephen Dunn
From everywhere and all-at-once,
from somewhere beneath the moon,
came the deep-sea fish that needed
to see, came the not-yet-flying squirrel
eyeing the two-far limb, came whale
and dolphin and bigger brains,
hair before razor, less fur more skin,
the opposable thumb, and fingers
for rings, for triggers, and of course
the triggerfish, though not in that order,
came bate-and-switch, lure and gulp,
the alligator snapping turtle,
came dog and god and much later
The Spanish Inquisition not-for-the-inquisitive,
came the rack and correct truths
and a need to stretch the truth,
and then a taller world—
upright posture before posturing—
came anger and angst and absinthe,
wastelines fat and thin, fancier hair and skin,
hook and eye in search of closure, exposure,
came style and stink and thus the harpoon,
and soon demigods and demitasse,
swagger and soiree, clipper ship and film clip,
and (without order) pit bulls, tar pits, cherry pits and pitfalls,
bells to sound joy, danger, and then
a complex of fears, because with neurons
come neurosis, bats in our belfry,
a lift from Zoloft, and learning to embrace
your beard of bees, your May your mayhem,
the hive of days honeycombed
with sweetness and stings.
From Mary Jo Firth Gillett's 2007 collection Soluble Fish.
LOLITA HERNANDEZ
Lolita Hernandez, born and raised in Detroit, is the author of Autopsy of an Engine and Other Stories from the Cadillac Plant (Coffee House Press), which won a 2005 PEN Beyond Margins Award. She has also authored two chapbook collections of poems: Quiet Battles (Wayne State University Writers Forum) and Snakecrossing (Ridgeway Press). After more than 33 years as a UAW member at General Motors, she now teaches in the creative writing department of the University of Michigan Residential College. Her family hails from Trinidad & Tobago and St. Vincent in the Caribbean.
This is how it was every Friday. Carlos, who made and sold tamales as a business with his brother Joaquin, often cooked nopales y huevos at the gatherings to the delight of his compañeros. Joaquin, as usual, assisted. The brothers were from San Luis Potosí, the area where cactus grew as far as the eye could see. All came to wash down the sweat and dirt from their various occupations during the week, although almost all of them still would find themselves on Saturday or even Sunday scrubbing restaurant dishes, stamping out an automobile part or arranging fruits and vegetables in one of the large markets in the city. But Friday evenings were theirs in amistad and mirth. Time to forget everything: immigration problems, familia en la patria and utilities that may be cut off at any moment. If anyone should want to forget troubles, certainly Orquidia would top the list. She was the one who experienced the toughest crossing, a textbook horror journey north from Oaxaca to Arizona and then across to Detroit. Who ever wants to come to Detroit? Especially after nearly losing a foot in the dessert running from the local militia and the dogs. But Detroit was where she landed full of tales about the cabrones in Arizona and laughter in awe that she had survived, so far.
From Lolita Hernandez's short story "No Puedo Bailar," originally published in the anthology Working Words edited by M.L. Liebler.
KIM HUNTER
Kim Hunter is a lifelong Detroiter employed in media relations for nonprofits. He has served as poet-in-residence in several Detroit public schools through the InsideOut Literary Arts Project. He co-directs the 10-year-old Woodward Line Poetry Series. His work has appeared in such publications as Rainbow Darkness, Abandon Automobile, Triage, Hipology, Metro Times, Dispatch Detroit and Graffiti Rag. His has published two collections of poetry: borne on slow knives (Past Tents Press, 2001) and edge of the time zone (white print inc, 2009).
1. Ipso in the Elephant
When Ipso gave birth to what most agreed was an elephant, there were those who tried to act as though it was normal. Well, yes, he was a man, they said, and no one had known he was pregnant but, it was, after all, a small elephant.
Prior to the birth, he had been eating strangely and spending an inordinate amount of time alone. But none around him had taken these things as signs that anything unusual was about to occur because he had said that he was a writer or that he wanted to be a writer. He had trouble deciding which of these things to tell people because writing happens so much in the mind that he thought it would be difficult to know when or if he had crossed the threshold. First, he would have to find something to write about.
He could write about the factory where he worked and things he and his coworkers made in the factory. He would have to start at the beginning and that would mean light in the morning. So he tried to begin with the light in his windows on the mornings he had to go to work versus the light in his windows on the mornings he did not have to go work.
The problem was, once he began writing about the light and how he slept, it felt like he was trying to walk on slippery rocks that sloped down toward quicksand or how he imagined a slope of slippery rocks would be, as he was not much for the outdoors and made sure to stay in when it rained. The fact that he could imagine these things made him lean toward saying that he was a writer as opposed to wanting to be a writer. But the fact that he had gotten his knowledge of quicksand from TV lessened his idea of himself as a writer.
Excerpt from The Official Report on Human Activity or Long for an Elephant, an Essay.
MICHAEL HURTT
Michael Hurtt's work is dedicated to shedding light on the artists, producers, record labels and music scenes that shook the world and then fell through the cracks of revisionist history. Drawing as much inspiration from his literary heroes as his musical ones, he writes with a force that entertains as much as it enlightens. He is currently at work on a book about Detroit's eccentric pre-Motown Fortune Records label.
When white-hot Memphis disc jockey Dewey Phillips slipped Sister Rosetta Tharpe's apocalyptic gospel anthem "There Are Strange Things Happening Every Day" onto the turntable of radio station WHBQ one night as 1949 dissolved into 1950, he instantaneously crystallized the present and forecast the future with a single song title. Testifying in a fractured frenzy from the "magazine floor" of the Chisca Hotel, ranting about wheel barrows full of "mad dogs," shattering musical boundaries and breaking every rule of respectable radio, Phillips clearly came from a parallel universe.
But make no mistake, mid-twentieth century Memphis was, perhaps more than any other American city, a series of parallel universes: trained ducks took their afternoon walk in the lobby of the high class Peabody Hotel while just around the corner, Beale Street's buckets-of-blood throbbed with race music and rolling dice; hillbilly bands held forth below the cotton lofts of Front Street while century-old riverboats steamed past on the Mississippi River. Barbecue and beer joints mingled with midget wrestling and the Mid-South Fair while gone-to-pot political ruler Edward Hall "Boss" Crump reigned above the madness, just as he had since shortly after 1910.
Crump was still preaching segregation and enforcing strict noise ordinances when Phillips began systematically undermining both via his nightly Red Hot and Blue show in the late 1940s. Now, whether Boss Crump ever heard Dewey's broadcast is anybody's guess, but there's no doubt that its raucous, rabble-rousing, racially-mixed results would have killed him. Instead, Crump kicked the proverbial bucket in October of '54, just as Elvis Presley's debut single, "That's Alright Mama," began its meteoric rise, and the world — to say nothing of Memphis, Tennessee — went rock 'n' roll crazy.
Excerpted from the liner notes to Charlie Feathers — Wild Side of Life (Norton Records, 2008).
STEPHEN JONES
Stephen Jones is a Detroit-area writer whose plays have been performed and well-received in Detroit, Chicago, New York and Boston. His play Back in the World was cited by the American Theater Critics Association as "One of America's Top Ten Plays performed outside of New York City." His play The American Boys received positive reviews from the Chicago news media. Both plays concerned the lives of African-American Vietnam War veterans. Jones is currently at work on several stage play comedies including Cadillac Kiss and Mainsbridge Station, along with his fatherhood blog, Babies 'N Beer.
From the early '80s through the mid-'90s, one of England's greatest exports was the metal band Black Pool, fronted by guitarist David Mainsbridge. Across Europe to North America, Black Pool kept audiences at fever pitch with such head-shredding songs as Belle of Me Balls and Fill the Cup, which continue to enjoy regular rotation on Classic Rock radio stations. Of course, for David Mainsbridge such past success has not been savored in his retirement. He longs to hit the road again with a Black Pool Reunion Tour. Following a Caligula-style party at the Mainsbridge Estate outside of London (just down the road from fellow retired rocker Pete Townsend), hopes of such a tour are squashed. Depressed, Mainsbridge contemplates suicide via elephant gun. Pulled back from the edge by his manservant Trevor, Mainsbridge then discovers the one man he has long considered a father-figure and the sole inspiration for his music — a black blues musician named Big Tiny Thompson — has recently died at his home in Detroit. Shocked to the core by this news, Mainsbridge and Trevor make an impromptu sojourn to Big Tiny's Detroit home where they are greeted by Big Tiny's daughter, Marianne, and her son Howlie. While Mainsbridge and Howlie drink way too much scotch, play blues guitar, argue and throw punches over the theft of blues music by white rock groups over the years, Trevor and Marianne quietly discover a surprising commonality between them.
A synopsis of Stephen Jones' full-length, three-act stage comedy Mainsbridge Station, which is currently looking for a producing home.
HEIDI KALOUSTIAN
Heidi Kaloustian, at the age of 17, was first recognized for her writing in a national competition. She was awarded a Davidson Fellowship by the Davidson Institute for Talent Development. She was the first Laureate of Literature to receive the top prize, a $50,000 scholarship at Davidson. At the University of Michigan, she pursued degrees in English and creative writing. During her undergraduate career, she carried out research projects in Japan and Ghana, and completed an honors thesis in poetry. She won a Hopwood Award for Fiction in 2007. A lifelong metro Detroiter, Kaloustian primarily writes fiction, but also works in poetry, screenwriting and the visual arts.
My father made his living gutting houses. Copper, aluminum, brass, nickel, tin. Lead and bronze. A concrete floor will be veined with steel, and the steel will fetch a good price. In smaller quantities, gold, silver, platinum. These are found in the derelict mansions. It is a tedious assignment, though, like mushroom hunting. Plucking a gold-plated faucet from the wall, gathering the doorknobs. There will be imposters, alloys. Any fair merchant will only deal in unalloyed metals. If you mistakenly throw an alloy on the pile, he will turn you away forever. My father never made this mistake. He did honest work.
My father studied engineering, but there was no work for an engineer.
He worked alone. He was sometimes unnerved by the empty houses, eerie, echoing. Moss creeping across the floors, a damp green carpet. Rosettes of black mold unfurling on the ceilings.
Once, he came across a golden deer in a dining room, sniffing the lace curtains. More often, he found the lice-livid sleeping bags and piss-pots of squatters. The squatters were skittish as deer. They made themselves scarce when they heard his work-boots on the stairs.
By the time I came up, the houses had been picked over. There is no money to be made in it anymore. I had to find work of my own. My work is not so different from my father's.
From the short story "A Living," from a collection of stories by the same name exploring the tension between identity and work.
PETER MARKUS
Peter Markus is the author of the novel Bob, or Man on Boat (Dzanc) as well as three books of short fiction, the most recent of which is We Make Mud. He lives in Trenton and is the senior writer with the InsideOut Literary Arts Project of Detroit.
The Moon is a Fish Eye
Let us brothers tell you this: that if you have never lived to look a fish up close into its eye, then you have never before lived. A fish's eye, when you look up into it, eye to eye, you will see that this eye, it really isn't an eye at all. What it is, a fish's eye is, it is a moon. The first time that us brothers came to see this, we were just a couple of boys getting ready to chop the head off of a fish. I held onto that fish. I held that fish's head down. Brother was the brother of us brothers who took his fish-cutting knife and with this knife that we used to chop off the heads off of our fish and to gut the guts out of our fish, Brother took his knife and he stuck it, this knife, into this fish's eye. When Brother did this with his knife, when he stuck the tip of his knife into this fish's eye, this fish eye—are you picturing this with us?—this fish's eye, in front of our own eyes, it shattered into a billion pieces. Each broken piece became a star.
KEN MEISEL
Ken Meisel is a poet and psychotherapist from Detroit. He is the author of five poetry collections, most recently Beautiful Rust (Bottom Dog Press, 2009). Much of his work comes from studying how pain becomes healing, and healing becomes hope. Being Irish, he believes that pain and joy walk as travel companions, and that there is no escape from what we must witness and communicate to one another. He believes that creativity is a hammer and a nail inside a forest fire, and so he donates proceeds from his book sales to charities as a way of tithing the muse.
Concerning the Metaphysics of My Wife's Otherness
The angels, stretching their bluegum eucalyptus bodies against the ordinary
background of the mirror I'm standing in aren't ordinary. They are,
to quote the physicist Arthur Eddington, "smeared all over a probability
distribution" just as my wife who's standing at the vanity mirror
distributing the California fuchsia lipstick across her soft lips
is also just herself a theoretical construct, not quite reality substance,
not quite wave spell that I find myself involved in. We are about
to celebrate our wedding anniversary. We've just found ourselves
in love again, our hands all over each other in the bed, our mouths
like hungry clams so full of greed and insistence—how the body itself
is tangled in a contest of what is verifiable and what is claimed as not.
I watch her, and I hear myself saying "junonia volute caressed in B minor,"
hear myself saying "pearly everlasting against a swathe of violin strings,"
hear the diminishing chords and the slipstream where the bow of the violin
intersects through me, through the bony clavicle and down to where
all the groin thunder is, before the music source invades and leaves me wild
and entangled in her physical beauty again, watch her as she widens
her eyes to find the woman she believes herself to be tonight,
the otherness in her that seems to me to be an ensemble
of changeable motion, a transcendent elaboration with continuity,
an essence of violins and vibrato, and not as any one person
I can ever know.
From Ken Meisel's new manuscript The Drunken Sweetheart at My Door. See more about him at riveroakreview.org. His Blues and Muse VII series of readings can be seen at YouTube.
MARSHA MUSIC
Marsha Music, daughter of a legendary pre-Motown record producer, was born in Detroit and grew up in Highland Park. She is a self-described "primordial Detroiter" and for decades she has written about the city's music and its past and future. She is a former activist and labor union leader. She has contributed to important anthologies and narratives on Detroit, including an HBO documentary. Marsha has two adult sons and four stepchildren, and works as an executive assistant in the judiciary. She resides in Detroit's Lafayette Park and recently married artist David Philpot.
My daddy was a record shop man. Produced, wrote, recorded, pressed, publishes and sold records. Growing up, I was surrounded by records and as a child I read album covers and liner notes — my earliest history class of the world and the people in it. Our house was full of records, 45's, 78's and the new "LPs." They were recorded even in our living room, the high, oak-beamed ceilings made for great acoustics. There were records all around: Stan Kenton and Oklahoma! and Bobby "Blue" Bland and Jerry Lee Lewis and Louis Jordan and Dinah Washington and Chuck Berry and Carl Perkins and Howlin' Wolf and Peter and the Wolf and Mahalia Jackson and Tennessee Ernie Ford and Ike and Tina Turner and, well ... a whole lot of albums were in our lives. But the Elvis album cover I will never forget.
Years later it would be said that Elvis was a thief, a robber, a usurper of the music of others. But I think not. The men I knew — Black blues-loving men who lived in the North and hungered for their South — looked at him with the bemusement of affectionate elders, as if one of their own had played a trick on old Jim Crow. He was as familiar to them as sugar cane and red dirt. They knew just where he came from, just what kind of church he must have sat in as a child — by the way he played a chord, or sang a note.
From "A Black Woman Remembers Elvis," a post from Marsha Music's blog at marshamusic.wordpress.com.
KATHLEEN PFEIFFER
Dr. Kathleen Pfeiffer has been professor of English at Oakland University since 1997, and has taught numerous courses in American literature and culture. She has published two books and several critical essays, academic work that often focuses on the boundaries that define personal identity. Race passing, interracial friendship, the search to know and understand another, the desire for self-invention, for self-creation — these are the themes that have driven her scholarly agenda. As a creative writer, Kathleen is working on a memoir of step-motherhood, a book that that is not simply a personal story, but one that asks larger, more resonant questions about how any of us find ourselves in the books we read.
My little brother Gerry was a goofy kid, with big buck teeth and oversized eyeglasses and crazy, flyaway hair. He was the first person I ever knew who died. I was 13 years old, he was eleven, and it was 1978, the spring of the Billy Joel pop hit, "Only the Good Die Young." That song haunts me to this day, so that when I hear its opening bars, I have to fight back a sense of panic. It's not just the title — a platitude I heard from all my old lady aunts on the day of Gerry's funeral — it's all of that Catholic imagery that troubles me. At the time, I had no idea that it was a song about sex and not about death, and I couldn't even fathom the double entendre of Virginia's name in the opening line. But every time I hear the part about a nice white dress and a party on your Confirmation, it reminds me that the last time I saw my brother alive was on the morning of my Confirmation. I had gone to bed the night before, nervous and excited about the prospect of attention, a party for me, at long last; I was awakened to the sound of Gerry shrieking in pain from the room beneath mine. His brain tumor was aggressive as hell. My final glimpse of him alive came from my upstairs window as the paramedics wheeled him away that morning.
An excerpt from the unpublished essay "Ink," which Pfeiffer describes as "a story about loss (obviously), but also about coming into voice as a writer, and about how I found myself and my own story in (believe it or not) Moby-Dick." More about Pfeiffer at tinyurl.com/6ppsyx9.
MARK STRYKER
Mark Stryker has been an arts reporter and critic at the Detroit Free Press since 1995, covering classical music, jazz and visual arts. His many awards for reporting and music criticism include two ASCAP Deems Taylor Awards. Born in Bloomington, Ind., he holds a bachelor's degree in history from the University of Illinois and a master's degree in journalism from Indiana University. He previously worked at the Dayton Daily News and South Bend Tribune. He also is a jazz saxophonist. His upcoming book, Made in Detroit: Jazz from the Motor City, will be published by the University of Michigan Press.
There's no sound in jazz like Sheila Jordan in her prime. A white woman who embraced black culture, she transformed an unlikely featherweight soprano into a gossamer instrument, dancing unpredictably through time and pitch like a butterfly riding a gust of wind. She phrases like a horn; her primary influences have been instrumentalists, especially alto saxophonist Charlie (Bird) Parker, the bebop Prometheus who in the '40s took note of her precocious instincts and dubbed her "the kid with the million-dollar ears." Jordan improvises on many levels, slyly bending familiar lyrics of a standard into fresh, revelatory melodic shapes. Sometimes she makes up lyrics on the spot, ad-libbing charmingly discursive rambles. She's an elite scat singer, whose original vocabulary of made-up syllables, authoritative swing and taste for adventure sometimes suggests a white cousin to the black Betty Carter, the other innovative post-war jazz singer from Detroit.
Yet unlike many singers so intent on sounding "jazzy" that they make a mess of a song's meaning, Jordan's variations almost always deepen the intent of a lyric. Even today, with age taking a toll on the once-pristine purity of her voice and the accuracy of her pitch, her ballads can still bring listeners to tears. Exactly how she does this is a mystery, though the answer has to do with the alchemy of plainspoken honesty, storyteller instincts and musicianly command of time, harmony and phrasing.
PERFORMING ARTS FELLOWS
MARIA COSTA
Maria Costa is a dynamic actress-comedian and writer whom critics have compared to the likes of Lucille Ball, Lilly Tomlin and Richard Pryor. Maria's hilarious, award-winning, one-woman stand-up performance, Macho Men and the Women Who Love Them, has sold out performances in 16 cities in six countries as well as the Kodak Theatre in Hollywood, Calif., and is distributed worldwide on DVD by Image Entertainment. Costa has starred in several primetime television shows like ABC's Ugly Betty, Lifetime's Strong Medicine, CBS's Joan of Arcadia, ABC's Dangerous Minds and BRAVO'S The It Factor LA.
DON "DOOP" DUPRIE
Don "Doop" Duprie's deep working-class roots echo throughout his music as a singer-songwriter. Frontman for the Detroit area alt-country-roots rock band Doop and the Inside Outlaws, Doop is a laid-off firefighter who was born and raised in industrial River Rouge. His songs paint an honest portrait of everyday working people. Recognizing music's power to inspire and challenge as well as entertain, he focuses on songwriting and co-founded a local songwriting collective in 2005. He worked with legendary Detroit producer Jim Diamond (who has produced The White Stripes) to record his three albums: "Blood River," "Everett Belcher" and "What am I supposed to do?"
LAURIE EISENHOWER
Laurie Eisenhower is a choreographer, teacher and artistic director of Eisenhower Dance Ensemble (EDE). In the early years of her career, she danced with various dance companies and choreographers, most notably, Pilobolus Dance Theatre and David Parsons. In 1991, she formed the EDE, which has grown from a small ensemble into a national touring company. She has created more than 100 dances for EDE and has collaborated with numerous artists and organizations, such as the Great Lakes Chamber Music Festival, Warren Symphony and Michigan Opera Theatre. She has received frequent grants and honors for her work, including the ArtServe Michigan Governor's Awards for Arts & Culture.
BRYCE HARDING "MR. CHIPS"
Bryce Harding is a drummer, beatboxer, singer, keyboard player, music producer and private drum teacher. He had his first real taste of the big stage when he was selected to perform with Shania Twain at the Palace of Auburn Hills in front of a crowd of 20,000 people. Since then, he has performed in countless other venues, most notably on the Warped Tour at the Pontiac Silverdome, as a featured performer at the Detroit Opera House, and at the world famous Apollo Theater in New York where he a was a finalist in the Apollo "Show Off" competition.
KRIS JOHNSON
Kris Johnson, trumpeter and composer, has appeared on an impressive list of albums, including a Grammy-nominated release with jazz icon Tony Bennett. Kris spent three years touring internationally with the Count Basie Orchestra, and maintains an artist endorsement from CarolBrass instruments. Kris has a keen sensitivity to the nuances of film, as is evident in his award-winning film scores for various web series and short films. A passionate educator, Kris is a member of the Detroit Symphony Orchestra's educational staff where he directs the Creative Jazz Ensemble, which features some of Detroit's most promising youth.
NATASHA "T" MILLER
Natasha "T" Miller is a three-time Women of the World Poetry Slam finalist. She has been part of four national slam teams. In 2010, she starred in a national Sprite commercial, and started her publishing company "All I Wanna Say Publishing." Since then, she has published two books: Dreams of a Beginner, and Coming out of Nowhere, a social networking memoir about homosexuality, religion and cyber bullying. Natasha has been on three national tours, and performed at renowned venues all across the country. Natasha believes her purpose is to create change and peace like so many great leaders before her.
You can follow her at twitter.com/#!/tmillerpoetry and see her perform "Girlfriend vs Woman" on YouTube.
PASSALACQUA
"Detroit-based emcees Mister and Blaksmith have symbiotically stitched together keen, canny rhymes that vary in shades, inflected their own personal influences, but wrapped and worn gracefully together upon the same provocative quilt. The dynamic meshing of their respective styles is galvanized by their inventive live presentations, conceptual, theatrical, almost performance art; altogether curious and highly engaging. Audiences often exclaim that the allure is that one doesn't know what they'll do next. That's what distinguishes Passalacqua; 'Let the rap be the constant,' Blaksmith said, 'everything else is whatever.'" —Jeff Milo
TERRY PEAKE
Terry Peake had already started making a lasting impact on the local rock scene — in his influence over other artists and his musical innovations — before studying music composition at Wayne State University. Terry has used this classical training toward his goal of elevating the musical consciousness of popular music audiences by exposing them to compositional techniques they would otherwise never hear without listening to classical music. Terry, a multiinstrumentalist, has focused his efforts on the exploration of these techniques in contemporary genres, specifically progressive metal. In recent years, he has worked as a private instructor and has started scoring music for film.
CHRIS POTTINGER
Chris Pottinger is a musician and visual artist residing in the metro Detroit area who creates music using synthesizers, unusual electronic instruments and the saxophone. Performing solo under the name Cotton Museum, Chris' project began in 2002, developed from his interest in experimental electronic sounds. His recordings have been released locally under his own label, Tasty Soil Records, and through various labels in countries such as Italy, the United Kingdom and Egypt. Cotton Museum's name stems from the deformed lumpy beasts that adorn the album covers, and the sounds created are inspired by the artwork that he's developed to enhance each release.
ARA TOPOUZIAN
Ara Topouzian plays the Kanun — a 76-stringed laptop Middle Eastern harp. He has performed as both a solo musician and ensemble musician with Armenian and Middle Eastern artists throughout the country. Ara's music has been featured in several nationally aired PBS documentaries. He has performed with world music artists as well as renowned jazz and fusion artists. In 2012, he appeared as a guest soloist with the Virginia Commonwealth University Symphony performing an original concerto written for the Kanun.
XIAO DONG WEI
Xiao Dong Wei began studying the Erhu at the age of five and graduated from the prestigious Central Conservatory of Music in Beijing after 10 years of intensive study. Xiao Dong went on to perform with the Chinese Motion Picture Orchestra for four years. After moving to Detroit in 2005, she began playing various gigs with many diverse musicians and musical styles. Xiao Dong continued to expand her classical career, with such notable appearances as guest soloist with the Detroit Symphony Orchestra. She teamed up with pianist Yuki Mack and they continue to expand their repertoire and dazzle audience.
SHARA WORDEN
Shara Worden received a Bachelor of Arts in Opera from the University of North Texas and studied composition with Padma Newsome. Under the moniker My Brightest Diamond, she has released three albums on Asthmatic Kitty Records. The most recent, All Things Will Unwind, is a chamber pop album inspired by Detroit. In addition to pursuing her own compositions, she has collaborated with such artists as Andrew Ondrejcak, David Lang, the Decemberists, Sufjan Stevens, David Byrne, Sarah Kirkland Snider and Matthew Barney. Worden has performed at Carnegie Hall, The Sydney Opera House, Lincoln Center's Allen Room and with the Indianapolis Symphony Orchestra.
2012 KRESGE EMINENT ARTIST - NAOMI LONG MADGETT
In addition to awarding annual grants to fellows, the Kresge Foundation also makes annual awards of $50,000 to eminent artists. Following visual artist Charles McGee, musician Marcus Belgrave and author Bill Harris, writer-editor-educator Naomi Long Madgett was named earlier this year as 2012's eminent artist. Madgett, a professor emeritus of English at Eastern Michigan University, is the author 10 books of poetry, a pair of textbooks and her 2006 memoir, Pilgrim's Journey, in addition to being the editor of two anthologies.
In announcing the award, the foundation cited her "decades of commitment to originating, illuminating and preserving poetry by African Americans, and promoting the study and appreciation of African American literature in schools and universities."