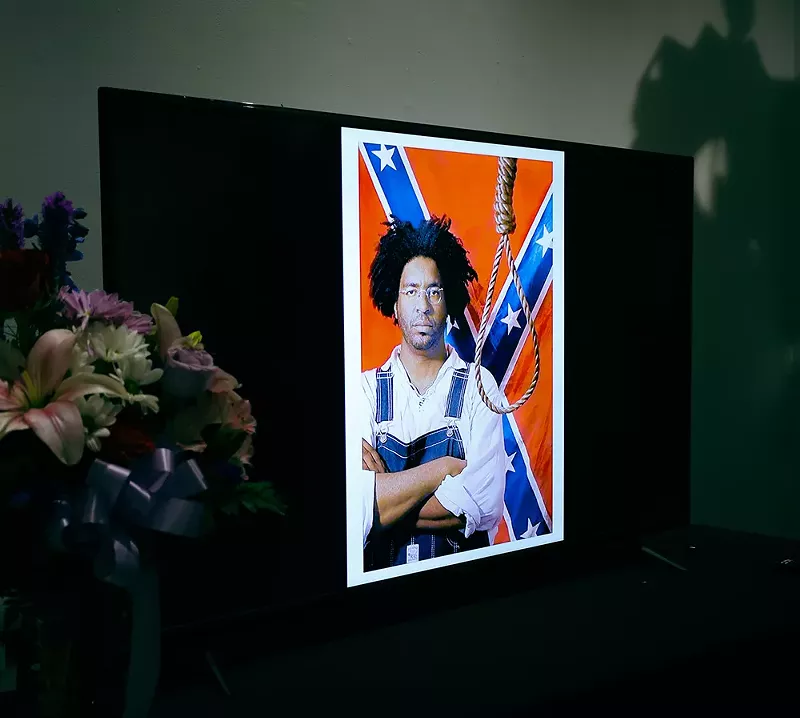 This week's Metro Times cover story is a tribute to the late Detroit artist and activist John Sims, who died last month at the age of 54. It was written by Omo Misha, director of the Irwin House Gallery, a Detroit gallery that was associated with Sims.
While a memorial event was held for Sims at the gallery over the weekend, Misha says another opportunity to remember the artist will come on Monday, Feb. 13 — what would have been Sims's birthday.
"John touched so many lives, across disciplines, continents, racial, and cultural lines," Misha says. "Even in his physical absence, he is bringing creative communities together. Many of us are bonded, I believe, in the spirit of moving his work and visions forward."
Misha says the candle-lit wine and poetry event will be a tribute to Sims's annual "The Square Root of Love" event, with plans to hold simultaneous events at Ringling College in Sarasota, where Sims worked, and Antioch College in Yellow Springs, Ohio, his alma mater. There will also be a tribute exhibition held in New York City hosted by A Gathering of the Tribes.
Irwin House Gallery has also commissioned a mural in honor of Sims. In his work, Sims confronted racism by playing with the Confederate Flag, recasting it in the Pan-African colors of red, black, and green and even staging events across the country in which he burned and buried the flag.
The mural, created by Irwin House Gallery artist-in-residence Quadre Curry, depicts a Confederate flag burning down to the ground.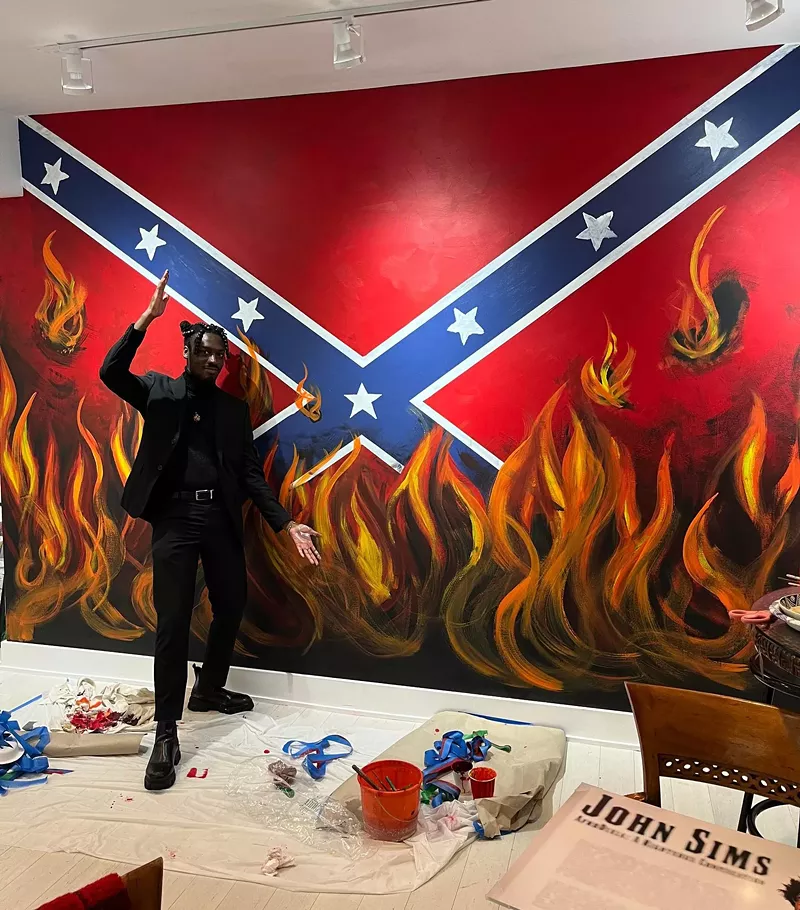 "I loved doing this mural at @irwinhousegallery !!" Curry wrote on Instagram. "It's a tribute to the late artist John Sims who focused much of his work on activism through installation art. He hosted burn and bury events where he would burn the confederate flag and bury it as a symbol of removing power from such a polarizing icon. I'm happy to have been a part of this moment of remembrance for him. 🔥🔥"
Beyond his installation work with the Confederate Flag, Sims was known for incorporating math and music into his art. He was seemingly always coming up with new ideas.
"Even if you could not wrap your brain around all the work Sims was doing, you understood its importance, you felt and heard his passion, and he made sure you were a part of it," Misha adds.
She continues, "Sims had an almost child-like enthusiasm about his accomplishments — which were many. He was excited about every interview, every idea realized, every exhibition, every residency, and his excitement was loud and infectious. As laser-focused as he was on his own projects however, he wanted to see all of us do well. He pushed, he inspired, and he championed the potential of others. He was certainly a champion for us here, at Irwin House Gallery. He was our Day One."
We'll update this article with more information on the memorial event as it comes in. In the meantime, you can read Misha's tribute to Sims in this week's issue of Metro Times.
Coming soon: Metro Times Daily newsletter. We'll send you a handful of interesting Detroit stories every morning. Subscribe now to not miss a thing.

Follow us: Google News | NewsBreak | Reddit | Instagram | Facebook | Twitter