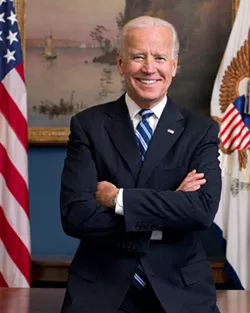 It seems like a million years ago that Vice President Joe Biden was walking the hallways of the West Wing, cracking dad jokes at White House staffers and always making sure that his boy Barack Obama was doing OK.
So if you're longing for the days of the Obama administration, or just want to see that toothy smile again, we have goods news for you. Joe Biden is touring the country doing the "American Promise Tour" and is making a stop in Ann Arbor at the Michigan Theatre on Wednesday, December 13.
We're not entirely sure what this majestic man will be doing on this tour (promoting democracy? telling jokes? talking about becoming a meme?) but we are excited to find out.
If you decide to buy a ticket to the show (which you totally should, it's Joe Biden guys) you will also get a copy of his new memoir
Promise Me Dad: A Year of Hope, Hardship, and Purpose
, which if you know anything about Biden's life sounds like a real tear-jerker. Tickets go on sale Friday, July 28 at 10 a.m. and you can get them
here
.