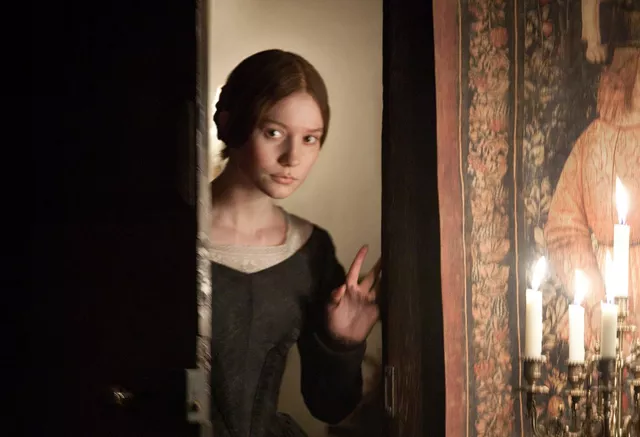 Is there any old chestnut as hearty as Jane Eyre? Charlotte Brontë's 1847 proto-feminist page-turner has been reprinted enough to paper the earth's surface a dozen times over — and committed to film so often that it has faded into cultural wallpaper. Everyone's had a crack at it, from George C. Scott and Susannah York to William Hurt and Charlotte Gainsbourg, and way back to a spooky 1943 version with Orson Welles and Joan Fontaine, plus multiple Masterpiece Theatre-style miniseries over the years. With so many versions, is there any life left in the old girl?
In the hands of exciting young filmmaker Cary Fukunaga, the answer is a resounding yes; his sumptuous, moody Eyre feels classic and thoroughly modern, a burst of freshness billowing through all those stuffy classical drapes. It's visual marvel, a mix of handheld and traditional techniques, with delicate, precise long takes, following Jane as she trudges across ominous moors, and later happily traipses through sun-dappled hedgerows.
Rising talent Mia Wasikowska Brinte gets her right-of-passage turn as a Brontë heroine, and she lends intelligence, sincerity and grace to the role of wallflower Jane, who grits her teeth and trudges onward despite being "poor and obscure." Orphaned, forgotten and treated like dirt by her wealthy aloof aunt (Sally Hawkins), Jane begins a long crawl to self-empowerment after taking a governess job at foreboding Thornhill manor. The house lord is the perpetually brooding Mr. Rochester, played by Michael Fassbender with a simmering intensity that threatens to burn the candle down to the wick. He's a dashing and damaged bad boy who doesn't actually glitter in the sunlight or howl at the moon, but is just as haunted.
Indeed, monster mash-ups are all the rage, as in the book and coming movie of Pride and Prejudice and Zombies, but Jane Eyre hardly needs added ghoulies, with its strange noises, sudden fires, mysterious stabbings and ominously locked cellar doors. While there's a dark secret lurking in the basement, class divide is the real demon plaguing these would-be lovers, and their desire to embrace their buried feelings, regardless of obstacles, is the stuff of a thousand lesser Gothic bodice ripping romances.
At 22, Wasikowska is lovely, just coltish enough to pass for the mousy and plain heroine described on the page, and Fassbender is an especially dashing hero. The leads are well-matched and the age gap is just enough to generate frisson, without being creepy. The story's central mystery — and the divorce scandal buried within — may seem faintly pointless to us now, but Fukanaga and screenwriter Moira Buffini have found a modern angle. Jane, in her dowdy 19th century way, longs for a sort of social network, friends and lovers of her own choosing, free from the status-obsessed, gossiping twits who'd run her life. The flesh may be aging, but this Jane Eyre still has the spirit to move us.
Opens Friday, March 25, at the Landmark Maple Art Theatre, 4135 W. Maple Rd., Bloomfield Hills; 248-263-2111.