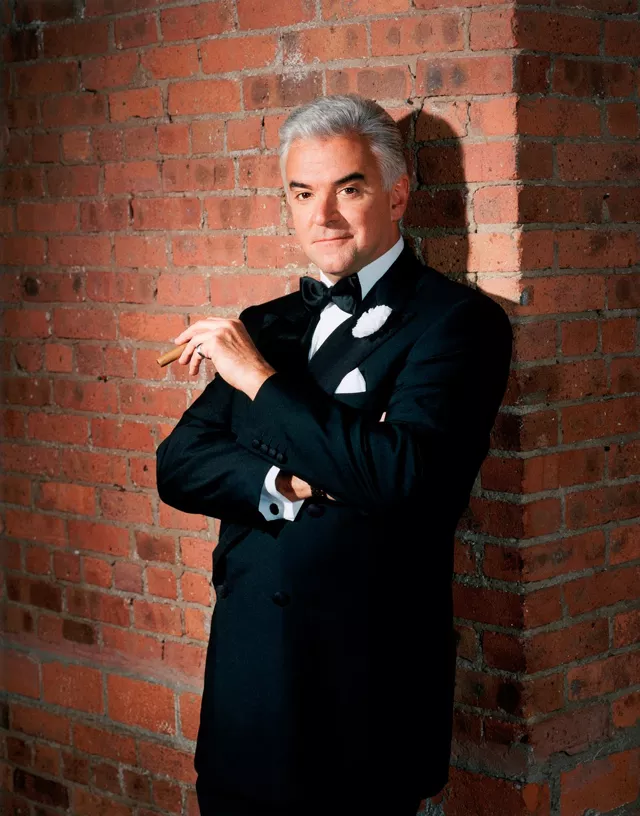 You can see debonair, silver-maned John O'Hurley in the flesh next week, when he dances across the stage of Detroit's Fisher Theatre reprising the role of Billy Flynn with the national touring company of the musical Chicago. But it's his image on that big flat-screen in your living room that truly has allowed him to waltz his way into our collective consciousness.
In fact, one could make the case (and I'm about to) that John O'Hurley is one of the most significant figures in contemporary American TV. He is, of course, best known for playing real-life retailer J. Peterman, whom he portrayed as a vacuous adventurer while bossing Elaine Benes on Seinfeld, generally acclaimed as the most popular sitcom of all time. But O'Hurley also:
• Was the first celebrity winner on the premiere season of ABC's Dancing With the Stars, now a TV phenomenon and an entertainment, tabloid and gossip news staple;
• Was, my personal survey says, the most effective and watchable of the succession of six men who have emceed Family Feud, now in its third decade on television and an American game show institution including the original host, kissing bandit Richard Dawson;
• Has hosted The National Dog Show Presented by Purina on NBC every Thanksgiving since 2002, making him part of the fabric of our national holiday.
What's more, O'Hurley took his portrayal of Peterman to the extreme in terms of art imitating life. Not only did he get to know the real J. Peterman, he ended up owning his company.
"I bought the company back in 1999 and we've owned it together since then," O'Hurley explains during a recent interview. "It's probably the greatest act of identity theft in popular culture."
Seinfeld used the J. Peterman name "without his knowing," says O'Hurley, 56. "In those days they literally did things and apologized for them afterward. So at the same time he was growing his business, he was caught in this tornado of media activity because all of a sudden he was this raving lunatic on the No. 1 show on television. He couldn't beat the exposure, but I don't know that it necessarily fit his brand at the time."
Indeed, the show might have unwittingly contributed to the company's downturn. "He went belly up six months after Seinfeld ended, and he called me," O'Hurley says. "It was a lot of fun to play him, and we got to know each other very well during the run of the show. We put the company back together again on our parallel strengths."
With the sitcom an enduring success in reruns, hardly a day passes that someone doesn't want O'Hurley to relive his impersonation of Peterman and the Seinfeld decade. He doesn't mind. "Gosh, no," he says. "I have more fun with that character and the resurrections of him. As advertising spokesman, on other shows. You know, a little bit of Peterman lives in a thousand different cartoon characters on TV right now. It's given me a way to play a characterization that occurred to me a long time ago."
He's sorely missed on Family Feud, where current host Steve Harvey seems to have trouble composing a declarative sentence on his own. "They moved the show to [Universal] Orlando for this season, and that's where game shows go to die," he jokes. "Although the show continues to do well, that [move] would have just taken me into another arena. I'd done four years of it, and that was fine."
O'Hurley's just as content onstage as Billy Flynn, a role he's played hundreds of times on Broadway and elsewhere. "They asked me to come to Detroit back in 2006, but I was on Broadway at the time, so I couldn't leave Broadway to do it," he said. "I love the comedic side of the character, but I think there's a dark side to him that I like playing as well. And I like to keep both of them present so that you never really know where he's going. He's always joyful to watch, always having fun, always thinking on his feet, but he'd sell you out in a second."
And should Richard Gere's performance in the 2002 big-screen version of Chicago define the character for you, O'Hurley is not bashful to claim, "Basically, I take this character much deeper I think than anybody has ever played him. I've been playing him for so long, I made one promise to myself: that every time I go onstage I'm going to surprise myself. So I'm always thinking and something new is hitting me about the character. He's a very multi-leveled character the way I play him."
Speaking of multi-leveled, O'Hurley is a noted author — his second book, Before Your Dog Can Eat Your Homework, First You Have to Do It, was published in 2007 —a self-taught pianist, composer and classically trained vocalist who just came off tour with Kenny G and Michael Bolton, and still an active participant in the TV biz. "I am developing other shows right now," he says. "I have a new game show I'm developing, a new comedy show, and I've got a couple of film scripts in development as well. Listen, it's tough to hit a moving target."
Given his impressive videography, O'Hurley's personal choice for best-loved TV experience may surprise you: It's his two years as host of a syndicated revival of the game show To Tell the Truth from 2000-2002. "Of all the things I've ever done on television that was my favorite show ever," he proclaimed. "I was more entertained by that show than anything I've done. The celebrity panel I had, the producers I worked with and the stories we were coming up with every week, it was a joy to go to work. I miss it dearly."
Chicago starring John O'Hurley appears May 17-22 at the Fisher Theatre in Detroit. Showtimes are 8 p.m. Tuesday through Saturday, 7:30 p.m. Sunday, and 2 p.m. matinees Saturday and Sunday. Ticket prices range from $29 to $75 at the Fisher box office and all Ticketmaster outlets. For additional information, call 313-872-1000 or visit broadwayindetroit.com.