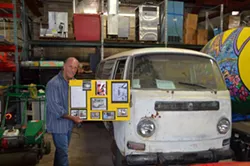 Updated 9:54 a.m., Monday, Aug. 31, 2015:
The van has been sold to Zak Bagans — star of Travel Channel's
Ghost Adventures —
for $32,500, according to the
Detroit Free Press
. Bagans
told TMZ
that he plans to use the vehicle for a "a paranormal project."
Originally posted Aug. 25, 2015:
Here's good news for car collectors with a morbid sensibility. Dr. Jack Kevorkian's "deathmobile" — aka a 1968 Volkswagen Microbus that the doctor used to drive around in the '90s as he performed controversial assisted suicides on the terminally ill — is
officially for sale again
.
The van was famously
banned from eBay in 2010
, but Les Gold, proprietor of American Jewelry & Loan and star of Tru TV's reality show
Hardcore Pawn,
managed to get his hands on it for $20,000.
Last time we checked in
, someone had called "dibs" on the van and
began paying for it on layaway
. But according to
a recent segment
on WJBK Fox 2, the van is back on the market and Gold is selling the vehicle — which can be generously described as a "fixer-upper" — for the new price of $49,995.95.
We called up Gold to ask about the price hike. He says when he originally purchased the van, he was willing to pay up to $40,000.
"We flipped a coin. If I were to have lost the bet, I would have given him $40,000 for the vehicle. Fortunately, I won, but I was willing to pay up to $40,000 for it," he says. "I figured if I'm willing to spend $40,000, somebody else should be willing to spend the same."
Gold says the previous buyer decided to bow out last year. "I just decided instead of keeping it, that somebody else should enjoy the vehicle," he says.
Since
listing the item
on his website, Gold says he's had some inquiries but no serious bites yet.
Watch the Fox 2 segment below: