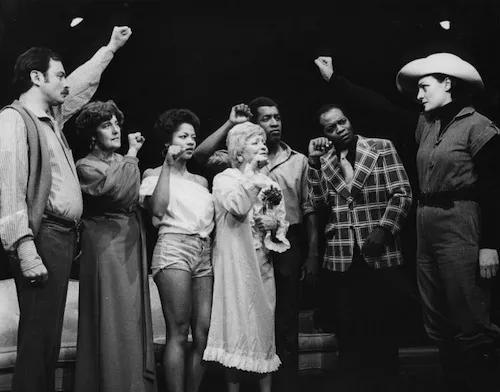 In the mid-1930s, with the fascism on the rise in Europe, American novelist Sinclair Lewis wrote a semi-satirical book about fascism coming to the United States. It was called
It Can't Happen Here
, and it was so popular that Lewis turned it into a stage play that opened at regional theaters across the country, spreading its anti-fascist message.
Ever since the book was released, people have pointed out that the novel's American dictator, Sen. Berzelius "Buzz" Windrip, appeared to have been inspired by Huey Long, an actual presidential aspirant who was assassinated just before the book came out. Windrip is a power-hungry, charismatic candidate who promises to restore the country to prosperity and greatness.
If that sounds familiar to you, you're in good company. On Monday, Oct. 24, theater across the country will present free public readings of
It Can't Happen Here
, both as a way to mark the 80th anniversary of the national debut in 1936, and as a thinly veiled commentary on contemporary politics.
The Detroit Repertory Theatre will be putting on one of those public readings this Monday. As a press release from "the Rep" puts it, "Lewis' novel reads like it was ripped out of today's headlines. Whether he's describing Buzz Windrip, the demagogue who wins the presidency based on the promise of making our country great again, or Doremus Jessup, a liberal newspaper editor who simply waits too long to take Windrip seriously, Lewis' understanding of our political system was precise and far-reaching."
The event should be a special treat for fans of the theater, as it will be directed by Robert Grossman, and will be read by a cast of more than 20 actors known and loved by audiences at the Rep.
A public reading of
It Can't Happen Here
will take place at the Detroit Repertory Theatre at 7:30 p.m. Monday, Oct. 24, at the Detroit Repertory Theatre, 13103 Woodrow Wilson, Detroit; event is free; 313-868-1347; parking is attended, lighted, fenced-in, and free; www.detroitreptheatre.com. If you are not in Michigan, a list of participating theatres across the country can be found here.