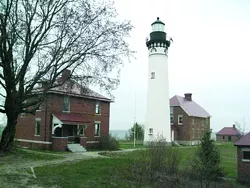 Each May, my buddies and I head up North to "rough it." In the past, we'd hit the Au Sable river for some scenic canoe camping, but this year we changed our plans: We aimed to go car camping at Pictured Rocks National Lakeshore in the Upper Peninsula. We were especially fortunate to have a friend of ours, a fellow who writes for one of those national automobile magazines, arrange for us to borrow a vehicle for the trip. And so we wound up traveling in a massive $65,000 contractor's truck with a crew cab, heated seats, new-car smell and little built-in coolers on the sides. My friends and I skew bohemian, so this was about as familiar an environment to us as the inside of a spaceship, but I must say it was a very comfortable way to travel.
It was important to have a good rig, because we were going way north. To travel north in late May is to visibly travel back in time. While the trees of Detroit were already beginning to leaf out, on the drive north the leaves grew lighter and tighter, retreating into golden sprays of buds by the time we reached Lake Superior. In the woods leading down to the lakeshore, even a few small patches of snow remained.
To travel down to the lakeshore itself, however, was to travel back in time not mere weeks, but ages. The roaring surf bashes against rock and sand, the shore devoid of foliage except for a few patches of grass on higher dunes, or prehistoric-looking lichens clinging to rocks. The Ice Age doesn't seem so long ago there. The scene is primordial, but beautiful in a spare way, painted with only a few colors. At night, tucked away in our sleeping bags, the inland ocean sounded at times like a busy nighttime expressway or a cranked-up diesel engine, thrashing out its savage, eternal song.
Sometimes people ask us why we choose to go up North before Memorial Day. I think part of it is that we can't wait to get out of the city after a long winter. But I also suppose we find some things preferable to warmth. For instance, we want to avoid the swarms of bugs: In late May, there are only a few mosquitoes, and there are no black flies to speak of. On our last trip, though, a few of us had to pull deer ticks out of our skin, so this year we ventured past our old camps in Oscoda and headed a few hours further.
But can't you avoid all the bugs by going in August? Well, you can, but in May you can also avoid the swarms of people: the crummy teenagers stealing dedicated canoe camps, the teeming crowds of children, the equestrians galloping through, the yahoos blasting their stereos. Instead of that, we saw no other campers, only some hikers and a few rangers, one of whom courteously checked in on us to see if we were ready for the rainy, chilly nights. (Every once in a while, you get lucky and have a run of nice, sunny days, but don't expect it.)
With its welcome solitude from people and bugs, this trip was kind of perfect — that is, if you don't mind sitting around a fire in full gear and a poncho in a 40-degree drizzle. I'm proud to say our group has toughened up a lot over the years. (And we naturally brought some goodies to keep our spirits up, our guts warm, and the conversation heady.)
Since we've been doing this for a while, I have a routine of several things I do on each trip. One night, for instance, I will make Spanish rice. I'll dice three or four bell peppers of various colors, a few onions, and chop up several toes of garlic. I'll start cooking ground beef in bacon fat in a large cast iron pot while I start boiling rice in another pot covered with foil. Once the beef is cooked well, I'll add the onions and garlic, then the peppers, then a large can of crushed tomatoes and a pouch or two of taco powder. I'll add the rice whenever it's done. I've gotten pretty good at doing this over a fire. The results usually pass muster with the guys, although any hot chow usually boosts morale, right?
At least one night before turning in, we'll take potatoes, onions and heads of garlic, wrap them in tin foil, and toss them around the edges of the fire. These are called "potato bombs." In the morning, they can be found well-cooked and ready to be cut for a good morning hash. The garlic usually liquefies, but it's great smeared on toast.
Also, when we go into town, I'll spend $3 for a copy of the Great Lakes Pilot. It's a monthly full of smiling pictures of every bartender, waitress and hostess from Marquette on down, along with charming, half-proofread histories from the old days of Michigan. For a Detroiter, though, it's an especially weird read, providing a strange view of Michigan, as if Detroit ceased to exist in, say, 1960. You'll find no pictures of Detroit-area bartenders in Great Lakes Pilot. Now, I'm not complaining: I like old-time tales about lumberjacks or the northwoods musings of Lon Emerick as much as the next Michigander, but reading the Pilot is enough to make you wonder whether outstaters know Detroit is still located in Michigan. Which is very odd, because it seems half the people I meet outstate seem to be from Detroit.
We took an afternoon hike to the Au Sable Point Light. A store clerk in Grand Marais urged us to walk there along the shore, and I'm glad she did. Not only was it a forbiddingly beautiful stroll, we also passed the remains of three different shipwrecks, their ancient timbers preserved by the water, grim monuments to the merciless Gitche Gumee. We finally ascended a rough stairway made of logs up the bluffs to the lighthouse, where the views of the lakeshore were best. The low clouds hung over the bluffs, shearing them off at a uniform height so they looked like the ramparts of some eerie lost world.
We also built a sweat lodge. First, we dug a deep hole in the damp sand and set it off with rocks. Then we found a few green saplings at least 10 feet tall that bent readily. If one end had a big rootball, we'd bury it in a hole and cover it with rocks, then sharpen the other end and drive it into the earth. We were able to make a dome in this manner, tying off the crown with zip-ties, lashing other lengths of green wood around the sides for stability and structure. Then we piled the whole thing over with tarps, sleeping bags, unused tents, blankets and more tarps. Then we took several rocks that had been cooking for many hours in the fire and used our shovel to dump them into the hole in the center. A few of us got in, and it was dark and cold, but we were out of the wind and rain. The rocks were so hot that, in the darkness, you could actually descry them glowing in the hole.
We were ready for our first "sweat." We poured water over the rocks, and cascades of steam rose from the hole, superheating the lodge. Within a few minutes, not only was my nose warm, but sweat was dripping from my face. We poured water over the rocks until they gave no more steam. It was a very unusual sensation. Despite my perspiration, my gums still felt cold when I ran my tongue over them. But by the time we had done our fourth sweat, my core temperature had gone up considerably. My bones were warm. And now, when the last batch of rocks had cooled, the idea was to exit the lodge back into the cold and dress.
Did I mention I was naked? Well, even in a light drizzle, at about 40 degrees, it wasn't totally unpleasant to exit the lodge, my body having stored up enough warmth for me to leisurely go about getting dressed. I stepped out, wearing my sandals, and was surprised at how comfortable I felt.
And then one of my friends asked me if I had a lighter.
Now, maybe my friend was a little distracted. It's quite possible, while I was standing there naked, that I may have had a lighter somewhere nearby. But it seems to me that a naked man standing in the rain on a chilly night in the middle of nowhere may have other priorities than giving his buddy some fire. Anyway, once I was warm and dressed, it was another tale to laugh about.
It was important to get a break from the cold, because that night, our last at the camp, the temperature dipped down to 31 degrees, with light winds and drizzle. I realized how cold it was because one arm was outside my mummy bag and starting to ache, and I had to pull it back in. One buddy even had to hole up in the truck, as his bag just wouldn't cut it.
We could do more than three nights, I guess, but three is just about right. I've been on trips where, on the fourth night, I spend much of my time thinking about a hot shower or a plate of biscuits and gravy. Three nights of roughing it is just enough time to miss the city and want to go back to its bargains.
And it's a nice reboot. Everything runs a little bit different after a few nights in the bush: metabolism, appetite, sleeping, energy level. Roughing it builds a warmth inside you. And it's the kind of warmth that trumps even the heated seats in the back of a 2500 Laramie Longhorn thundering back downstate, back into the future.
For more scenic imagery, see the slideshow.
Michael Jackman is managing editor of Metro Times. He stays clothed most of the time. Send comments to [email protected]