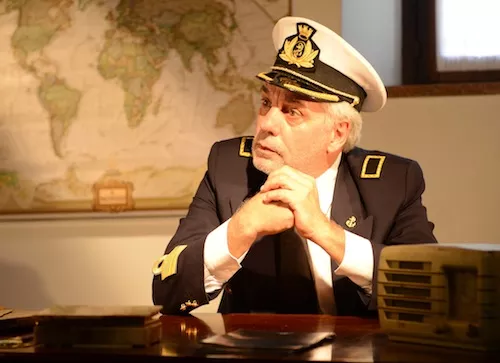 When it comes to movies about luxury liners sinking in the Atlantic, it's all about the Titanic. The 1912 disaster inspired more than a dozen movies, including
one of the top-grossing films of all time
. Even the sinking of the Lusitania, which helped draw the United States into World War I, is second banana, with
only a couple TV movies and a period animated short about it
.
So when you get down to the third-most-famous luxury liner sinking of all time, the
SS Andrea Doria
, there are only a handful of films exploring that seagoing disaster.
Well, now you can add one more — and it's largely thanks to a Detroit-area resident.
Tomorrow night is the opening of an international film at the Detroit Institute of Arts, part documentary and part drama, narrated by one person who survived of the Andrea Doria shipwreck.
The film, shot in Italy and Detroit, is entitled
Andrea Doria: Are the Passengers Saved?
It was written, produced, and narrated by Pierette Domenica Simpson, a retired French teacher who paid for the bulk of the filming. The Novi resident was 9 years old when she survived the controversial sinking of the Italian luxury liner near Cape Cod. The screening commemorate the 60th anniversary of the catastrophe, which took place on June 25, 1956.
It gives Simpson an unusual distinction: the only survivor to publish a book and produce a film about one's own shipwreck.
The press release for the film describes what viewers can expect:
The movie uses vivid dramatizations of Pierette's immigration, her nightmare on the Atlantic, her survival of the shipwreck with her grandparents, and her arrival in the New World. It includes interviews with maritime experts, survivors, and divers, along with astounding archival footage of the catastrophe that killed 51 people.
The film is the culmination of Simpson's lifelong mission to preserve the legacy of the Andrea Doria.
The screening will include appearances by director Luca Guardabascio, Consul of Italy Maria Luisa Lapresa, and state Rep. Anthony Forlini. An actual lifeboat from the Andrea Doria will be on display, with proud owner Mark Koch standing by.
Andrea Doria: Are the Passengers Saved?
screens at 7 p.m., Oct. 6, at the Detroit Film Theatre, inside the DIA, 5200 Woodward Ave., Detroit; 313-833-3237; tickets are available at dia.org/dft or through the DIA box office at 313-833-4005; more information at andreadoriamovie.com.