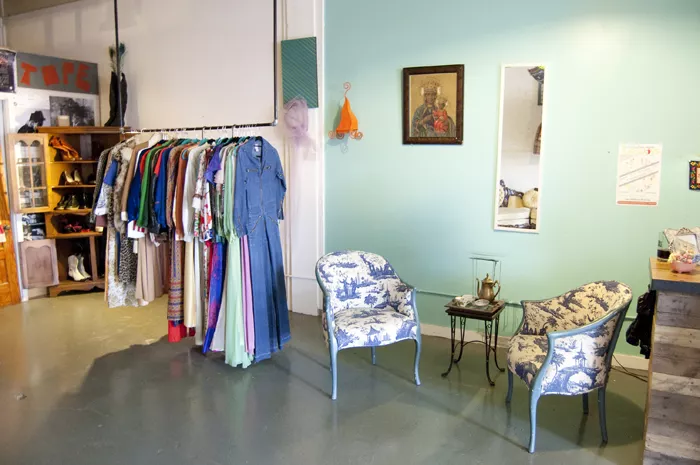 1353 Division St., Detroit; 734-231-7272; bluevelvetdetroit.com
Open: 10 a.m.- 5 p.m. Friday through Sunday
A brand-new vintage store next door to Signal Return in Eastern Market, Blue Velvet specializes in carrying gently used vintage items from as far back as the turn of the 20th century to the groovy '70s. The store is owned and operated by Kory Trinks, who, at just 24 years old, has managed to amass a 40,000-pound collection of vintage threads. Having previously worked with Dan Tartarian of Showtime, she says she purchased the collection from the well-known Detroit store owner and has made it her life's work to clean, repair, and restore the goods in order to sell them at Blue Velvet.
The store is only open Friday, Saturday, and Sunday, and Trinks says she'll likely keep it that way for a while due to the reliable uptick in foot traffic during market days. For now, Trinks spends her weekdays combing through her massive stockpile of used clothing, deciding what she'll add to the store's racks next. When we popped in, we spotted several fun finds, including a lacy chartreuse robe and a pretty plaid party dress. Prices are distinctly reasonable here, too. Most frocks go for between $20 and $45, which is generally a steal for vintage and deadstock items. One item Trinks won't be giving up for cheap, however, is an authentic '60s Beatles jacket that she said she "takes offers on" but isn't inclined to sell unless she finds someone who will really treat it with the care it deserves.
Sundays are a special day at Blue Velvet, because that's when Trinks hosts a free bottomless brunch. Sweet treats, eggs, and mimosas are available for customers browsing the store's wares, and she offers 20 percent off to any customer who walks out of the store sporting something they bought inside.