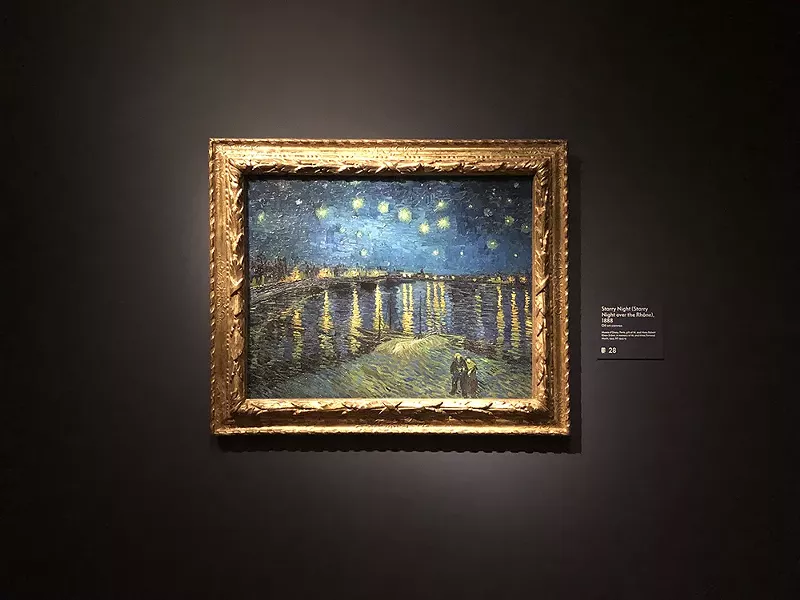 The Van Gogh in America exhibit at the Detroit Institute of Arts will soon come to an end, and with it a rare opportunity to witness, in 74 original works, the versatility and depth of one of the greatest painters in history. I took students from Saginaw Valley State University by bus. You would think that they were on a pilgrimage. What is the appeal?
The exhibit demonstrates the astonishing range of a painter feverishly seeking his own style. It shows his experiments with Impressionism, Pointillism, and the Japanese "floating world." We see his realism in the sketch of "A Wounded Veteran" or the windmills of northern Paris. We see his symbolism in the exhibit's "The Stairway at Auvers," which might as well be a stairway to Heaven, beckoning golden from the midst of French village life. Still, the real magic lies elsewhere.
Everything is personal for "Vincent," as art critics affectionately call him. His art, roughly a thousand unsold works in nine years, tells a story in snapshots of one troubled man's journey to find solace in images. A family of "Potato Eaters" is the warm acceptance he never knew. "Olive Trees" are his own Gethsemane when the art world turned its back on him. His so-called "copies" of Rembrandt, Millet, and others contemporize and personalize images. Biblical scenes are opportunities for Vincent to insert his own self-portrait. Art just is a way of life for him, the more authentic way of being in the world.
Vincent raced against the worsening effects of his temporal lobe epilepsy. It drove him to the margins of conventional human existence where, socially inept and the victim of hallucinations, he developed his perspective. He summons us to his liminal reality, to the earthy grit of raw empirical experience, for the feeling of color, the texture of a sunflower, or the roots of fallen trees. In one letter he compares himself to a Zen monk meditating on a blade of grass. His quest was a descent into metaphysical origins, from the bleak industrial North of the Netherlands and Belgium to the South of France. There his sun rose for the haloes of humans and the gold of their sheaves.
Then Vincent shows us how to speak from that raw world anew, with childlike wonder and playfulness, rejuvenating our horizons as starry nights, lighting all avenues aglow like a café terrace. He shows us how images can be symbols and the world myth again.
Thinking and painting are not so different for Vincent. He calls attention to the paint itself. His signature gelato-thick brush strokes are a reminder that our images are projected, that there is no perceptual world that is not the product of our mental organization. In his images of sowing and reaping he takes responsibility for the artist's role of setting ideas into historical motion.
The Van Gogh in America exhibit ends with a warning about the "myth" of Van Gogh, noting how American journalists and filmmakers had promoted Vincent as a tragic hero. The problem with this demythologization motif is that it suggests that there is some real Vincent buried beneath the storytelling. Vincent did not fall for that myth of modernity, the myth that humans can live without myth. His identity was something to be painted, one day at a time.
In an age of conformity, Vincent represents the irreducible freedom of the human subject, and the passion that can swell from it. He dares us to be creators again.
Van Gogh in America runs through Jan. 22.
David Nichols is associate professor of philosophy at Saginaw Valley State University and the editor of Van Gogh Among the Philosophers.
Coming soon: Metro Times Daily newsletter. We'll send you a handful of interesting Detroit stories every morning. Subscribe now to not miss a thing.

Follow us: Google News | NewsBreak | Reddit | Instagram | Facebook | Twitter