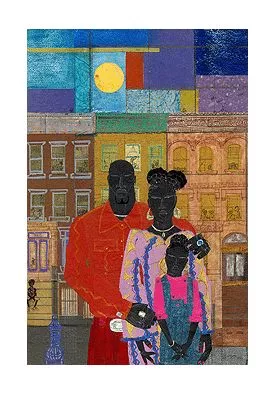 Twenty-four original collages by New York-based artist Willie Torbert will be exhibited this weekend at Jo's Gallery to honor urbanity and African-American fathers.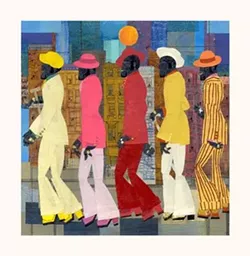 Torbert was born in Buffalo in 1959. He studied at the Pratt Institute of Fine Arts (where he was exposed to one of his influences, James Denmark) and Medgar Evers College. He works as both a full-time artist and a New York public school teacher.
Torbert works with a variety of media to create stylized depictions of everyday black life. The artist's aesthetic falls somewhere between the Harlem Renaissance-era collages of Romane Bearden and the dignified paintings of Jacob Lawrence. His work is full of color, stillness, and rigid geometric arrangements. He is part of the generation of African-American artists who grew up during the height of the black arts movement, the radical artistic branch of the black power movement that sought to create a uniquely "black" form of art.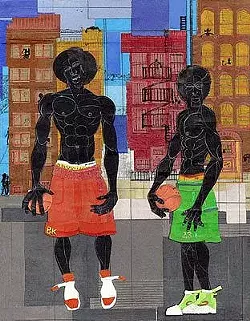 Torbert's imagery is meant to be uplifting in its depiction of black cultural icons, familial values, and quotidian occurrences. You can see it in his piece "BK Hoop Stars," in which two black men stare curiously at the viewer as they prepare to play (or finish up) a game of basketball. In "Five Deep," five elegantly dressed men stroll in a smooth single-file with the sun hanging high above them. It epitomizes the style and confidence that Torbert associates with blackness. "Family Values" is a perfect piece for Father's Day, as it shows a Black family – father, mother, and daughter – posing together in the middle of a street.
To learn more about Jo's Gallery or the exhibit, email Gallery Manager Mari Byrd at
[email protected]
Open 2-7 p.m., Friday, June 17 and 11 a.m.-6:30 p.m., Saturday, June 18, at Jo's Gallery, 19376 Livernois Ave., Detroit; 313-961-4668; click
here
for the gallery's Facebook page.