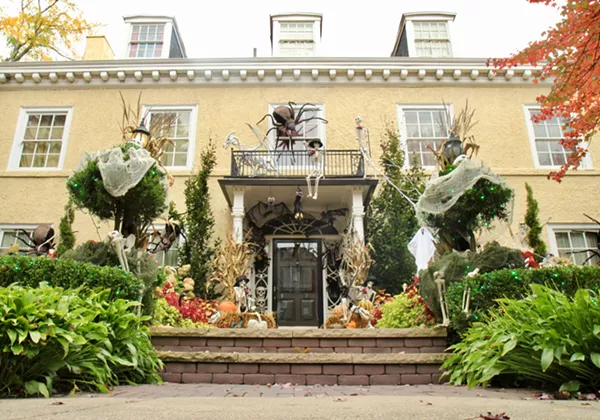 Think you're too old to trick-or-treat? Get over yourself, and get on over to this extravagant Indian Village house to take in the ornate cobwebs, furry tarantulas and ghoulish witches.
"The devil's in the details!" declared self-described crazy Halloween lady, Incoronata D'Angela. "This isn't even halfway done."
But her home near the corner of Agnes and Seminole already looks like something straight out of R.L. Stine's
Goosebumps
. D'Angela's been hoisting decorations for a week but promises that by the time she's done, her house will look overrun by a zombie apocalypse.
"This year we're celebrating Frankenstein's 200th birthday, so we're gonna' have a big Frank right in the middle of the yard," she explained, excitedly ushering me to the open space where decorations have yet to appear. She jumped when asked if she'll dress up. "Of course! I'm gonna' be Frankenstein's bride."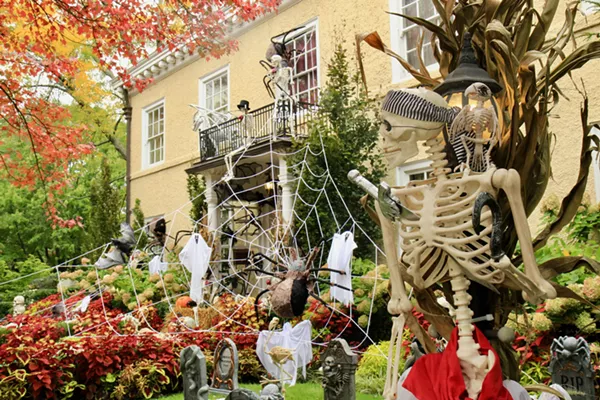 D'Angelo's been decorating the house since she moved into the decadent Indian Village neighborhood 16 years ago, she said, but it gets bigger and bigger every year.
"We get about 2,000 trick-or-treaters, and I know that 'cause I'm crazy and make individual bags of the candy beforehand," she said. Every kid gets a bag with a "crunchy, chocolatey and a chewy" because isn't that just the perfect combination?
D'Angelo loves to disguise her home every October as that of the Addams family, but as she put it: "It's really just about the kids - and the candy!"
Stay on top of Detroit news and views. Sign up for our weekly issue newsletter delivered each Wednesday.