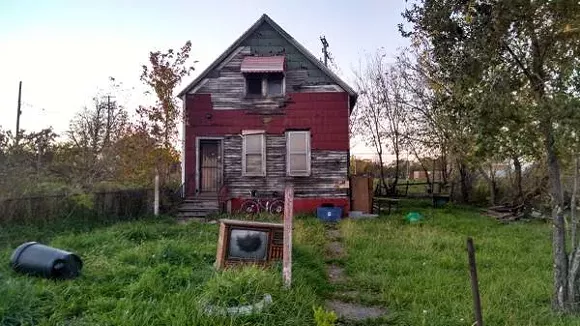 There are currently over 2,500 entries in Detroit's "apartment/housing rentals" section on Craigslist, with titles like "DO YOU PAY YOUR RENT ON TIME???" or "TIRED OF YOUR SLUMLORD?" But with its mixture of advertisement genius and pure comedy, the ad for a
"Charming Off Grid Urban Cottage (Detroit)"
should be the clickbait of the century. (It's unlikely that the phrases "Charming Off Grid Urban Cottage" and "Detroit" have ever been in the same sentence together.)
This Craigslist ad, posted eight days ago, was either written by a charming satirist from their Midtown apartment or by a real estate agent writing the architectural spin of the century. The way they describe the apartment in the picture (which by the way looks like a college student's final photography project) is honorable at best. With phrases like "lovely little abode" and "authentic lumberjack rugged man of the woods experience," how can you not buy into the Walden-esque vision the ad is preaching? (Too bad there's no laundry on site, though.)
Read the ad in full below:
This lovely little abode is nestled just beside Eastern Market. Water, electricity, and gas have been disconnected to give you that authentic lumberjack rugged man of the woods experience that you have always dreamed of while keeping all the amenities of the city close by. Forget about Downtown, Midtown, Corktown, Southwest, Hubbard Farms, Woodbridge, Indian Village, or an of those soft neighborhoods. If Thoreau were to move to Detroit, this is where he would stay. Patch your own roof, fix your own stairs, grow your own food, catch your own water, and capture rats and cats for protein!

Rent is Cheap, but so is talk...... Serious inquiries only.

Thanks,

Chris

---
Matt Harmon is an intern for Metro Times.