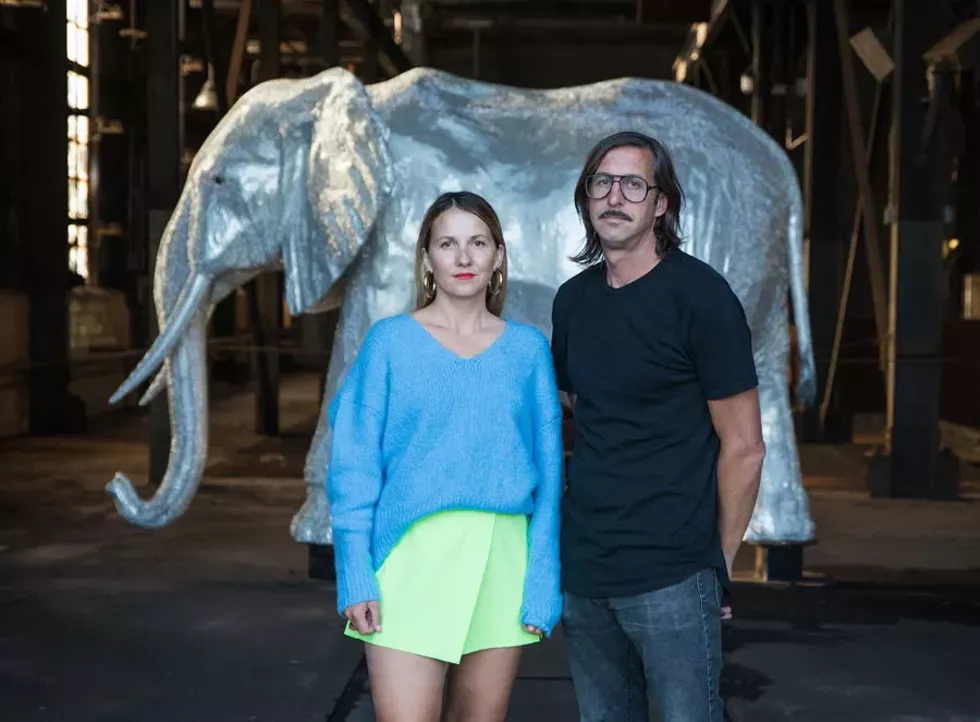 Much of Detroit's strange beauty comes from the fact that it sits at a crossroads — and perhaps nowhere in the city is this better exemplified than Conners Creek power plant. It's a striking mix of old and new: The 75-acre site contains the hulking, long-abandoned DTE Energy coal plant, which is now home to the Edison Boat Club, a private marina for the company's employees. There are McMansions on one side, and swaths of wilderness on the other. A few years ago, a family of beavers was discovered making their home on the site, the first spotted in Detroit in nearly 100 years.
And now, the site got a whole lot weirder. It's now home to a 900-pound suspended illuminated diamond, an army of eerie, glowing deer-people, and a 600-pound elephant, studded with some 350,000 rhinestones.
The latter additions are the sculptural works of the husband-and-wife duo of Steve and Dorota Coy, who for more than a decade have created art as the enigmatic Hygienic Dress League. The duo has billed HDL as a "corporation," but one that exists only to use the concept of a "corporation" as its medium. Like any good corporation, they've branded themselves: HDL uses recurring motifs of gold, like the gas masks they are typically photographed wearing, and animals — in the past, pigeons, goats, rhinoceroses, and more — often placed in urban contexts.
Thanks to a grant from the Knight Foundation, the duo was able to transform DTE's Conners Creek site into a public art exhibition titled Value Proposition, which opens this week for a three-day experience of art and music. It's the first time the space has been opened to the general public.
Like a corporation, HDL advertises, placing guerilla billboards on abandoned buildings to promote themselves. In that sense, they've forged a career as "street artists" in a general sense, much in the way that other Detroit artists like Tyree Guyton or Agent Orange have before them to draw attention to Detroit's blight and potential. Unlike a corporation, however, their "product" is not for sale — it's always been about creating the experience of HDL.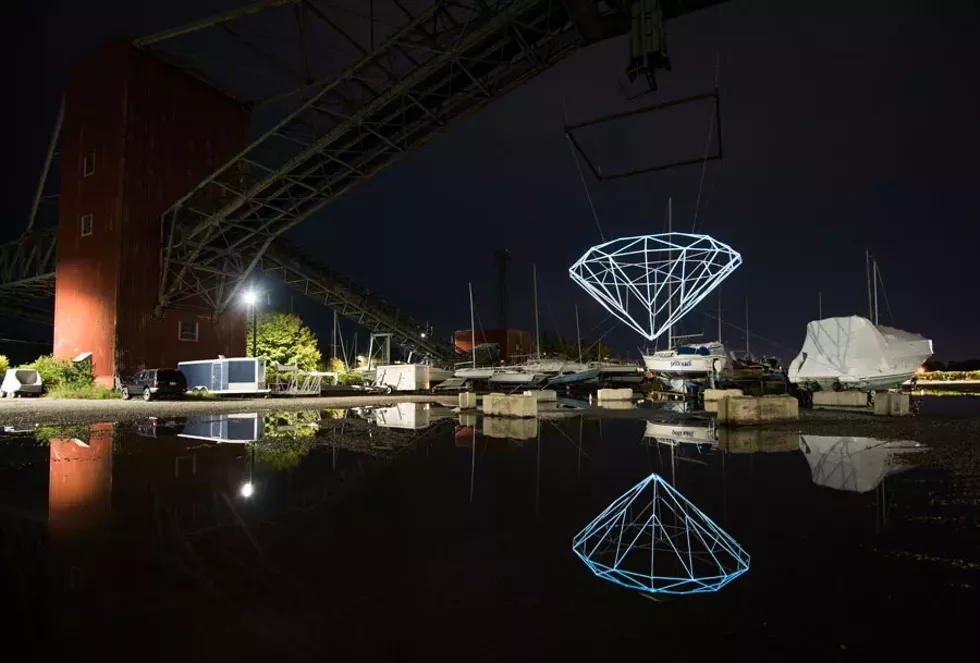 "In the past few years something kind of shifted," Steve says while offering a tour of the site. "We'd been doing a lot of murals before. We called them 'urban interventions,' but people call them murals. It was an inexpensive and accessible way for us to work. Now we've been doing more of these surreal augmentations of reality."
At Conners Creek, these "augmentations of reality" include "Diamond II," an LED-lit shape suspended from a coal shaft, reflecting over a puddle of water. The deer-people, painted fluorescent red and illuminated with UV lights, are scattered among the brush in a piece called "Spirit of the Forest." And the rhinestone-studded elephant is titled "Limited Edition"; found inside the abandoned plant, behind a chain-link fence.
For artists who have made a career slyly critiquing corporate culture, it's both ironic and totally fitting that they have now partnered on their biggest project to date with one of Detroit's biggest real-life corporations. Like a corporation, this project has been a long time in the making. They got the green light from the Knight Foundation last year, and toured the site early this year to begin plotting their installation. It was originally intended to open in the spring.
Steve says much of the actual fabrication of the works were farmed out to other workers — in that way, HDL as an "artist" is somewhat analogous to Andy Warhol's Factory. "We're kind of like a true corporation, right?" Steve says. "We're the top of the pyramid."
Steve describes HDL's work as "sci-fi dystopian glamour" and surrealist, with an environmental message. The duo drops references to Guy Debord's The Society of the Spectacle, upstate New York's Storm King sculpture park, and the anime Princess Mononoke. They also say they try to strike a balance between high-concept and absurdity.
Dorota says in the early days, "People would get mad at us. They'd say, 'Your art doesn't stand for anything. It's just you two [wearing] gas masks.' And I'm like, we're not artists who bang your head against the wall trying to explain the concept. It slowly opens up what it is. I think now we're in a place where it's pretty obvious."
"We just love the symbolism of these culturally loaded objects," Steve says. "We kind of ride the line between, 'Ah, we're joking,' and 'no we're very serious.' It's funny, it's humorous, but some of this stuff, if you start thinking about it too much, it can be very sad. It depends on how deep you start digging."
As their work has changed, so have perceptions of street art. Steve says they used to get a lot of stares, even when they were doing something as straightforward as a mural. "I don't know if there was, like, a culture shift or something, but most people [now] went straight to, 'That is super awesome,' and 'Thank you.' We used to get, 'What is that? Why are you painting on that building?'"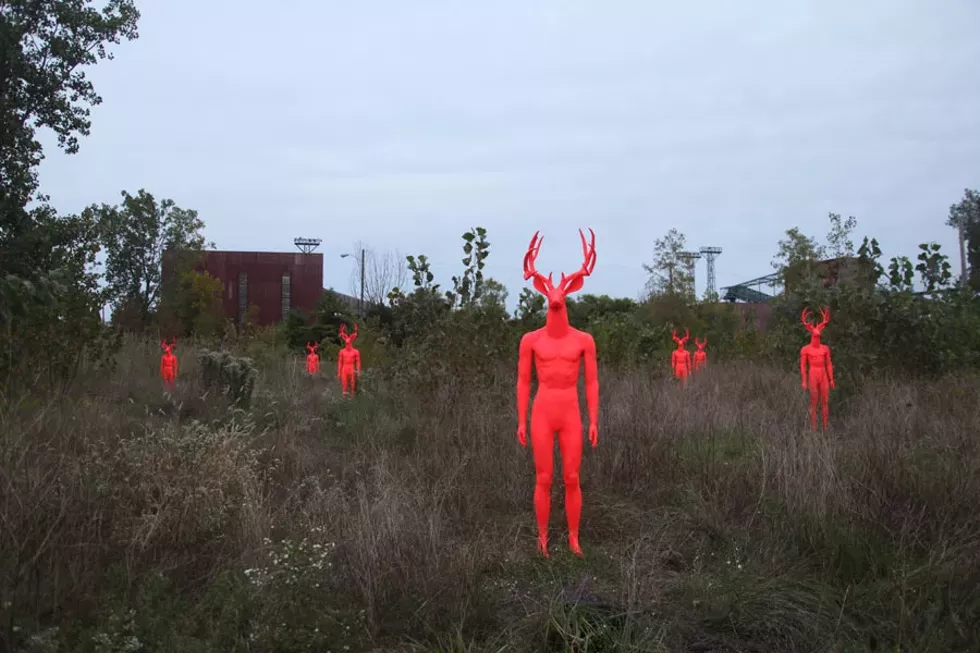 A lot of that has been perhaps due to increased corporate patronage of the arts — from companies like DTE, Dan Gilbert's Bedrock Detroit, and others. Last year, HDL teamed up with Bedrock to create an installation of metal pigeons suspended over downtown's Detroit Esplanade, which was created by the Pennsylvania-based Groundswell Design Group architecture firm. The same firm created a swanky outdoor bar and lounge at the Conners Creek site.
Still, the duo consider the DTE partnership to be kind of an artistic coup. "This is pushing their boundaries as a corporate entity," Dorota says. "So the fact that they allowed us to do this is amazing. I don't want to speak on behalf of anybody, but we're pretty out there in terms of the work that we do."
Dorota says they were given total creative control of the project, but there was some corporate compromise. An early version of the diamond didn't work properly and had to be rebuilt. And HDL wanted guests to be able to go up to the elephant, but DTE didn't want people inside the plant, hence the fence.
But the duo says for as many challenges as the project presented, it was a fruitful partnership. "One of the reasons we struggle as artists is because we don't want money to dictate what we do," Steve says. "There's nothing for you to buy. And there's nothing wrong with working this way, but a lot of artists like that are probably under the pressure to sell so that they can keep producing art."
Dorota says she hopes HDL can keep moving up the corporate ladder. "Any opportunity like this, we're open to it," she says. "It took us years to be able to get to this level to do this. This didn't happen overnight. We worked really hard for a long time to get to this."
"If we can get these companies to buy in and start supporting these artists, it benefits everyone," Steve says.
Value Proposition is 6-10 p.m. on Thursday, Oct. 18 (music by Shigeto, Keniro), Friday, Oct. 19 (music by Andra O., Bill Spencer), and Saturday, Oct. 20 (music by Charles Trees, Pablo R. Ruiz) at Edison Boat Club, 100 Lycaste St., Detroit; RSVP at value-proposition.eventcreate.com.
Get our top picks for the best events in Detroit every Thursday morning. Sign up for our events newsletter.