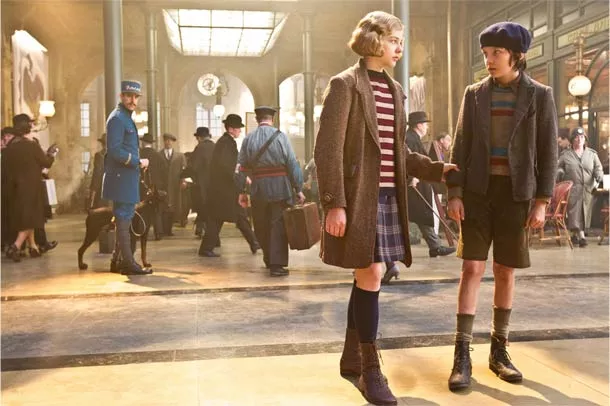 Martin Scorsese's adaptation of Brian Selznick's gorgeously illustrated novel The Invention of Hugo Cabret is more for film-lovers than filmgoers. That's less of a compliment than you might think.
From its magically executed opening, a dazzling 3-D shot that descends from the heavens, races along the Parisian railways, careens through the hustle and bustle of a Paris train station, glimpses characters we will learn more about later, and finally comes to rest on Hugo, the boy who peers out from behind the facade of a clock, Scorsese makes it clear that this is a film in love with the mechanics of filmmaking. It's also an unintended hint of what's to come: an attentively crafted reminiscence of wonderment remembered, rather than wonderment experienced.
Take, for instance, a brief clip from Harold Lloyd's Safety Last! Hugo (Asa Butterfield) and his newfound friend Isabelle (Chloe Grace Moretz) sneak into the movies to witness Lloyd as he precariously dangles from the hands of a clock, far above the streets of New York. Even today the footage is harrowing, using "look no wires" danger to energize its comedy. As might be expected, Scorsese echoes the scene in his more serious-minded finale, as Hugo climbs out onto the snowy train station clock tower, in an effort to evade a pursuing station inspector (Sacha Baron Cohen). Even with expensive 3-D digital effects and dizzying camera angles, the tension is slight, a fabricated homage to cinematic drama rather than a truly dramatic moment in itself.
The same can be said of Hugo. While there is much to admire and even embrace about Scorsese's love letter to the history of cinema, as an instance of storytelling the movie falls short of what it could, and should, have been.
It is the 1930s (where, curiously, everyone has a British accent) and Hugo Cabret lives in the labyrinthine passageways of a Paris train station, winding the clocks for his missing drunken uncle Claude (Ray Winstone). When he's not stealing food or avoiding the station inspector, he's pilfering gears from the old man who runs a toy shop booth (Ben Kingsley). You see, Hugo's watchmaker father was attempting to fix a mechanical man when he died in a tragic fire. Since then, the boy, convinced that the automaton will deliver a last message from his dad, has desperately tried to finish the repair. Unfortunately, the old man, Papa George, catches him and confiscates his father's notebook. It's only through the help of his adventurous goddaughter Isabelle that Hugo learns the true secret behind the mechanical man.
It's a graceful bit of redemptive storytelling, to have Hugo's desire to honor his own personal history become the way in which the history of cinema — in particular, the work of fantasist George Méliès — is celebrated. But what was originally a delicate and moving tale in Selznick's book has been bloated by scripter John Logan (The Aviator) into a poorly paced melodrama that gives too little attention to Hugo's relationship with Isabelle and Papa George, and too much attention to exposition and slow-to-come revelations. So much time is wasted delaying the obvious and inevitable, that the movie easily runs 20 minutes longer than it should.
The drama doesn't fail completely — there are effective moments, lovely grace notes between incidental characters, and Baron-Cohen proves to be an endearing buffoon of a villain (watch for the hilariously 3-D use of his face) — but it doesn't come close to reaching the heights it should. Logan's repetitious fallback on cat-and-mouse chases between Hugo and the inspector (and his Doberman, named Maximilian), as entertaining as they are, make clear the script's underdeveloped sense of narrative.
More importantly, the film never explores Hugo's deep need for connection, his longing to receive a word of comfort from his dead father made palpable. If Butterfield's soulful eyes are any indication, the 14-year-old actor understands his character's needs in a way Scorsese didn't — or didn't have time to attend to.
Instead, the esteemed director luxuriates in the meticulous beauty of his cinematic clockworks. And what beauty it is. For cinephiles, Hugo is a tour de force of movie references, French film history, and cinematic technique. Scorsese layers his dreamlike images with swooping camera shots, thematic parallels (the inspector's leg brace and the automaton, a silent film of a train frightening audiences and Hugo's own 3-D effects), and set embellishments that take your breath away. It is filmmaking as its own reward.
But as Scorsese's first movie for children, it's pretty obvious that the kids' stuff interests him the least. Between the crash course on early French cinema, a plea for film preservation, and a stylistic homage to Méliès (among others), Hugo's humans, for all their longing and sadness, become cogs in Scorsese's ravishing machine.