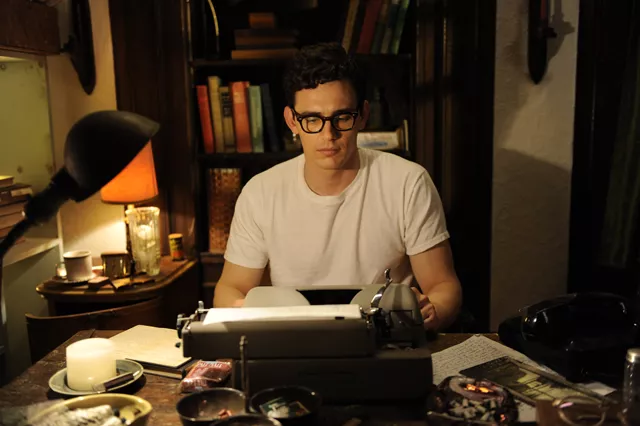 For as much lip service as the beat generation gets from the ink-stained hordes, try finding a beatnik costume on the shelves come Halloween time, when bellbottoms and Afros easily outnumber bongos and berets. The flower-power movement traipsed barefoot down the paths blazed by the beats, and stole much of the credit, because it's easier to market peace, love and rock 'n' roll than jazz, despair and outrage.
This same sunshine revisionism extends to the authors themselves, as we tend to remember Allen Ginsberg as the jolly, frizzy-headed bon vivant of his later years over the intense and bookish Angry Young Man. Ginsberg had plenty be angry about, his queerness, his Jewishness and his sheer "otherness" was an affront to a traumatized postwar society that was attempting to wash itself as white as the picket fences that sprouted everywhere in '50s America.
Howl rubs Ginsberg's early rage right in our noses, along with his courage, irreverence and unvarnished humanity. Star James Franco really nails Ginsberg's deliberate speaking cadence, landing in the sweet spot between a hipster and a rabbi; through the sheer force of his talent, Franco holds together a film that can be as captivating, intriguing, vague and irritating as its complex hero.
Not so much written as compiled — from interviews, trial transcripts and the text of the title poem — Howl presents a disjointed but weirdly hypnotic portrait of the artist at the height of his cultural relevance. Documentarians Epstein and Freidman dip a toe into narrative, patching together animation, courtroom drama and archive footage into a freeform package that doesn't always gel.
The centerpiece is a re-creation of the 1957 obscenity trial (brought against the publisher, not the author) where the very literary merit of Ginsberg's epic poem was hotly debated. Jon Hamm, slicked back and neatly pressed, in a suit a few years less sleek than the mid-century armor he sports on Mad Men, is solid as the defense attorney, grilling prudes played by Jeff Daniels and Mary Louise Parker, who frown at Ginsberg's scruffy, aggressive wordplay.
His twirling stream of biblical and mythic allusion mingled with frank talk of cocks and assholes, divorced from the context of the times, can be sophomoric sometimes — through the smudged rearview mirror of history we're more inclined to giggle than gasp at talk of drugs and genitals.
But Ginsberg, and his friends, rivals and occasional lovers such as Neal Cassady, Lawrence Ferlinghetti and Jack Kerouac, were on to something, creating a lasting legacy from a fleeting cultural moment. Back then, their greatest crime was shrugging off the cozy blanket of commercialism in which a shell-shocked nation was anxiously swaddling itself. But today, the really radical thing about Ginsberg is that he held holy all aspects of life, both profound and profane. We've mostly gotten over our fear of words; it's the ideas that can still terrify us.
Showing at the Detroit Film Theatre (inside the DIA, 5200 Woodward Ave., Detroit; 313-833-3237) at 9:30 p.m. on Friday and Saturday, Feb. 4-5, and at 4:30 p.m. on Sunday, Feb. 6.