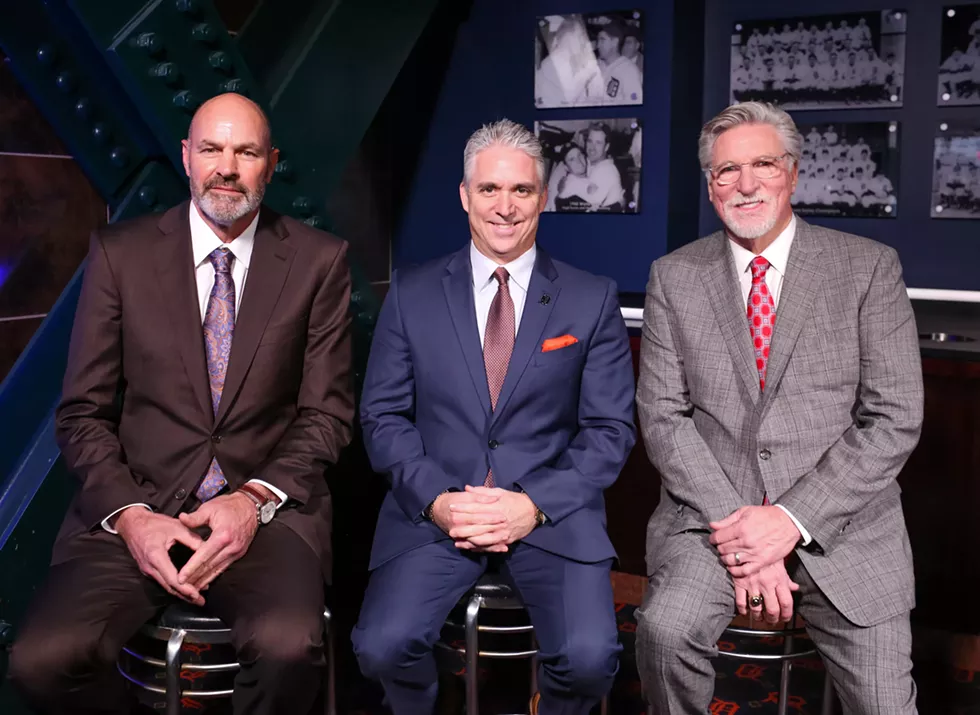 It's no secret that the Tigers are in rebuilding mode, and there might not be many household names on the roster that casual fans will recognize. But the TV broadcast team has also been rebuilt, and it now features some familiar faces and fan favorites.
After longtime announcers Mario Impemba and Rod Allen got into a physical altercation in the booth after a game in Chicago last season, the Tigers were tasked with finding a new broadcast team on the TV side. Impemba, a Detroit native and Michigan State graduate, had done play-by-play for the Tigers since 2000. He's already found a new home this season as part of the Boston Red Sox radio team.
Allen briefly played for the Tigers in 1984, and had been a member of the broadcast team since 2002. While Allen played well in his brief stint in the majors, he might be best remembered for chasing a Japanese pitcher around Yokohama Stadium in the early '90s.
While Dan Dickerson and Jim Price return for another season in the radio booth, the TV play-by-play duties will be taken over by lifetime Detroit sports Swiss Army knife Matt Shepard, who has done TV and radio broadcasts for the Tigers, Pistons, Lions, Michigan basketball, and Eastern Michigan University football. Shepard grew up idolizing all-time great Tigers broadcasters George Kell and Ernie Harwell, and now he's finally getting his turn at bat.
"He's a Detroit kid who got his dream position," says Kirk Gibson, who is returning for his ninth season as Tigers TV color commentator. "I worked with Mario and Rod for many years. Those guys were all very dedicated. But with Matt Shepard, when I knew they were gonna make the change I fully supported it."
Shepard and Gibson will also be joined in the TV booth by Gibson's 1984 Tiger teammate Jack Morris, who last year was inducted into the National Baseball Hall of Fame. Morris jumped ship from the Minnesota Twins broadcast booth, where he'd worked for the past 12 years.
Another former pitcher from the '84 Tigers, Dan Petry, joins the broadcast team as a pregame and postgame analyst, alongside the incumbent, former outfielder Craig Monroe, who made a name for himself on the '06 Tigers en route to the American League pennant. And although the two wore the Old English D in different eras, they share the identity it represents.
Petry has filled in on Tigers broadcasts in the past, but landing a regular gig with his old teammates officially completes the homecoming.
"Never did I ever think about broadcasting," Petry says. "Then I was asked to do a couple of games after Al Kaline stepped down around 2002. And then you're close to the game again. You're close to the athletes and studying the game again like you did for so many years."
For a team in flux and searching for a new identity on the field, bringing in a handful of '84 Tigers — a team whose identity has resonated with the city ever since they won it all — goes a long way toward giving fans something to latch on to. And no one is more excited about that than the guys themselves. Identity comes, Petry says, from going through trying situations together.
"Don't forget about Craig Monroe," Petry says. "He went through a similar situation having gone through the rough years in the early 2000s and then won the pennant in 2006. It's similar to what we did in the '80s and what we're seeing the beginning of now. The team is putting together this nucleus and then slowly moving in these pieces that have been simmering down in the minor leagues."
When asked which players on the current Tigers roster remind them of themselves during their playing days, the pair of pitchers-turned-broadcasters, Petry and Morris, are reluctant to jump the gun but hinted at two up-and-coming aces.
"There's one guy that I'm watching," Petry says. "I haven't seen enough of him yet. But stuff-wise right now, it's Spencer Turnbull."
Turnbull, 26, made the cut as the fifth and final pitcher added to the starting rotation less than a week before the regular season. It was the last roster decision manager Ron Gardenhire had to make, but after a strong spring training Turnbull landed his spot on a major-league Opening Day roster for the first time in his career. Not only that, he's scheduled to pitch in the Tigers' home opener against the Kansas City Royals on Thursday at Comerica Park.
Much like the rest of the baseball world, Morris has his eyes on the Tigers' 2018 number one draft pick, right-handed pitcher Casey Mize, who will start the regular season in the minor leagues.
"There are a bunch of kids down there that have arms of my caliber," Morris says. "Casey Mize has got all the upside and all the hype already. He throws a pitch that I threw — a split sinker. I called mine a forkball; they call his a split. It's more of a changeup with a little break; mine had a lot of break."
Morris was asked by the organization to work with Mize on protecting himself and strengthening his arm. The Tigers have no plans to rush their prized future ace to the big leagues this year, despite the fans' clamoring for him.
"Starting the season in a colder climate like Detroit, Toledo, or Erie could have some [ill] effects on his arm," Shepard says. "So I think they'll want to keep him in a warmer climate like Lakeland to start the season. It's one thing having a really strong arm and having really good stuff. It's another thing learning how to implement all that into being a good pitcher. [Mize] doesn't have many innings under his professional belt yet."
Home is where the park is
If there's one thing that ties the Tigers' new set of broadcasters together, it's the fact that they all consider Detroit, and more specifically its ballpark, home. And even though it was a physical altercation that dissolved the previous pair of broadcasters, a familial relationship exists in baseball that begins at the park.
"There's a certain serenity about being at the ballpark," Petry says. "It's like home. It's where you're the most comfortable. You know when you're on vacation and you're having a good time, but you say, 'I can't wait to get home?' There's something about a ballpark that makes you feel that way."
Petry was born in California, but started a family in metro Detroit during his playing days with the Tigers. His sons Jeff and Matt both attended Orchard Lake St. Mary's high school, where the baseball field was recently named in his honor. Matt Petry has coached baseball there for the past nine years, with his dad assisting, while Jeff Petry is an NHL defenseman for the Montreal Canadiens.
"When they called me and told me they were naming the park after me, I was blown away," Petry says. "I couldn't believe it. You've got statues of popes and saints and bishops. What in the world is my name getting mixed up with all these people? I can't say enough about how humbling it is."
'Some people think baseball is boring. I say they're boring. It's not. Fucking. Boring. At all.' — Kirk Gibson

tweet this
Homegrown Farmington Hills kid and Central Michigan alumni Matt Shepard has been covering Detroit sports since the 1990s. Just a week before he was named the Tigers' new TV play-by-play guy, Shepard's wife and son were involved in a serious car accident. Shepard's new coworkers reached out in support and instantly became like family.
"The people I work with — I don't just respect," Shepard says. "I love those guys. They've been extremely supportive during my wife's injury. The camaraderie we have and the family unit we've become gives me great satisfaction."
Shepard's professionalism and wealth of sports knowledge is something that his fellow broadcasters feel the need to live up to when it comes to bringing their A-game to the booth.
"Matt's our quarterback," Morris says. "The thing I'm most impressed with is his work ethic. He's a pro's pro. He understands the analysts can really paint the picture, and he's gonna hand it off to us maybe a bit more than guys in the past."
Shepard doesn't anticipate that the former players will rest on their laurels, and insists that they prepare for broadcasts with the same vigor that they did when they laced up their cleats.
"They actually study it," Shepard says. "They don't act like they don't have to look at notes just because they played. That's what I admire most about them. I rely on their knowledge, but they do more than speak from experience."
Shepard is a big believer that baseball is about storytelling. So pairing a professional storyteller like Shepard with such storied athletes is something that fans can look forward to. And for those who quip about the game being slow or boring, the new Tigers broadcast team might be the ones to convince you otherwise.
Morris argues that the partnership and rhythm between the analysts is an artform. Shepard cites the beauty of being a part of every baseball fan's home when they tune in to connect with his. Gibson has a stronger, more direct opinion.
"Some people think baseball is boring," Gibson says. "I say they're boring. It's not. Fucking. Boring. At all. There's a lot going on. Quit watching the ball. If you choose to, it's like with anything else, there's something to see. There's something to learn. I try to get people to think. Let's get in the trenches together. There's shit that happens all the time. Stay tuned."
'I'm still me'
When the name "Kirk Gibson" comes up, Detroit fans remember his epic blast off San Diego Padres closer Goose Gossage to clinch the decisive Game 5 of the '84 World Series. Padres manager Dick Williams wanted to intentionally walk Gibson so that Gossage could face Tigers catcher Lance Parrish.
But Gossage was adamant he could strike Gibson out, as he had so many times in the past.
"He don't wanna walk you!" shouted Tigers manager Sparky Anderson from the third-base dugout at old Tiger Stadium. "He don't wanna walk you."
Gossage got his wish, and Gibson got his revenge.
For baseball fans elsewhere across the country, they remember an injured Gibson limping triumphantly around the bases at L.A.'s Dodger Stadium in Game 1 of the '88 World Series, pumping his fist in mad celebration after sending a pinch-hit, two-out, full-count slider off Oakland A's closer Dennis Eckersley into the right-field stands for a walk-off home run in his only at-bat of the Series.
Now 61, Gibson exudes an entirely different sort of strength and tenacity from that of his playing days. And he practices a different sort of fist-pump.
It's been four years since Gibson was diagnosed with Parkinson's disease. He says it's hard to explain, but refers to a poem by Andy McDowell called "Smaller" to help people understand.
"I'm still me," Gibson says, repeating the crux of the poem. "When I got diagnosed, I thought, 'Oh jeez, I'm gonna die.' But it's not that way at all. You have the ability to live a normal life. It's a new normal, but I'm not gonna quit. I still have something to give back."
Gibson's once iconic fist-pumping is now part of his physical therapy. And even with his broadcast duties, his new position as special assistant to general manager Al Avila, and his Parkinson's therapy, he still gives his time and energy to others who need it.
"I just met a guy in this hotel I'm in right now," Gibson says from his temporary spring-training room in Lakeland, Florida. "His wife came up to me and said her husband has Parkinson's and he's not very motivated. So I went up to the room to talk to him. I said, 'Let's walk in place and pump our arms.' He says, 'Aw, I can't pump my arms, I can't get 'em up.' So I said, 'Alright no problem, but I would recommend that you go to therapy; it really helped me.'
"He stuck his hand out to give me a handshake. I shook it and said, 'Hey, how about a hug?' And he put his arms right around my neck. I said, 'See! I knew you could do it. ... I tricked ya, but I knew you could do it.' But that's what Parkinson's does to ya. You gotta have energy with what ya got, dude."
Gibson's other secret to staying energized is his sense of humor. He recently teamed up with local rockers the Reefermen to produce a parody music video of Alice Cooper's "I'm Eighteen" as a surprise for the Detroit shock rocker's 71st birthday. The Gibson version is called "I'm Seventy" and pokes fun at growing old. In the video, Gibson goes all out, rocking a long, black wig and Alice Cooper makeup while singing lyrics like "I have no ass" and "I poop in my pants."
In what might seem like a long season if the losses start piling up, Gibson says the team will have to resort to humor to keep its spirits up. While watching minor leaguers in spring training earlier this year, one batter took at a swing at a terrible pitch that hit the dirt five feet in front of the plate.
"It reminded us of one time when one of our teammates swung at an awful pitch like that," Gibson says. "Sparky Anderson yelled at him, 'Jeez! How can you swing at that?!' And all he said was, 'I was lookin' for it, Skipper. That guy thought he was gonna waste one on me. He ain't wastin' that shit on me!'
Above all else, Gibson wants to get fans thinking and get them involved. He defends the city of Detroit and the game of baseball everywhere he goes. And it's from those things that a baseball team and its identity can represent the people who support it.
"I've always cared about doing what's right for the team, and this is no different," Gibson says. "From the producers, the directors, the cameramen, the tape guys, the sound guys, we're all ... dedicated ... and we like each other. We're friends — and hopefully that comes across in our telecast."
Stay on top of Detroit news and views. Sign up for our weekly issue newsletter delivered each Wednesday.