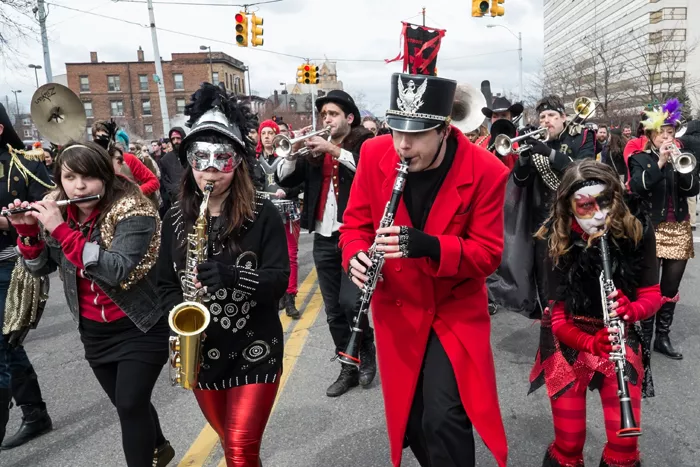 Detroit, legend has it, was doomed from the start, ever since Antoine Cadillac pissed off a little red imp he encountered on a stroll. Ignoring the warnings of a fortuneteller, Cadillac attacked the creature, who then cursed Cadillac — and the city that would rise from the settlement he founded — with misfortune. Since then, Le Nain Rouge has become the folkloric scapegoat for pretty much everything bad to befall Detroit, said to appear just before calamity strikes.
Of course, blaming Detroit's woes on a fairy tale creature is kind of pathetic — but hell, it's also kind of fun. That's thanks to the Marche du Nain Rouge, a new tradition wherein a parade of Detroiters drives the red devil out of town for another year. The parade grew from something spontaneously thought up by friends Francis Grunow and Joe Uhl four years ago — over beers, of course — into an annual event that now draws thousands. Think Mardi Gras meets Guy Fawkes Day and you'll get the idea.
Grunow was in law school at the time, and spring break was on his mind. "We were talking about how a place like New Orleans and Detroit have a lot of similarity, especially around their French heritage and founding, and how New Orleans has Mardi Gras and Detroit really doesn't," Grunow says, noting that Mardi Gras took on a new meaning after Hurricane Katrina. "Mardi Gras was a big way for New Orleans to show it was healing or healthy again. It was a tradition that was really cathartic."
A self-professed history buff, Grunow had heard of the legend of the Nain Rouge and decided he was the perfect cause for celebration. So Grunow and a core group set out organizing the inaugural Marche, not knowing how many people would be into it. To Grunow's surprise, several hundred people showed up dressed in all manner of costumes to drive out the Nain Rouge.
The first year saw the burning of Nain Rouge effigies, but the tradition has altered in recent years. The gist of it goes something like this: People gather in the parking lot of Traffic Jam & Snug, where a speaker talks about hope for the new year. Someone dressed as the Nain (Grunow won't reveal who is behind the mask) interrupts and taunts the revelers, who then chase him out.
Grunow credits the immediate embrace of the parade to the blank canvas it provides; the nascent tradition can be whatever people want it to be. "It's a participatory parade," Grunow says. "Frankly, we just made up and played with this idea that you should dress in a way so that the Nain Rouge doesn't recognize you. Whatever that means and however you interpret it is totally up to you." Revelers show up in all manner of costumes, from wearing red face paint to old French military-style duds to dressing in drag. Past years poked fun at current events, seeing the Nain announce his campaign for emergency manager, for example.
It's a uniquely Detroit festival, a celebration of the city's history that follows a thread all the way back to its founding. And anyone who can coax Detroiters into walking down a thoroughfare in the Motor City has certainly accomplished something. The event has expanded in recent years to feature a Tour de Troit-sponsored Run du Nain Rouge 5K on the parade route before the festivities start, and Grunow is working on getting Detroit Public Schools' marching bands involved next year.
Hmm. Maybe the little guy's not so bad after all.
The Marche du Nain Rouge starts at 1 p.m. on Sunday, March 23, outside Traffic Jam & Snug, 511 W. Canfield St., Detroit.