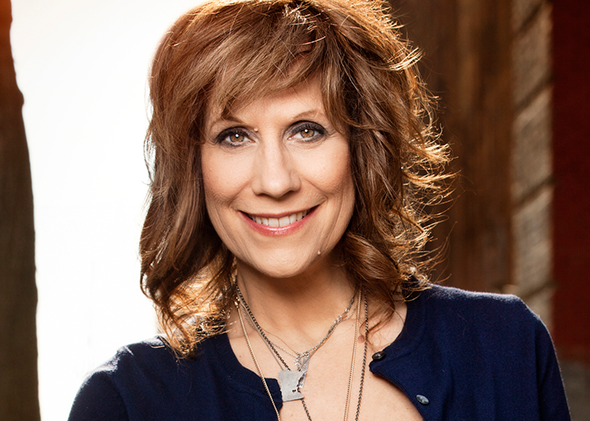 When comedian and activist Lizz Winstead co-created The Daily Show in 1996, it was a different world — a world without Twitter, and a world without a president with Twitter.
Unfortunately, though, many things remain the same.
When it comes to women's reproductive health, abortion rights, and the lives of those physicians, nurses, and volunteers who perform legal procedures throughout the country and offer true assistance to women in need — well, it's all still a pretty fucked-up situation.
Enter the Lady Parts Justice League, a nonprofit Winstead helped co-found in 2012. LPJL is described as a coven of hilarious badass feminists who use humor and pop culture to fight for reproductive rights.
Thus, the Vagical Mystery Tour was born. In its second year, the tour brings comedians and performers to cities where reproductive access is at risk. On each stop, Winstead and company volunteer at local clinics, partake in community outreach, and, of course, put on a comedy show that not only makes people laugh and forget the horrors of the world, but also raises awareness in an accessible way.
When Metro Times catches up with Winstead she is in the middle of a Vagical Mystery Tour stop in Charleston, West Virginia, anxiously awaiting a Supreme Court decision that will determine whether or not fake clinics must disclose what they are — and what they are not. Since our conversation, however, the U.S. Supreme court ruled to uphold First Amendment rights of anti-abortion pregnancy crisis centers. In other words, fake abortion clinics have been granted license to lie — and the work of Winstead's comedic crusade is far from over.
Metro Times: Where does comedy come into play when defending women's reproductive rights, and combating forced motherhood as encouraged by these fake clinics?
Lizz Winstead: I think [it's about] using comedy to expose people who don't have any idea how pregnancy even works. ... [These] people don't even understand how anatomy works and how pregnancy actually works, and those people are legislating. I think it's good to point out through humor the hypocrisy of those people. Also, when you use humor to talk about important issues you can make people laugh, and you can argue that for at least for that moment, that person brought you joy. It humanizes the people who might be on opposite sides of an issue.
MT: Have you found that there are other organizations doing similar work, or were you driven by the lack of activism?
Winstead: I think what we found is activists were doing a whole bunch of work — they were doing policy work, and they were on the ground raising awareness, but there was really no organization that dedicated its time to checking in with the clinics, finding out what they need, providing care for them, and then asking the community to help, too. For us, it was a void we could fill rather than replicating other people's work, and as performers it's what we do, right? Why not do it with a purpose?
We feel like that's the part that's really cool, is to be able to come in, and spend afternoons just talking to the clinics. We do a lot of prep work in advance before we come, but when we get there they tell you their story and give you a tour of their wonderful clinics and they reveal things that we could be doing to help, whether that's trying to get landscaping or doing repairs. People know in abstract what's at stake and they hear the stories about the laws and about the erosion of access to reproductive rights and justice and health, but I think until they really hear the tangible stories, they don't get the full picture.
MT: What has been most shocking to you during your clinical visits?
Winstead: I think the thing that strikes me is the day-to-day life of these people. A lot of these physicians can't drive home the same way everyday because they'll be followed. I think understanding that they walk through a slew of protesters, they go to work, then walk back through the protesters, and that part of their day is having to hear people demonize them, and how much an emotional toll that takes, and just how little time they have to stop, take a breath, and arrange a time where they can chill out, where they feel supported. With clinics closing all around, the ones that remain open are getting so much more work, and not just from people locally but from people from other states where the laws are even more oppressive, and trying to work while filled to capacity constantly. It's never a slow day.
MT: Both Vagical Mystery Tours have taken place in Trump's America. I assume you've come across your share of resistance...
Winstead: Oh my god, yes. When you're trying to normalize abortion, and remove the stigma, there's a bunch of resistance. I also just want to point out that we formed this organization long before Trump's America, because [of] state legislatures long before Trump was president, and I think a lot of people were complacent and not understanding that it was in your state House that these laws were happening. So yes, we are followed on tour, we have protesters outside of our shows. Sometimes local reporters can't do a piece on what we do because their editors don't want to promote it.
MT: How do you combat complacency when you're providing a service that looks to reach a wide scope of people while, as a nation, we are collectively drowning in information and our president's Twitter feed?
Winstead: I think that combating complacency for us comes from hitting the ground and meeting the people that you're advocating for, because they're the ones that give you the fuel to wake up everyday. I think complacency comes from reading a whole bunch of stuff and then shutting down because you don't know what to do, and what we're trying to say is that we have a plan, we know what to do, we know what these places need, and then we can then give people tangible actions that they can do in 30 minutes, in an hour, so that people can feel like they don't have to stop everything that they're doing and participate fully in these massive things. There's a lot of stuff you can do at your computer. You can write postcards to clinics to say, "Hey we support you" — that means so much to them because they get so much hate mail, that little acts of kindness like that change the course of what's happening. If we're not all out in the public talking about this, the extremists get to define what our movement is. We are out there showing that it's people you know and people you love that do this work. That's what starts the change.
MT: Is there something that will always make you laugh?
Winstead: Anything from realizing I have on the wrong bra to when people are indignant in their stupidity and pointing out their hypocrisy. I feel like if you live in the world and have moments, and are in touch with your humanity, you will always find joy and will always find humor. It's when you internalize that you stop seeing things as funny. If you laugh at something it means you still have hope. When we lose humor it means that the hope is gone, and so it's a touchstone for the individual, and also its a touchstone for all of us who do the work, to see that people are still fighting and still have that spark.
Lizz Winstead and the Vagical Mystery Tour will perform at 7 p.m. on Thursday, July 12 at the Magic Bag; 22920 Woodward Ave., Ferndale; 248-544-1991; themagicbag.com; Tickets are $18.
Get our top picks for the best events in Detroit every Thursday morning. Sign up for our events newsletter.