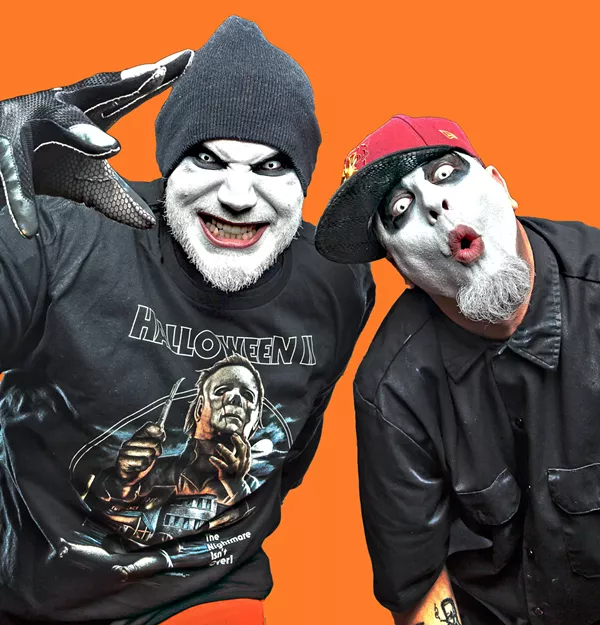 For Jamie Spaniolo and Paul Methric, the dream of creating their own pop culture convention took root at the tender age of 13. It was then that they attended a Star Trek convention and thus began years of study, which would eventually lead to the conception of Astronomicon.
Spaniolo and Methric are also known by their horrorcore monikers Jamie Madrox and Monoxide, and you may them better as simply Twiztid.
Much like the Juggalo universe the pair has been a staple of since Psychopathic Records released their 1997 debut album
Mostasteless
, Twiztid promotes inclusivity. Astronomicon is their ultimate vision of an all-encompassing event that celebrates their history while bridging the gap between other fandoms like comic books, horror flicks, and wrestling. The genres are more similar than some might like to think.
Astronomicon is also their attempt to show different sides to their personas and to eliminate the kind of negative misconceptions that have plagued the pair's 20-plus-year career.
"I believe it is just misinformation," Methric says. "I believe when you finally see what Twiztid has truly been about, you'll see you've been missing out on it because of something you may have heard. It's very inclusive. We've always been like that. We're like Toys-R-Us, for Jason and Michael Myers."
Though this is an inaugural event, the process of organizing Astronomicon began as far back as 2014, when Spaniolo and Methric established their Majik Ninja Entertainment record label alongside CEO George Vlahakis. The company aided in the leap into the convention world by helping them pin down guests like Ryan Hurst (
Sons of Anarchy
), Jon Heder (
Napoleon Dynamite
), and Sid Haig (
Captain Spaulding
).
Methric says a few guests even had a change of heart after initially turning the convention down.
"There's been quite a few of them that have called back asking if they can get on it," Methric says. "We're booked. We're going to show the world that we can not only pull this off, but pull it off well."
Although original plans might have seen Astonomicon take place somewhere outside of Michigan, it landed at Wyndham Garden in Sterling Heights. Along with the photo opportunities, panels, and Q&A sessions, Astronomicon will include many Michigan vendors along with a DIY kids workshop sponsored by the local Home Depot. Plus, many Michigan natives are participating in the event, including Carla Harvey (from the heavy metal band Butcher Babies) and pro wrestler Kevin Nash.
Another Michigan native on board for Astronomicon is AMC's
Comic Book Men
star Ming Chen. Growing up in Jackson, before moving to Ann Arbor and eventually attending the University of Michigan, Chen has experienced the state's nerd culture since its humble beginnings, and knew it needed something more.
"Growing up in Ann Arbor, there weren't a lot of comic cons or a lot of fan events," Chen says. "We would have to go to the VFW Halls. There would be these little events. It's cool to see a couple of really crazy people running an amazing convention, booking these amazing guests. It's cool to see an event where I can tell people to go up to Michigan and that there's an amazing event up there. This doesn't look like a first year, first ever show. It looks like it's been around for a while."
When it comes down to it, Spaniolo and Methric hope Astronomicon attendees will be impressed that something of this kind can happen in Michigan, and that they'll look forward to the next one. A smorgasbord of activities are planned for Astronomicon, but guests won't necessarily have to spend a ton of money to participate once they've bought their tickets.
"I want them to leave mad that it's not two days longer," Methric says. "I want them to not want to leave. I want them to have to be physically removed from the grounds because they don't want to leave."
According to Methric, Astronomicon's goal is to bring people together who live in these parallel universes and show them all they're not that different.
"We want you to be proud first of all," Methric says. "We're not at some garage sale or some VFW with a bunch of comic dealers. That's what we grew up around. You didn't get a lot of the whole mix of entertainment in one big conglomerate, in one spot. We want everybody to be proud to be a part of this."
Astronomicon takes place Friday-Sunday, Feb. 9-11 at Wyndham Gardens located at 34911 Van Dyke, Sterling Heights. Friday passes are $30, Saturday passes are $35, Sunday passes are $25, weekend passes are $60. Kids ages 5 and younger are free. Kids ages 6 through 12 are $15.

For more information, including event times, a complete lineup of guests, panels, and activities, visit astronomicon.com.