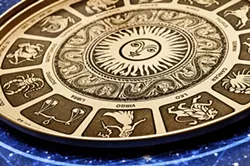 ARIES: March 21 – April 20
It's funny how we get pushed by our experience to wake up and smell the coffee. Your best laid plans were supposed to keep things on track for a while. Now, all of a sudden, random events have shown up to say, "Maybe now is the time" to break away, or jump ship, or go into alignment with things that you can live with, instead of paying homage to the same old grind. Before the seasons change, something's got to give. The usual approach is what got you here. At the point where the sidewalk ends, the business of what's next relies solely upon what your heart calls you to do.
TAURUS: April 21 – May 20
Waking up to a bigger version of yourself has rearranged your thinking. Your attention is on breaking the mold and going deeper and farther than you've gone before. It's as if you're in an alternate reality, and are accessing your superpowers. Inside these changes, the people who populate your life are changing too. Old acquaintances could be falling off the wagon, only to be replaced by others who have an easier time allowing you to be who you are. Themes that call you to drop everything and go off on a vision quest are all over the place; don't ignore them.
GEMINI: May 21 – June 20
This has been a good lesson in whatever it means to come down to size and get real about yourself and your priorities. When whatever we think was supposed to happen gets exchanged for what karma dictates, it teaches us so much about the ego. At this point you've got a whole new array of choices that are looking attractive, or not, depending on where you've set your boundaries. Don't stick your nose up at anything. Opportunities that appear to be less than desirable often plop us in the right coordinates and turn out to be the very thing that gets us from A to B.
CANCER: June 21 – July 20
Torn in too many directions, you are at a major crossroad. Where do you go from here? That all depends on the extent to which your fears and considerations interfere with your ability to act from a clear and centered place. As much as you know how important it is to walk your talk, you have a harder time toeing that line when the money god and your childhood issues conspire to keep you running back to the same old, same old. Coming from a place of radical trust is easier said than done, but if you can close your eyes, and take that leap, knowing which way to go will be a nonissue.
LEO: July 21 – Aug. 20
With your share of trauma nipping at your heels, it's time to put things in perspective. It looks like whatever's going on exists in isolation, when in fact it is the same old story, playing out on a higher octave. Give yourself five minutes to reflect upon what was happening, 7, 14, 21, 28, 30, or for some of you, 42 years ago and you will see that time and repetition are the headmasters in this dimension. For better or worse, your primary wounds are all over this. What we find out when the same old thing keeps showing up again and again is how well we've learned the lesson.
VIRGO: Aug. 21 – Sept. 20
Having sustained yourself under extreme levels of pressure and restriction, you've either buckled under the weight, or are living with a whole new framework for understanding yourself, and your life as a whole. In the former case, the inner dialogue is riddled with excuses that will make it harder to live your truth as time goes on — in which case you'd do well to stop lying to yourself ASAP. If you've come out of the woods with your integrity and your ass intact, there's no way to describe how it feels to be this clear and this free to operate with 100 percent of who you are at the wheel.
LIBRA: Sept. 21 – Oct. 20
You've surrendered any need to be involved in how people decide to treat you. At one time you would have taken all of this personally but you're so "over it," you're willing to let people be themselves without needing to make sense of it. New horizons are on the menu, and this could have something to do with the fact that it's so much easier to let go. I see new projects, new associations, and the opportunity to get on with your life in another location. You've got a lot on your plate, and what's coming up roses is about to change your tune, and your prospects for the future.
SCORPIO: Oct. 21 – Nov. 20
With more than one good reason to put yourself out there, there are big needs to get real about what you're doing. The tendency to overrate yourself and your abilities could easily undermine whatever you have in mind. Be careful. What you see as a valuable commodity may not be worth a dime to someone else. This is a huge reality check. There is a fine line between panhandling and making the most of other people's resources. The need to let whatever you are trying to manifest come out of your own pocket and stand on your own efforts is where it's at right now.
SAGITTARIUS: Nov. 21 – Dec. 20
You take on more than you can handle. At the moment you've got things under control. As the next six months unfold, keeping your own house in order is the main ingredient when it comes to making sure that the rest of your projects hold water. On days when it looks like you "don't have the time," haul back and give yourself whatever you need before you head out to conquer the world. The "inner piece" is the fountain of life. The external stuff is watered by it. As Jupiter prepares to blow into your sign, now more than ever, it's time to tidy things up and get right with God.
CAPRICORN: Dec. 21 - Jan. 20
In the midst of the biggest change you will ever go through, the ability to see what's going on, or know what to expect, is oxymoronic. Our lessons don't become clear until the course is over — and even then, many of us don't have a clue. This experience is a process. If you were to compare it to a soap opera, Days of Our Lives has nothing on you. The only difference is it only takes one episode to get from A to B on TV. In your reality whatever's getting blasted in preparation for a rebirth is coming apart in stages. Stop expecting the show to be over and take it as it comes.
AQUARIUS: Jan. 21 – Feb. 20
It's hard to believe that you've wound up here. The way things are going it seems as if you've finally figured out how to live. As the next few months open the space for you to replenish yourself, your only job is to stay in the moment and do whatever it takes to get back to square one. It's time to strip away everything but what goes on in your soul, because the rest of your life has to stand upon the purest essence of what, until now, has been hiding behind a façade. Things are bound to get shaken and stirred as your actions rock the boat and prompt others to face the music.
PISCES: Feb. 21 – March 20
You are on overload. Left holding the bag, juggling multiple variables has you stretched between people, places, and things, wondering how to make it all work. On top of this, the greater part of you has had to disappear in order to handle it. This will only work for just so long. As you figure out how to balance both the energetic and the budget you're going to have to look at what/who to keep and what to throw away. Taking charge could require you to sell off any excess and eliminate parasitic influences by telling hangers-on to take care of themselves.
Stay on top of Detroit news and views. Sign up for our weekly issue newsletter delivered each Wednesday.