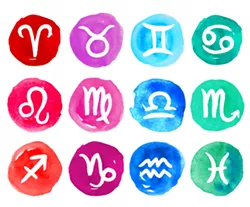 ARIES (March 21- April 20):
Last week's eclipse will work out well for those of you who know enough to keep your 'know it all' tendencies in check. It's one of those things. You've got it made if your ability to adapt is willing to see that sometimes others are the ones with the right idea. Because success in your current affairs is more important than anything else, you need to be honest enough to notice what your 'my-way-or-the-highway' approach has yielded, so far. What's happening right now will gestate for one more year. This is a learning experience, and an initiation. Patience is the key.
TAURUS (April 21 -May 20):
You keep thinking it's all over, but nothing could be further from the truth. In a month or three the weight will lift and you will see all of this stress, pressure, and the sense of getting nowhere yield to openings that allow you to fly free. Moving away from the hassles that have pestered you for the last year or so, decisions that involve should I stay or should I go shouldn't be made precipitously. Staying put for the time being, and letting caution reign over impulse, might be the wisest approach. As the winter sets in, new ways will be paved to whatever the future holds.
GEMINI (May 21-June 20):
You can do this with your eyes closed if you just let go of the need to worry about how other people will respond to your efforts. In many ways you have carte blanche, but only if you give yourself permission to see it that way. The next few months will see you going around in circles with people who raise every single one of your deeper fears. All of them are reflections of your own doubts. Getting clear about where you're at, and knowing that it's what you want that needs to find its way to the surface, is the key to stepping out of your traces and winning this game.
CANCER (June 21-July 20):
The business of going back and forth with people, and things that nag at your intentions, and drag you into petty stuff that totally wastes your time is making you nuts. Releasing yourself from these issues would be easier if you can see them as a test instead of a nuisance. God is everywhere, even in the small things. These stones in the road are more like pearls of wisdom that hold keys to things that are as yet unseen. Don't shy away from the small stuff. Embrace it with your whole heart, and be patient. All of it will yield incredible gifts before the year is out.
LEO (July 21-Aug. 20):
You figured out how to power through pretty much everything a long time ago. Even in your weakest moments the light has always been there. At the moment your connection to it is strong enough to make you invincible. Against all odds, and with a little help from your friends and loved ones, you are moving through a time of awakening. As the difficulties of the past give way to a deeper understanding of what you're here for, something in you is breathless in the face of what this has turned out to be. Use this time to feel the light, and let your heart fill the world with love.
VIRGO (Aug. 21-Sept. 20):
You go between being a total hippie and a straight shooter. Efforts to conform have never worked in your world. As much as you keep endlessly trying to do the right thing, the deeper part of you is beginning to sense that this yokes you to the past and keeps you boxed in. Echoes from your childhood tell you to keep pushing this rock up a hill, when your inner voice is telling you it's time to stop the madness and follow your bliss. Fear-based ideas that revolve around money and whatever you think the future holds compete with deeper needs to strap on your wings and fly free.
LIBRA (Sept. 21-Oct. 20):
The things that keep you in a tailspin will be fun while they last, but "nothing gold can stay." This revelry is bound to give way to whatever the flip side of the coin involves. Any lack of authenticity will reveal itself in ways that expose the iron hand in the velvet glove. Facing the music and facing yourself will be part of the deal. Those of you who have moved beyond the superficial nonsense that keeps your counterparts in a daze are dealing with a whole other set of variables. Recent encounters with things that matter are about to restore peace and balance to your life.
SCORPIO (Oct. 21-Nov. 20):
Things seem to be hanging in the balance. It'll be a few more months before life opens up enough for you to see where all of this needs to go. Torn between one thing and another, you're pretty clear that staying where you are isn't going to work. With nothing to go back to, and no reason to remain stuck in neutral, what can you do? Whether you know it or not, the universe is waiting to see if you trust life enough to let spirit show you the way. At times like this it is totally appropriate to do a swan dive into the great unknown. The signs are everywhere. Take that leap.
SAGITTARIUS (Nov. 21-Dec. 20):
None of this is new to you. Coming back to square one you're looking at another round of blues, or you're about to get off the Merry-Go-Round and release yourself completely from other people and their bullshit. Attempts to make it look like you're OK with whatever happens shield you from addressing your truer feelings. While I admire what appears to be a sense of objectivity and a willingness to accept everything, I wonder where your heart lies. At the end of the day this ain't about how much you can give; it's about how much you can take without losing your mind.
CAPRICORN (Dec. 21-Jan. 20):
It would be amazing if your current affairs went according to plan. Everything depends on the extent to which you're coming from a place of integrity. The ability to address every last bit of this with brutal honesty will inevitably take you back to the point when the first lie was told. Those of you who have gone to the mat with yourself and your issues will find your way through any confusion you have regarding where you're at with people and things; goodness and sincerity will triumph. If you thrive on ego based ambitions and a lot of phony BS, good luck.
AQUARIUS (Jan. 21-Feb. 20):
Coming back to square one is where it's at right now. Stay grounded in things that are real, don't let yourself be distracted by other people and their issues, keep your focus on the here and now, and you will be fine. All kinds of things will begin to kick up in the next week or two. Knowing that you've had enough space and time to come back to yourself, and being clear about the fact that you've done everything in your power to make this work, you're bringing the best parts of yourself to a situation that will put you in the cat-bird seat, and open the door to bigger and better things.
PISCES (Feb. 21-March 20):
Don't try to make sense of what you can't understand. This goes double when it comes to other people and their motives. Your tendency to make too much room for those who take advantage of you is making it hard to see past appearances enough to get in touch with what they really want from you. Since your logical faculties are often confused by a sense of idealism, it's your gut reactions that will help you nail what's really going on. When something looks too good to be true, but smells like shit, it probably is. Don't be misled by phony expressions of love and support.