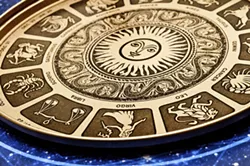 ARIES: March 21 – April 20
Going into any new territory, it's wise to take baby steps. When you're playing with fire, it's even more essential to take it slow. If you thought this would all come together in a heartbeat you see now that there is some groundwork to be laid. Going back to things that you've done before in order to keep the home fires burning will do wonders for your attitude and give you a perspective on the virtues of looking for slow progress in limited areas. Power issues underlie the current scenario. Keep those things in check and don't let other people lord their stuff over you.
TAURUS: April 21 – May 20
It's a good thing you have more class than the average bear. In the last few weeks you've had to put up with more than enough BS from people who don't hold a candle to you. Keeping your head above water in situations where everyone and their mother's uncle is intent on dragging you down, you've shown yourself to be a stellar human being. On other fronts there is a lot coming to light and more opportunities to let your influence be felt. Within six months you can expect changes of a higher order to open the way to things that will leave your detractors in the dust.
GEMINI: May 21 – June 20
Walking this line has been a total bitch for some of you. Others are getting an easier ride, or have found a way to reckon with the issues that pop up when life skewers us with more than one thing at a time. There is no recipe for what goes on in this neck of the woods. It's what I call a free will moment. And because the right thing to do is always whatever it is that allows you to look in the mirror and feel OK about whoever's looking back at you, the only choice is the one that rings true, in your unique case. To ask for advice might help. Just be careful who you talk to.
CANCER: June 21 – July 20
Part of you believes that love means putting up with anything. This makes it nearly impossible to draw the line between who you are and what you do in the name of love. All your giving is tied up with behavior that developed when whoever was supposed to be there for you bailed out and led you to believe that love means turning yourself inside out in order to get it. Your current situation is triggering the impulse to go over and above the call of duty. Instead of doing the same old thing, saving everyone else's ass could have more to do with following your bliss.
LEO: July 21 – August 20
So much water has gone under the bridge, only now are you waking up to the fact that everything has changed. Whoever you thought you were is entering a phase of major redefinition. If your worst fears tell you that you aren't ready for this, the truth is, your life depends on it. The extent to which the "old you" keeps resisting the changes that are taking place will determine the events that come along to prod you deeper into this period of awakening. If you thought you had it all figured out, guess again. Just "let go, and let God" handle the details.
VIRGO: Aug. 21 – Sept. 20
You have so much going on. The influx of newness and change is spinning things much faster than usual. If you had time to look at it all you'd see a pattern of growth and emergence, after a period of crisis. It's easier to sustain oneself in the midst of change when we have the freedom to be authentic in all of our dealings. This can be easy or hard. Sometimes we need to do what's expedient. Be fair with yourself as you navigate the need to come back and/or be recognized. The next few weeks are crucial. High levels of performance will require a steady mind and heart.
LIBRA: Sept. 21 – Oct. 20
You have no time to think. That's a blessing because you can't wrap your mind around any of this. Themes that relate to the whole concept of "waiting" for certain things to come through, or for people to figure out what they want, or for something to show you what's next, are all over the place. You guys never have much trouble picking up and moving on. The need to reassess your options in light of recent developments keeps the conversation in your head on a track that tells me you already read the signs. It'll be a couple of months before you see the writing on the wall.
SCORPIO: Oct. 21 – Nov. 20
Do yourself a favor and crawl out from underneath the parental blueprint. Growing up in an environment that expected too much from you turned you into one of those people who responds to life by always towing the line. It looks like it's time to start babysitting for your inner child. At this rate a tantrum or two could be just what the doctor ordered because every ounce of your creativity got hijacked a long time ago. Believe it or not, you have always had cosmic permission to give everyone the finger and do as you please. The minute you do, your life will take off.
SAGITTARIUS: Nov. 21 – Dec. 20
The whole ball of wax is ready to flip. All the "stuff" that made you think that this would last forever needs to be reviewed in light of the fact that it's either working or it isn't. After a few years of making do with a situation that you have outgrown, your obligations to people, places, and things are up for review. The deeper part of you may feel chained to the status quo, at a time when all of the angels in heaven are praying that you'll begin to wake up and shine. Don't be afraid to walk off the set, and consider the virtues of unlocking the door that will take you out for recess.
CAPRICORN: Dec. 21 - Jan. 20
Too much pressure is being brought to bear on things that require a lighter touch. It would be easier to tell you to relax if I could be sure that you had faith in the idea that you are bound to succeed. Sure, things have been insane, and a lot of what you thought would last forever has fallen through the cracks — at the same time, you're savvy enough to know that everything goes up and down and most of it is out of our hands. This is why I am telling you to relax enough to move in and out of these fluctuations knowing that none of it has the power to hold you back.
AQUARIUS: Jan. 21 – Feb. 20
The light at the end of the tunnel is getting brighter by the minute. After God knows how long you are finally ready to move on to the next thing. All kinds of stuff is bound to get lit up during this process. Be mindful of the ways in which your relationships react in the face of change. You've been in the same groove for such a long time that this will probably feel a little strange at first. The next month or two will be nuts, but your wings will work fine once you get used to the fact that they are no longer clipped. After that, you will be amazed at how good it feels to be free.
PISCES: Feb. 21 – March 20
In the midst of a huge transition, there is bound to be chaos. Your kids could be a major issue. There could be close others who are going through the mill. Your own story is woven into all of this in a way that requires you to be flexible and clear enough to resolve things. I see a sense of frustration that can only be mitigated by a detached attitude and a spiritual approach. Don't be dismayed by anything. Everyone has their own higher self. Remember — it is not your job to heal this; you can only pay attention to the truth and do what it takes to remain centered in the eye of the storm.