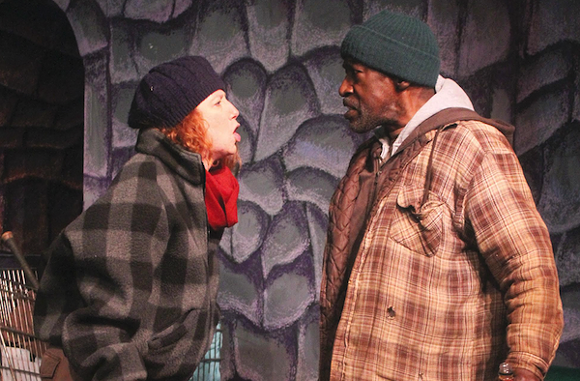 The slightly surreal set and the general lighthearted mood of the crowd at the Detroit Repertory Theatre won't prepare one for the theater's newest production, the unexpectedly stark two-character play
Homeless and How We Got That Way
. The show begins with two actors sharing the stage, communicating nonverbally for the first few minutes. Tension builds as they share glances and begin to set up their individual camps on separate benches. Alert audience members might infer from their body language that these two characters have a bit of history together. As naturally as if they've known each other for years (though neither can remember exactly how long they've known each other), they begin a conversation and the man offers to share his bottle of whiskey. "We're drunks, it's what we do," and quick punch lines come one after another as the two devise their plans for the evening, which at first consists of finishing one bottle, then leads to finishing two more. As the moon rises (along with their intoxication levels), they begin to reveal in nonlinear details the stories of their pasts, first how and then why they became drunkards and homeless.
Fashioned similarly to
Waiting for Godot
, seemingly profound sentiments are shared in between nonsensical lines, like the most popular phrase of the production, "I don't remember." However, this production will be hard to forget once the truth about their individual pasts is revealed; two professionals at the top of their respective fields falling from grace, but were they ever really there to begin with? As the two distance themselves from their past lives, they become almost uncomfortably close as they drunkenly reveal things they've never said to anyone else before, and find solace in shared feelings of regret, loss, and intoxication.
This production brings up serious and topical issues, especially for Detroit, such as homelessness, mental illness, alcoholism, and abusive relationships in such a lighthearted way, you can find yourself laughing at a punchline before realizing how tragic or dark the underlying implications of the lines really are. The characters swing so swiftly from borderline mental breakdowns to laughing and passing the bottle, and back again, one feels almost dragged along from mini-episode to the next and begins to relish the moments of silence before more swigs invite the next intense revelations. It was only after the production that I noticed the artwork featuring homeless individuals in iconic Detroit settings hanging up in the lobby, surely an intentional decision, and its greater significance was not lost on a single person in the audience that night.

Showtimes are 8:30 p.m. Thursdays and Fridays, 3 and 8:30 p.m. Saturdays, and 2 and 7:30 p.m. Sundays, through June 26, at the Detroit Repertory Theatre, 13103 Woodrow Wilson, Detroit; tickets are $17 In advance, $20 at the door; call 313-868-1347 for tickets and pricing information.