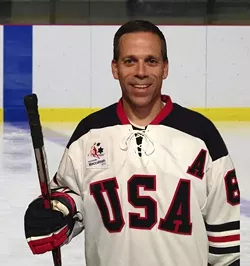 There are two things you should know about Ira Schlussel: The man loves God and he loves hockey. A passion for the fastest game on Earth happened around age 6, thanks in no small part to the players of the day, including Gordie Howe, Dale McCourt and the rest of the winged wheelers; it's been his passion for 40 years. His relationship with God happened (most likely) at birth.
Schlussel, an observant Jew, will combine his two loves on the only ice rink in Israel — "The Star Spangled Banner" bellowing from the speakers, Stars and Stripes draping his chest — as a participant in the 19th Maccabiah Games, which begin this year on July 21.
The Maccabiah Games, known by some as the "Jewish Olympics," began in 1932; the event was forced to take a near two-decade hiatus after 1935, however, due to the Holocaust. They returned in 1950 and, after the 1953 competition, became quadrennial, like their Greek predecessor.
This year, the Maccabiah Games will host more than 9,000 athletes from 71 countries, making it the third-largest sporting event in the world. Included are Schlussel, 46, and nearly 70 other athletes and coaches representing the United States' three hockey teams.
Though Schlussel admits he never paid much attention to the games, they've paid attention to him.
"My first trip to Israel was in 1977, I was 10 years old; I went to one of the swimming events at the Maccabiah Games," he says. "It'll be neat, after 36 years, going back and now participating."
Twenty years after that first visit, Israel — and the games — found Schlussel again, but this time with an opportunity to compete.
It was 1997. A newlywed Schlussel, along with wife Cara, headed to Israel for their honeymoon. It was also the year of the 15th Maccabiah Games. Schlussel figured he could make the trip doubly special; but it wasn't meant to be as he didn't make the team — a decision you can tell he still disagrees with years later, but only if you pay close attention. (Schlussel is pretty mild mannered, but a subtle change in his voice's timbre was the tell when he said, simply: "I didn't make the team.")
And, to underscore his belief, he sought out opinions.
"The guy who's running the team now was on that [1997] team," Schlussel says. "I had a conversation with him in Philadelphia at the first tryout and he said, 'You should have played in '97!' and I said, 'I tried out in '97 and I didn't make that team!'"
It turns out that one of the major factors in Schlussel not making the '97 team had little to do with his level of talent, but what he'd done — or not done — in the past. Schlussel didn't play college hockey, which served as a glaring omission on his sports résumé for the deciders of the team.
While other members of the Maccabiah hockey team typically spent their college years on skates, Schlussel, who now spends his days as general counsel for the digital engagement agency ePrize, instead focused on earning his degree and going to law school; hockey had to take a step back.
Since he began playing the sport, Schlussel says he has only spent one year blade-free, and that was at age 22 when he first moved to Washington, D.C., to begin his first year of law school at Georgetown University.
Sixteen years after the disappointment of being passed over for the '97 team, the games would come calling again. Schlussel says he really paid little attention to the games after that; it wasn't even on his radar when he got a call in August 2012 about a tryout in Philadelphia. On a lark he decided to go and, after the three-day tryout, Schlussel was all but guaranteed a spot; he just had to decide if he wanted it. Several factors played into his decision to compete, he says, starting first and foremost with the team itself.
"I wanted to play on a team that was sufficiently talented to make the trip worthwhile," he says. "And then there was the significant cost factor and time away from work."
After another round of tryouts, Schlussel felt comfortable that the team would be strong enough to warrant the trip. The only hurdle remaining was significant costs: He knew the expense wouldn't be that significant if he traveled alone, but the tried-and-true family man knew that wasn't an option.
"I wasn't going to 'just to play hockey in Israel' — I really wanted to take my family," he says.
And so the trip took on a third passion. It began as an opportunity to play hockey for his country, in the Holy Land of his faith — and now it included his family in the stands.
"This will be my fifth trip to Israel, but it's the first family trip and maybe the only family trip. I'm very much looking forward to seeing Israel through my kids' eyes."
The competition begins on July 21 and ends four days later. There are four teams competing this year, so the chances of Schlussel coming back to Michigan with a medal around his neck are fairly good, though he acknowledges the Canadians might run away with the gold. Either way, medaling doesn't seem to be at the forefront of his mind.
"I'm very passionate about hockey, but I have a similar, maybe even more, passion about Israel. It's really combining two of my passions," he says. "To stand on the ice with the big USA jersey, listening to the national anthem, and then the Israeli national anthem I think will be a really moving experience. It'll be a culmination."
Eric Walters is an editorial intern at the Metro Times. Send comments to [email protected]