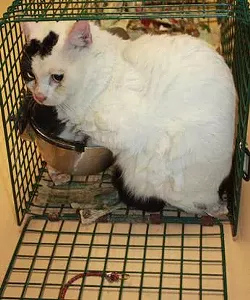 Twenty-one cats have been recovered from a garage in Ypsilanti Township, according to a press released from Ann Arbor's Humane Society of Huron Valley.
The HSHV got an anonymous tip that cats were being hoarded. On Tuesday, they found the cats locked in individual small wire trap cages stacked on top of each other in an unheated garage.
"This is a very upsetting case. Live traps are absolutely not meant for housing," says Tanya Hilgendorf, the HSHV's president and CEO, in a statement. "It would have been a torturous existence to be kept alive in filth in a place where even the smallest of movement was impossible — like a person living day and night in a porta-potty."
The cats are currently receiving medical treatment. Though many appear to be afraid of humans, the HSHV says they will be available for adoption after they get neutered or spayed. The group is also accepting donations for their treatment.
In Michigan, repeated convictions of animal hoarding can result in felony charges. In this case, the owner of the cats told the HSHV that she was trying to find homes for them.
According to the press release, it is believed the woman had help obtaining the animals — likely the source of the anonymous tip.
"Cruelty almost always has co-conspirators — people who enable and/or those who keep quiet," says Hilgendorf in a statement. "We are very grateful to the person who made this complaint and to all people willing to be the voice for defenseless animals."
"Without that person willing to say something, we probably would never have known, and these cats would have continued to suffer," the HSHV cruelty investigator Naomi Smith says in a statement.
For more information, visit the HSHV's Intake department at 3100 Cherry Hill Rd., Ann Arbor; 734-661-3571;
hshv.org
.