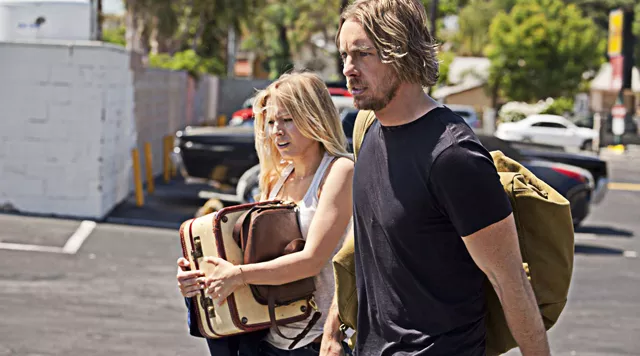 Hit and Run| D
In what must be the vainest of all vanity projects, Hit and Run is written, directed by and starring Dax Shepard, and it stands as a monument to the catastrophic downside of the auteur theory popularized by the late critic Andrew Sarris. An action-romance-crime-road movie, it is also allegedly a comedy, though much of what hits the screen is tedious, convoluted and miserably unfunny.
The laconic Shepard stars as Charlie, an amiable small-town slacker with a too-good-for-him girlfriend (Kristen Bell) and no discernible goals. Turns out his life is on pause mostly because he's in the federal witness protection program, and his bumbling drinking buddy (Tom Arnold) is actually the marshal assigned to protect him. When gal pal Annie gets a job offer in Los Angeles, Charlie risks everything to race her to the interview, while outrunning jilted lovers, the cops and the gang of bank-robbing former comrades that he turned state's evidence on.
The flick has all the heartfelt sincerity of a Smokey and the Bandit sequel, and it does in fact seem to be little more than an excuse to hang out with pals and pull off crazy stunts in cool cars. In between all the screeching tires and plumes of exhaust, the humor has more bellyflops than a pool party at fat camp. Case in point, Charlie's real birth name is "Yul Perkins" an inside bit that has the same effective radius as WJBK's broadcast signal. There is a weirdly casual atmosphere to the proceedings, which may endear it to some cult audiences, but the violence, noise and coarseness of the material are turnoffs. The movie's few comedic "highlights" include elderly nudists and a prolonged discussion of prison rape.
Milford-born Shepard has cast his off-screen love (and Huntington Woods native) Bell as his romantic foil, yet their meager screen chemistry seems more that of chums than lovers. Bell is appealing, but a little of Shepard's laid-back yet obnoxious character goes a long way. Bradley Cooper tries hard to be menacing, as Charlie's old friend turned thug, but his ridiculous dreadlocks produce more giggles than the lame script. Worst of all, the movie features the dirge-like anti-humor of Tom Arnold, as mirthless a figure as has ever consistently worked in film comedy. Every scene featuring Arnold is an orgy of squeaks, yelps and spastic convulsions, as he bounces around like the Three Stooges' Curly Howard hopped up on crystal meth.
Hit and Run is one of those movies that was probably more fun to make than it is to watch.