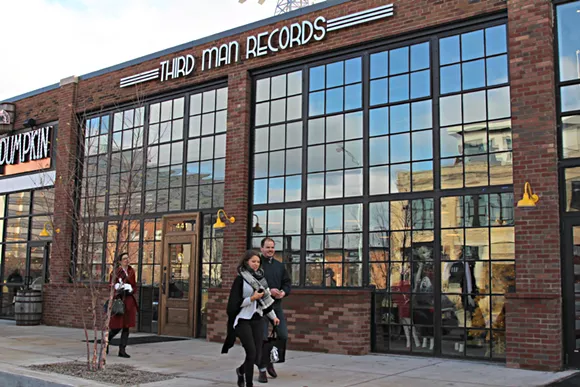 We've written about Detroit's
Midtown vs. Cass Corridor
name wars before (OK, actually it's
kind of our beat
). But while some continue to worry that the newer Midtown "brand" is threatening to eclipse the Cass Corridor's artistic legacy, it's important to be reminded that the Cass Corridor wasn't always called that name.
In fact — in an amusing case of history repeating itself — it was some of the artists of the original Cass Corridor movement who rejected referring to it by that name in the first place.
Deadline Detroit has
pieced together
the decades-long drama. Citing a Feb. 6, 1972 article by art critic Joy Hakanson Colby for
The Detroit News
' Sunday magazine, Deadline points to a quote that should give you déjà vu. (The excerpt, from an article titled "Exploring Detroit's New Art Colony — Cass Corridor," surfaced in a
tweet
by writer Drew Philp, who was doing his own independent research.)
In discussing the neighborhood's burgeoning art movement, Colby writes:
It has a name … Cass Corridor … though its artistic residents don't call it that. "It's a city planner's label," says painter John Egner, a WSU professor. "Catchy and upbeat. But it has nothing to do with us and what goes on here. Who names their own neighborhood?"

This reticence, Egner admits, stems from the fact that a place known as Cass Corridor might attract tourists like the ill-fated Plum Street. Sightseers looking for gift shops run by freaked-out "arty" types won't find them along Cass.
The irony, of course, is that today the Cass Corridor (or Midtown, or Midtown's Cass Corridor, or however you want to refer to it) has become known as a destination for arty gift retail. City Bird has
has established a reputation for hawking locally made gifts
, boutique Nora
celebrates Detroit's history
of design, and rocker Jack White
toasted to the Cass Corridor
when he opened his Detroit branch of his Third Man Records last year.
Read more at
Deadline Detroit
, or revisit our 2015 story on
rebranding Detroit neighborhoods
.