Games involving "flying discs" have gained a surprising prominence in recent years. The "disc golf" phenomenon has had a higher profile lately, and
had its own course on Belle Isle for a while
. "
Ultimate Frisbee
" has drawn players and gained publicity as well.
But there's another Michigan-born sport involving those flying discs that will compete this weekend.
It's called "guts," and it involves teams who fling the disc at speeds as fast as 85 miles per hour at another team vying for a one-handed catch. The game was first played in Michigan's Upper Peninsula in 1958, and it's now played as far away as Japan and Taiwan.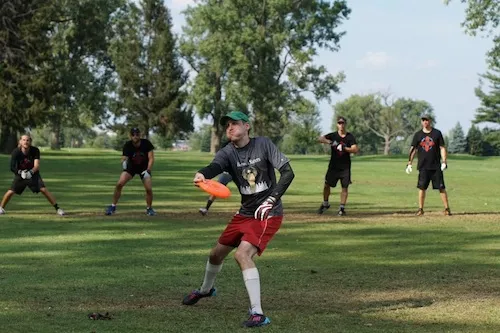 This is some pretty manly stuff, just the kind of thing a few athletic Michigan guys might do after a few six-packs in the wilds of Keweenaw County. (
As one writer has noted
, "Legend has it that the one-handed catch rule was invented so that players could still hold their beer in the other.")
The stakes will be at least a little bit higher at this coming weekend's Guts Frisbee World Championships in Plymouth. More than a dozen teams will compete in this "original extreme sport," including reigning champions the Appleton Assassins (Appleton, Wisc.) and three-time champs the Boomtown Saints (Lansing).
The 2016 Guts Frisbee World Championships take place 10 a.m.-6 p.m. Saturday-Sunday, Sept. 3-4, at Hines Park, corner of Haggerty Road and Hines Park Drive, in Plymouth; see gutsfrisbee.com for highlight videos and more.