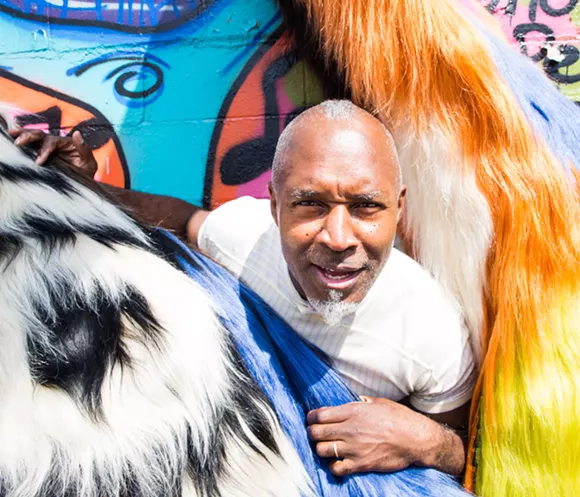 Chicago-based artist
Nick Cave
has spent the past seven months in and around Detroit as part of his
Here Hear
exhibition, which saw the Cranbrook Academy of Art alum staging performances featuring his colorful "Soundsuits." As the project draws to a close, there are only three more chances to take in one of Cave's performance pieces.
The details are below:
Up Right: Detroit
Thursday, Sept. 24 @5:30pm
Charles H. Wright Museum of African American History
Up Right: Detroit is a short feature film conceived by Nick Cave as an "act of initiation" and a preparation of the mind, body, spirit, and selfhood of a group of young adults from the Ruth Ellis Center. The participants undergo a ritual of being costumed in elaborate soundsuits and enter the city, transformed. It was filmed at the historic Michigan Theatre.

This event is an important fundraiser for Cranbrook Art Museum's education programs. The evening includes an opening cocktail reception with Cave, the film premiere, and a Q&A with Nick Cave and Curator Laura Mott following the film, where Cave will discuss the entire Detroit project. Tickets for this fundraiser are $250 and can be purchased here (and via Cranbrook Art Museum's website). Watch a sneak preview of the film here.

Heard•Detroit
Saturday, Sept. 26 @4pm
Milliken State Park
As a continuation of his performance series, Cranbrook Art Museum will present Nick Cave's Heard•Detroit on Saturday, September 26 at 4pm at Milliken State Park.

Working in partnership with the Detroit RiverFront Conservancy, the project will feature 30 life-size horse sculptures performing along the Detroit riverfront. The sculptures will be operated by 60 dancers from the Detroit School of Arts and the Maggie Allesee Department of Theater and Dance at Wayne State University. According to Cave, the project is intended to be "a dreamlike vision that stops everyday life for a collective transformative moment."

The event is free and open to the public. Attendees are encouraged to meet at Milliken State Park, near the hill (1801 Atwater St., Detroit; across from the Outdoor Adventure Center). Bring blankets and view the performance from Milliken Hill. Paid parking will be available at the River East Parking Garage (1000 Franklin St. , Detroit). In the event of rain, the performance will be moved to Eastern Market - check our website and Facebook event for details on the shed number and time. The location decision will be finalized Friday morning and posted to both sites.

Figure This: Detroit
Sunday, Oct. 4 @3pm
Detroit Masonic Temple
The culmination of the project will be Figure This: Detroit, a large-scale performance taking place in the Jack White Theater at Detroit's Masonic Temple. It will incorporate performers representing the entire seven-month performance series, including dancers and musicians from the Dance Labs, children from our Nick Cave-inspired summer camps, short clips of videos produced by The Right Brothers over the course of the project, and a screening of the artist's new film Up Right: Detroit. This is a free event, but a ticket is required. Register for tickets here. In the event of a sell-out, tickets may be released that day on a first-come, first-served basis. Add your name to a waitlist online, or try your luck that day at the door! The doors will open at 2pm.
Learn more at the project's
official website
, or read our interview with Cave
here
. An exhibition of Cave's work will remain open at Cranbrook Art Museum through October 11.
Below, check out a sneak peek of "Up Right: Detroit."
Nick Cave's "Up Right: Detroit" - Sneak Preview from Cranbrook Art Museum on Vimeo.