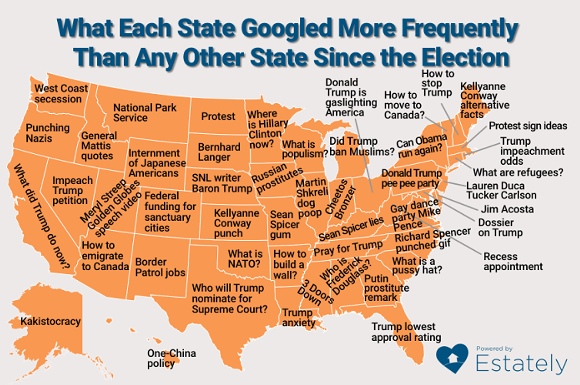 Many like-minded individuals took to the internet after the election looking for answers, and their collective unconscious manifested itself via Google.


In a recent blog post by Estately, they used Google Trends to establish the phrases each state searched more often than the others. In Michigan's case: "Did Trump ban Muslims?" Well, according to our President's tweets, (and Rudy Giuliani) he most definitely did.
Michigander's concerns about a Muslim ban are pretty understandable considering the rich diversity in metro Detroit communities like Dearborn and Hamtramck.
"Betsy Devos" was actually the most frequently searched term in Michigan if the order of Estately's results is anything to go by. Devos, whose long-time involvement in Michigan's education system was discussed by Jack Lessenberry in his column two months ago, was just confirmed as the U.S. government's 11th secretary of education.
Other search terms like "Trump is a liar" and "How the fuck did Trump win?" exemplify disconcert over the fact that Michigan has not voted Republican in the presidential election since 1988. Gerrymandering is one answer.
The rest of Michigan's most-searched phrases: "What does the term snowflake mean?"; "Wikileaks pizzagate"; and "Greg Phillips voter fraud."
As Michigan and many other states are left to think critically about what is happening after the election and why, Tennessee simply wonders: "What is critical thinking?"