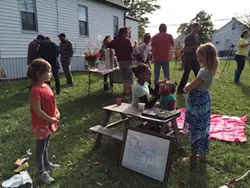 The Hamtramck Neighborhood Arts Festival will return Saturday, Oct. 14. The walkable, family friendly arts and culture festival, now in its eighth year, will feature artists open studios, exhibitions, backyard musical performances, and more.
According to a press release, "In short, it's what festivals used to be, before all the corporate sponsorships and beer tickets: just a tight-knit community putting together an event just as much for itself as for you."
Here's the schedule:
11 a.m. - 2 p.m. – A kick-off brunch at Bumbo's (3001 Holbrook)

2 p.m. - 8 p.m. – HNAF is spread throughout four zones, in different neighborhoods. The festival includes bicycle rentals; a pop-up bookstore at Bank Suey; live musical performances at folk-art installation Hamtramck Disneyland, and indoor/outdoor events at Popps Packing.

10 p.m. - ??? – A closing dance party at Lo & Behold! Records & Books (10022 Joseph Campau Ave.)
More information is available on the festival's
website
.