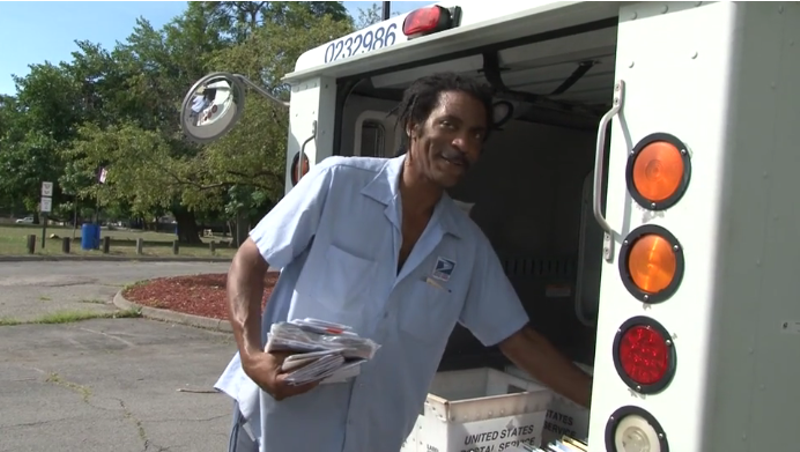 Our former
MT
contributing editor Herb Boyd tells us he's familiar with one of the standout films in the Freep film fest, and we're happy to pass along the word to Detroit audiences.


There are so many intriguing, interesting ways to examine the urban landscape of Detroit, and Pam Sporn in
Detroit 48202: Conversations Along a Postal Route
has tapped into the daily routine of mail carrier Wendell Watkins, who for a generation has more than lived up to the postal creed. Along with the letters and parcels, Watkins delivers a warm gregariousness to the residents that is both an aperture to his life and theirs.
The documentary, which will have its Detroit premiere April 14-15 at the Freep Film Festival, had a personal resonance for me, since I lived on many of the streets in the ZIP code, and it brought back a flood of memories. And those memories are given an even broader historical and political context with the archival footage that captures many aspects of the city's early years, development and the ultimate decline.
But the residents along Watkins' route are not diminished, and they demonstrate a self-determination, a fight-back spirit that typifies Detroiters facing the onslaught of gentrification, foreclosures, and a host of municipal indignities.
As Watkins moves from one house to another, making the rounds, his own story unravels, but his problems are secondary to shoring up the lives of others. He is a careful listener, a compassionate man who takes time from his daily chores to see what can be done to assist those facing challenges much greater than his.
Following him on his route, whether watching his long strides as he walks from door to door, or driving his truck, the neighborhood and the houses come into view and they are exemplary of an essentially African American middle class, as it is and not enough instances as it used to be.
To see the vacant lots, a proliferation of for sale signs, and the empty, dilapidated apartment buildings is symptomatic of the city's troubled conditions, but Watkins soldiers on. The mail must be delivered and the residents need his message of assurance that tomorrow is going to be a better day.
No matter the downturns personally or professionally, Watkins — and what a remarkable discovery for Sporn — keeps a sunny disposition and the succor he provides is eagerly accepted and clearly effective since so many of those he touches each day evince a renewed sense of optimism.
Would that each ZIP code in the city had a mailman like Watkins, someone who beyond the call of duty has the time and energy to bolster the flagging spirits.

Detroit 48202: Conversations Along a Postal Route screens at 7:30 p.m. Saturday, April 14, at Marvin and Betty Danto Lecture at the DIA
and at 11:30 a.m. Sunday, April 15, at the Detroit Historical Museum. Tickets can be obtained by clicking here.