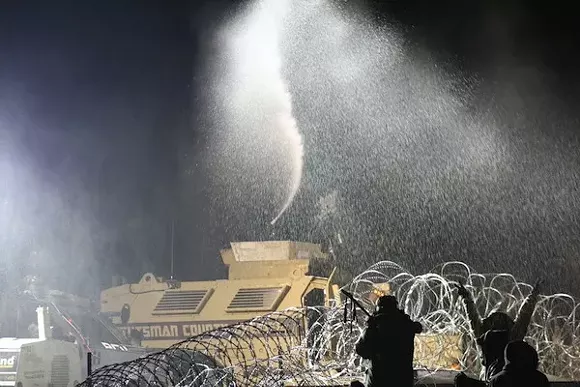 Have you heard about the fight over the Dakota Access Pipeline? It's a 1,170-mile pipeline being built by Energy Transfer Partners. Though it had several alternative routes to choose from, the company is pressing ahead with a controversial plan to put the pipeline under the Missouri River.
The Standing Rock Sioux Tribe says that the route plows through ancient burial grounds. More importantly for them and everybody downriver, the pipeline imperils the Missouri River, which is the only source of water for the Standing Rock Reservation. (Don't think it could happen? Pipeline accidents are
more common than you might think
.)
A protest over the pipeline that began in spring has turned into a massive encampment, with members of hundreds of Native American groups joining the fight against the pipeline. In recent months, their ranks have been swelled by hundreds of other "water protectors," protestors from all walks of life but mainly the sort of young, idealistic folks one would have found at an Occupy protest five years ago.
The Standing Rock Sioux tribe has also filed an injunction against the U.S. Army Corps of Engineers. Legally speaking, the native tribes would seem to hold the legal high ground. And yet the pipeline builders upped the ante, hiring private security contractors to continue to dig the pipeline despite the pending injunction.
Now, this is an issue
you may not see much on the TV news
. Chances are that, if you do, it will be about "clashes" between protestors and police, sheriffs, and private security — giving the false impression that the protestors are giving as good as they're getting. The "law enforcement" at Standing Rock has sicced dogs on protestors, fired on them with rubber bullets, doused them with pepper spray, and hit them with water cannons in sub-freezing temperatures and causing hypothermia.
One of the most high-profile confrontations came almost two weeks ago, and produced the confrontation's most notable casualty: As the Standing Rock Medic and Healer Council reported that
21-year-old Sophia Wilansky was hit with a concussion grenade
, and her arm may have to be amputated. Sources from the North Dakota Highway Patrol and Morton County Sheriff's Office have suggested that the injury may have been caused by bombs the protestors made themselves. (
Anybody remember who Judi Bari was?
)
The situation in Standing Rock is bound to only grow uglier in the coming days. Which is why fundraising efforts are taking place across the country for everything from food and water to legal funds. In fact, for next week's big fund-raiser at the Tangent Gallery, "Detroit Stands with Standing Rock," 100 percent of proceeds will go to the Water Protector Legal Collective. No word on what the entertainment will be, but the evening will include live music, food, a silent art auction, a raffle, information tables and more. We also hear engineer and photographer Sam Waldman might be on hand to discuss the last month he's spent at the encampment, and to share stories and photos of what's going on. (After that, you might need a drink from the gallery's full bar!)
Sounds like a good reason to show up and pay the $10 donation, if only to send a message from Michigan — site of water shutoffs and lead poisoning — that fresh, potable water is a human right that the reckless pursuit of profit shouldn't endanger.
It is taking place on Thursday, December 8th and will go from 6pm to 2 am. we are asking for a $10 per person donation at the door. We will be featuring a variety of, I'm sure. There is also a full bar.
"Detroit Stands with Standing Rock" runs from 6 p.m. to 2 a.m. Thursday, Dec. 8, at the Tangent Gallery, 715 E. Milwaukee St., Detroit.