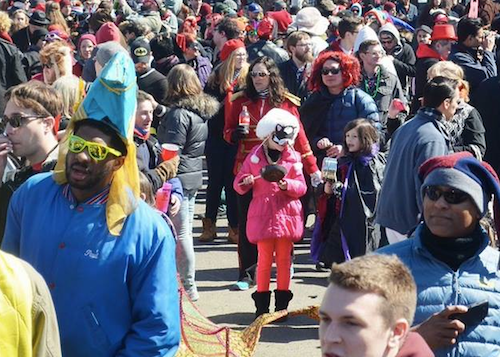 In 2010, an inspired new tradition was born: A parade of Detroiters seeking to oust the mythical Nain Rouge (or Red Dwarf) from Detroit for another year. It's a terrifically fun event, the perfect capper to a long winter, and a great excuse to don bold colors and outrageous costumes and rally flagging spirits on the eve of spring.
Of course, to get ready, the march's organizers need to build up their war chest for the big battle with the little red guy. That's why
they're hosting a fundraiser just in time for Fat Tuesday
(well, the weekend before). It sounds like a real hoot. It's to take place at Eight & Sand, next to the Fowling Warehouse, and will feature entertainment from the Gabriel Brass Band, O N E F R E Q, burlesque artist Lushes LaMoan, Caribbean Mardi Gras Productions, DJ Carleton Gholz, and Emcee John Bell. There will be food and drink, of course, and the usual over-the-topness associated with the march, such as mandatory masks and impressive outfits that feature scarlet prominently.
Adding a bit of urgency, today, Monday, Jan. 18, is the last day you can get the special "early bird" discount. Buy your tickets by clicking
here
.