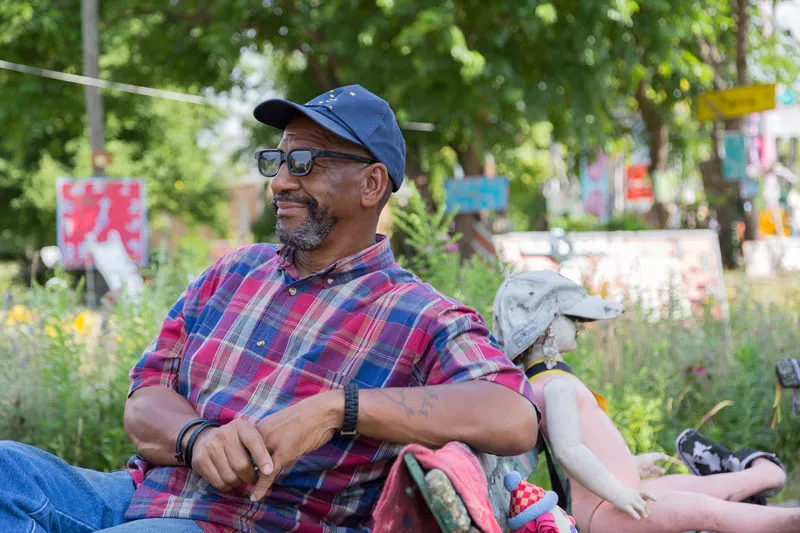 We now know more details about Tyree Guyton's long-promised "Heidelberg 3.0" phase of his 30-plus year Heidelberg Project.
After
getting forced out of his Midtown studio
last year, Guyton is now moving to a new location closer to his outdoor art installation. The new headquarters will be relocated to a three-story building at 3442 McDougall St., set to open in the winter.
The Project has also announced a partnership with art print house and gallery 1xRun, which relocated its Eastern Market headquarters to 2905 Beaufait St. last year. The Beaufait building will host an art gallery, café, and event space, set to open in the spring. The Heidelberg Project confirmed the plans in a
Free Press
story this morning.
The Heidelberg Project had been headquartered in Midtown for eight years. It was forced to move when its building was sold for $1.2 million last year. (That building is now
the Second Best bar
.) 1xRun had been in its Eastern Market HQ since 2013, and sold the building for $1.2 million last year. (That building now houses
K. Oss Gallery
.)
The Heidelberg Project is also still working to purchase 40 vacant parcels from the Detroit. Previously, the city
twice denied
the HP's request to purchase the property, but Detroit director of planning and development Maurice Cox told the
Free Press
it was working with Guyton on a plan for the parcels.
The news comes before the Heidelberg Project hosts "360° of Heidelberg," a conference featuring arts experts, community leaders, and more, to be held Oct. 11-14, at various venues around the city. A retrospective of Guyton's work,
2+2=8 Tyree Guyton: Thirty Years of Heidelberg
is now on view at MOCAD. A second exhibition of Guyton's work, titled
Process
, will open at MOCAD on Saturday, Oct. 13. Both shows run until Jan. 6. Guyton is also set to give an artist talk at the museum at 7 p.m. on Thursday, Nov. 15.
You can read our recent profile of Guyton
here
.
Get our top picks for the best events in Detroit every Thursday morning. Sign up for our events newsletter.