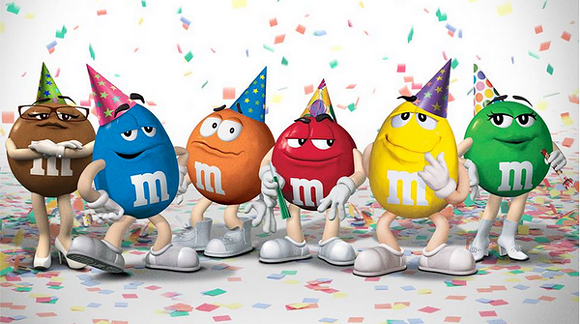 We'd like to thank you, M&Ms, for melting in our mouths and not in our hands.
Since 1941, the colorful candy has won over America by melting in mouths and not in hands. Hitting the big 7-5 is a huge milestone, so Red and Yellow aren't taking this birthday lightly. They'll be celebrating for all of 2016.
Kicking off the party, M&Ms launched the hashtag "CelebrateWithM," giving access to exclusive birthday content to fans of the bite-sized chocolates. This content includes accessing "one-of-a-kind" experiences (still trying to figure out what these experiences could possibly involve), determining the next M&M peanut flavor (Chili Nut, Coffee Nut or Honey Nut) and listening to a revamped version of Sammy Davis, Jr.'s "The Candy Man."
By revamped, we mean a song that is loosely inspired by the original. Loosely being the keyword. Titled "Candyman," Zedd and Aloe Blacc partnered with the candy to create the brand's new theme song, which we've included for your listening and viewing pleasure below.
Also in store for this year is the ultimate #TBT - retro packaging. Stores will be selling M&Ms in 12 different old-school packages that are inspired by the early days of the brand.