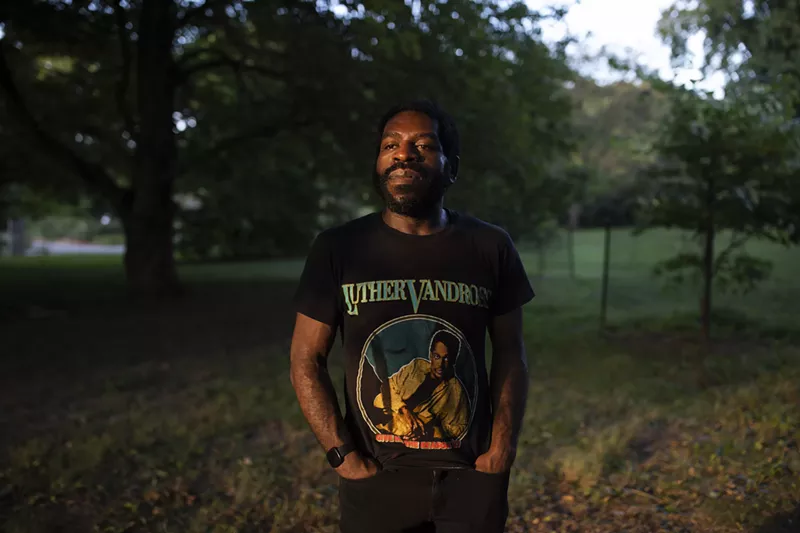 Hanif Abdurraqib may not be from Detroit but in many ways, the Motor City feels like home. The best-selling poet, music critic, and The New Yorker contributor remembers driving to Detroit from his hometown of Columbus for punk shows when he was younger.
"The Shelter was one of my spots," he tells Metro Times. "When I was coming up, it was all about finding the Black punk shows and Detroit was always a place where there were just a ton of Black punks making loud, fun music, and playing at houses. There were a whole bunch of house shows that we would just stumble into because some of those bands weren't getting booked at The Shelter. Some of those bands weren't getting booked anywhere."
Abdurraqib will return to Detroit for the city's inaugural Detroit Youth Poetry Con on March 18. He will lead a workshop with young poets during the event hosted by InsideOut Literary Arts followed by a public showcase alongside students at the Detroit Public Theatre.
He may have won the 2021 MacArthur Fellowship "Genius Award" and have several poetry collections under his belt now, but when he first performed in Detroit in 2014, he had only written a few poems.
"Detroit's the first place I had a poetry feature outside of Columbus. Before that, I had like seven poems to my name," Abdurraqib says. "Whitney Syphax Walker was hosting a night at just like a little coffee shop and told me to come up and read some poems. Detroit and Columbus, from a poetry standpoint and a music standpoint, have this sibling city kind of relationship. So the poets from Detroit always used to come down here and feature, and I fell in love with folks like the late, great David Blair and Jamaal May. I've always had a tenured relationship with Detroit and poets there, so to get to continue that relationship in any way is great."
We feel like we're talking to a born-and-raised Detroiter when he calls Detroit "a uniquely Black city."
"Detroit is an aesthetically beautiful city and I found myself getting really frustrated when you would see people align it so that the beauty is only in the abandoned buildings," he says. "There is a beauty here that vibrates through these actual neighborhoods… If there's one parallel between Detroit and Columbus it's a hunger to create, and I'm speaking specifically about Black artists. There's a hunger to create in opposition to forces that are attempting to redefine the city in a way that's displeasing to working-class Black folks."
He would know. His 2017 music essay collection They Can't Kill Us Until They Kill Us was named book of the year by Pitchfork, The Chicago Tribune, NPR, The Los Angeles Review, Oprah Magazine, and more. His 2021 book A Little Devil in America: Notes in Praise of Black Performance won the 2022 Andrew Carnegie Medal for Excellence.
Despite all his accolades, Abdurraqib maintains incredible humility as he tells us, "there's no world where I feel like I am or should be an authority or someone to be in awe of." He's coming to the Detroit Youth Poetry Con workshop as not just a teacher, but a student himself.
"With any luck, we will sit down collectively and then leave the room as better writers than we were when we came in," he says. "Of course, I will be the one with the prompt and the one probably talking the most but the way I think about the time I get to spend, particularly with young writers, is that we have an obligation to teach each other."
While Abdurraqib can (and will if you let him) wax poetic about Detroit all day, he leaves us with an image of Detroit as a safe haven for Black creatives — and punks.
"Coming up, the crew I rolled with were all Black punks and sometimes if we were in like Pittsburgh or whatever, the shows wouldn't always be the most comfortable places for us. But we knew if we came up to Detroit we'd find our people there — not just in the audience but we'd find our people on stage," he says. "Coming to Detroit still feels like a safe haven for me. It still feels like the place where I can be the best and most comfortable version of myself."
The Detroit Youth Poetry Con will be held on Saturday, March 18 from 10 a.m. to 5 p.m. at Wayne State University Student Center. Students interested in participating can sign up online. The public showcase featuring Hanif Abdurraqib will be at the Detroit Public Theatre (3960 3rd Ave., Detroit) from 6-8 p.m. Tickets are $20 and are available via Eventbrite.
Coming soon: Metro Times Daily newsletter. We'll send you a handful of interesting Detroit stories every morning. Subscribe now to not miss a thing.

Follow us: Google News | NewsBreak | Reddit | Instagram | Facebook | Twitter