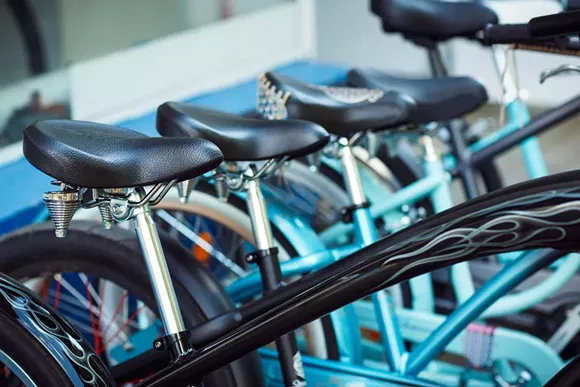 Chances are good you heard about Monday night's Slow Roll in Hamtramck. Almost as soon as the ride began, there was confusion and trouble. By the end of the evening, more than 100 parking tickets had been issued to participants in the Slow Roll, and a few cars were broken into. Slow Roll participants reacted in anger, demanding never to ride in Hamtramck again. Soon, residents of Hamtramck said it suited them fine (to put it lightly).
The situation prompted a kind of teapot tempest that is practically tailor-made to light up the internet: Two groups of people with strong emotional allegiances who feel qualified to comment on an evolving story, even though the facts are still being made available.
In short: Hot Take City.
By Tuesday morning, we were sifting through the comments, sending out messages and inquiries, and
trying to arrive at the few facts
among so many entertaining opinions. By Tuesday evening, the story was carried on local TV news. (Isn't that something? In the
Murder Capital of the United States
, you can still get on the evening news if you feel you've been unfairly issued a parking ticket.)
All of this is to say that things got crazy pretty fast. Luckily, cooler heads prevailed. Almost as soon as this kerfuffle flared up, Slow Roll's Jeff Herron and Hamtramck Mayor Karen Majewski began discussions on how to work together, thereby avoiding the kind of stuff that happened Monday evening. Today, the two released a joint statement that, among other things, suggested a Slow Roll ride in Hamtramck next year. Hopefully, it's the kind of message that will help smooth over some of the bitter feelings on both sides.
=================================
JOINT STATEMENT REGARDING SLOW ROLL IN HAMTRAMCK
The City of Hamtramck and Slow Roll both celebrate diversity and inclusion. We agree there is value in bringing people together from across the region to explore Detroit and its enclave cities, and to better understand and appreciate those cities and the people who live there.
Hamtramck has a long history of welcoming visitors. We believe there is meaningful and untapped potential for including Hamtramck in Slow Roll's annual schedule. The leadership of Hamtramck and Slow Roll would like to realize that potential in 2017.
Public attention has recently been focused on the Slow Roll that started in Hamtramck on June 6. This ride was on Hamtramck streets briefly, with the vast majority of the route in Detroit. The police departments of Hamtramck and Detroit work together, sometimes informally, to accommodate incidental overlaps with Hamtramck by the DPD. Slow Roll and the police departments utilized these informal mechanisms when Slow Roll rode in Hamtramck in 2015, so it was not unreasonable for Slow Roll to rely on the same informal mechanisms for the June 6th ride. However, it is apparent that reliance on informal communications was not effective this year. Slow Roll and Hamtramck agree that the growth in Slow Roll's popularity make it an event for which informal mechanisms should not be used in the future, and Slow Roll will utilize Hamtramck's special event permit process in 2017.
We agree that Slow Roll riders have an independent responsibility to park their cars lawfully at any Slow Roll event – in any city. Slow Roll will continue to reinforce that message with its riders. Any Slow Roll rider who believes he or she received a parking violation in error may challenge it through the normal mechanisms and will be heard.
Slow Roll and the City of Hamtramck look forward to cooperating to create a smooth and pleasant experience for Slow Roll riders and Hamtramck residents in 2017.
June 9, 2016
Hon. Karen Majewski, Mayor
City of Hamtramck
Jeff Herron, Chair
Detroit Bike City, Inc. (Slow Roll)