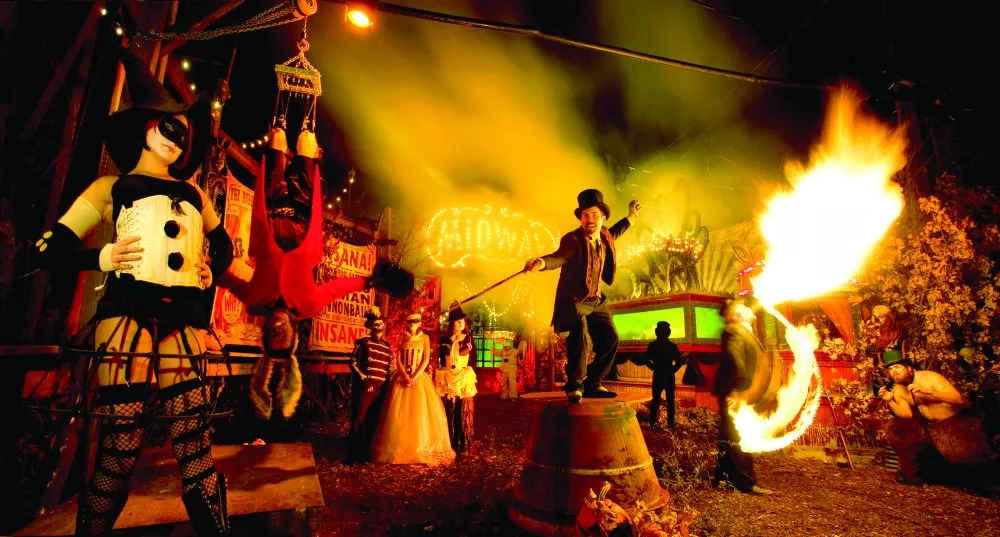 Artist John Dunivant spent a decade building up the Theatre Bizarre carnival near the old Michigan State Fairgrounds site — outside the law — before the law's long arm finally caught up with him in 2010, putting the kibosh on that year's event at the venue. Dunivant, though devastated, wasn't to be stopped and the 2010 Theatre Bizarre was held at the Fillmore with only 18 hours' notice. The following year, it moved to the Masonic Temple, which has been its home ever since.
"Moving to the Fillmore was a devastating blow," Dunivant says about moving something as vast as Theatre Bizarre indoors. "We weren't really sure what was going to happen in the future and we were scrambling for a year trying to find a new home. The first year at the Masonic, I was ready to be done and give it all up. It was so incredibly hard. This being our third year, we've learned so much. There was a huge leap from the first year to the second year, and we're anticipating that again. It's still hard, and I still miss the fairgrounds. I can't believe how well we've survived and grown in ways that we wouldn't have, especially being illegal, not being able to really get the word out and talk to anyone about it. Going from an illegal punk rock backyard party to being called a cultural institution is pretty insane."
Arguably the greatest challenge Dunivant has faced has been re-creating the beautiful chaos of the old, outdoor Theatre Bizarre indoors without it turning into a club night.
"We spoiled people at the grounds because we were able to do so many things that were illegal," he says. "You can't compete with when you had no rules. Still, there's more to do and see in one night than you'll see in over a week. It's an immersive experience. You're not just going to a club where somebody's setting up some moving lights, and throwing in a DJ. Schematically, people are picking up on the [Masonic Temple] feel of this strange mix of carnival and secret society."
New attractions Dunivant says we can expect to see this year include a tightrope line between two chandeliers, so a tightrope walker will be walking above the crowd. "We're going to have some interaction with him," he says. "A devil will come out and get a chance to throw things at [him]."
As is the norm (for want of a better word), there will be all manner of carnival entertainment on hand, from creepy clowns and acrobats to jugglers, bands and burlesque dancers. Roxi D'Lite, an inductee in the Burlesque Hall of Fame, will be dancing and also managing the Dirty Devils Peep Show.
"All of the dancers come out of a giant devil's head and they dance on a long runway which is a serpent tongue," D'Lite says. "We have 19 burlesque performers from all over Canada and the United States. We had performers from as far as Italy and the United Kingdom last year. This year, our headline performer is Michelle L'amour from Chicago. We also have Russell Bruner from Portland, Kalani Kokonuts from Las Vegas, and myself, and we're all Burlesque Hall of Fame titleholders. It's a big year, and I'm really excited about it."
D'Lite doesn't want to give too much away about her own set, but, she says, "At 11:45 p.m., I'll be in the ballroom and we'll actually be having a procession. That's my act. It's going to be a lot of fun. I can't give too much away, but John [Dunivant] has been working hard on amazing artwork for it. I can't wait to share it all with you guys."
Theatre Bizarre takes place on Saturday, Oct. 19, but there will be a preview gala the night before — a first for the event. "That's more of an intimate event," Dunivant says. "Saturday night is jam-packed with people and you're going to miss a lot, no matter what. At the gala event, we'll lead you through the highlights and our headline performers, who will be spread out on Saturday. The gala will be more concentrated.
"We're also pushing a dress code: On Saturday, it's Halloween. So as long as you're in costume, you can come as whatever you want. On Friday, we want to push the immersion even more by having very specific outfits. Semi-formal or formal suits, tuxes, ball gowns and masquerade masks. There's an open bar for close to eight hours, as well as dinner included. We've never offered those things before," he says.
Another first this year is that Dunivant and the Theatre Bizarre were awarded a grant from the Knight Foundation, resulting in a welcome injection of cash. "One of the biggest problems with this project is that it's not sustainable," Dunivant says. "One of the reasons we're doing the preview night is to try to expand. Even with our sell-out capacity, we're still pushing performers and the crew too hard for very little return. To be able to pull off a project on this scale, based solely on ticket sales, we're just realizing our ceiling is a lot lower than we were expecting, compared to the cost. To have a little bit of help is cool, because this can't possibly last unless things change."
Dunivant has made every attempt to spread the word and expand, even going so far as to take a little bit of Theatre Bizarre to New York for an art show.
"The show was actually pieces inspired by the show by the State Fairgrounds getting shut down. The series that I did was called 'The Expatriate Parade,' because we were forced out of the grounds, our homeland," he says. "For my initial sketch, I was drawing a goat with a Ferris wheel on its back. This was a scapegoat, cast out of town. I did a series of paintings and sculptures, and I was able to bring some of the Theatre Bizarre performers to New York to perform a parade for the show, which was fantastic."
Theatre Bizarre will have its gala at the Masonic Temple on Friday, Oct. 18, and procession Saturday, Oct. 19, at 500 Temple St., Detroit; 313-832-7100. For more information, see theatrebizarre.com.
Click here to see a slideshow of Theatre Bizarre.
Brett Callwood is a staff writer for Metro Times. Send comments to him at [email protected]