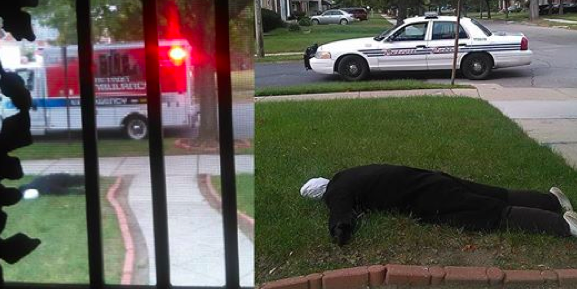 As this week's cover story argues,
Halloween is huge in Michigan
. And, what's more,
some people go absolutely bananas decorating their homes
, turning them into the ultimate scare-fests.
But usually, the scary stuff depicted includes witches, werewolves, vampires, and skeletons. You know, stuff that you never have to actually deal with.
Well, take a look at the Halloween display put up by Detroit resident Larethia Haddon. She's put up a bunch of dummies dramatizing such issues as carjacking, police brutality, gun violence, child stalkers, and even the quality of water in Flint.
You might remember Haddon, as she wass featured in a blog item last year. The article, entitled "
Putting a dummy face down in your yard in Detroit will draw police interest, sadden neighbors
," mostly focused on the way several people tried to help the poor dummy, even calling emergency responders.
It turns out that putting a body in the front yard is something Haddon does year after year. This year, Haddon has amped up the display with so many dummies and signs on what they signify that nobody will probably bother emergency services due to any misunderstanding.
The display has been up the whole month of October, and has drawn reporting from
the Detroit Free Press
,
local television
, ABC News, and now
Al Jazeera
.
Yes, it has shades of the "
hell house
," those Christian-run horror attractions that center on real-life problems and wind up with a proselytization pitch. But there's something very earnest about this display, which uses broadly depicted social issues to stimulate a more open-ended conversation, not a scare-tactic conversion.
Either way, we may have found our new favorite piece of outsider art.