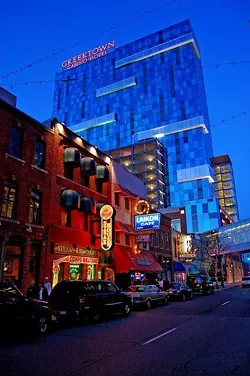 By the end of 2016 Greektown Casino will be no more. The casino is being rebranded as Jack Detroit Casino Hotel Greektown in order to be consistent with the three other gambling venues operated under Jack Entertainment LLC (formerly known as Rock Gaming LLC), a company owned by Dan Gilbert.
According to an article in
the Detroit News
, the casino and its three sister properties (Jack ThistleDown Racino outside Cleveland, former Horseshoe Cleveland and former Horseshoe Cincinnati) will undergo a $40 million rebranding that will include an interchangeable rewards system.
Gilbert's Jack Entertainment, who took control over the 16-year-old casino back in 2013, plans to keep with Greektown's legacy.
According to Jack Entertainment CEO Matt Cullen the rebranding is just about uniformity for the properties.
"We're not at all distancing ourselves from Greektown. It's a legacy we're proud of. We're not trying to move away from it. We just want all our properties linked under one banner," he told
the News
.