A brand new billboard has popped up in Dearborn Heights this week delivering the word of "God" (or at least the folks who run
thegoodlordabove.com
) to the good people of eastern Michigan: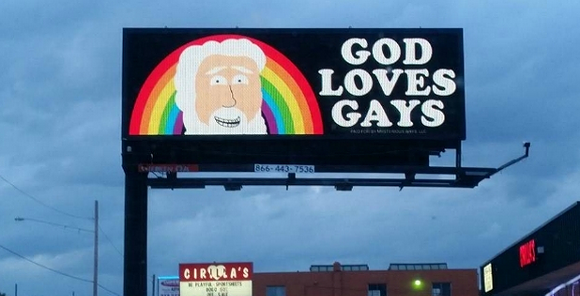 Located at 6850 N. Telegraph Rd., the billboard is a result of
a national fundraising effort
to spread goodwill across various U.S. cities, and to "show everyone that all humans are equal and loved by God."
From
YouCaring.com:
There are so many young LGBTQ kids who face daily bullying just for who they are. Sadly all too often LGBTQ teens take their own lives due to the extreme lack of acceptance they face from their family, religious institution, or bigoted bullies. It is extremely important that this message of love is spread throughout the world.
Dearborn Heights is the third city to receive such a billboard (others have been spotted in Orem, Utah and Salt Lake City, Utah), but what makes Michigan's message all the more potent is that it's plastered on the same digital billboard as
restrainthejudges.com
, a devoutly
anti
-gay organization: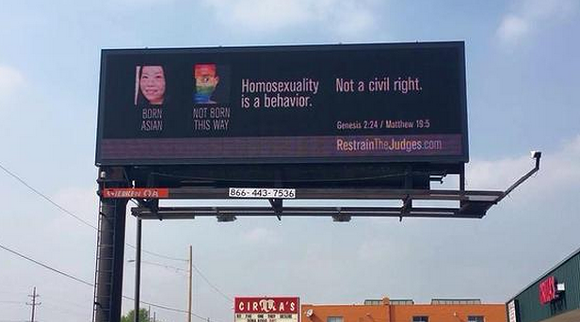 God's pretty pumped about it:
WOOHOO! Today we got a billboard up in Dearborn Heights, Michigan! It's rotating on the same digital billboard as one of those awful anti-gay messages. HOMOPHOBE SMITE!
Well said, friend.
Keep tabs on additional billboard locations and donate to the cause
right here
.