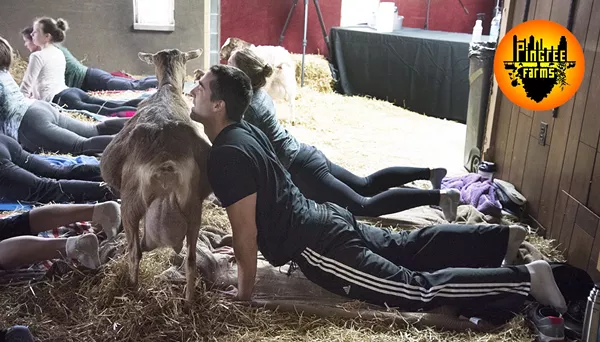 Metro Detroit yogis needn't look to far to find unusual pranic experiences. There's trap yoga, pot yoga, drunk yoga, hot yoga, rooftop yoga, and aerial yoga. There's yoga at Music Hall, and outdoor yoga at Movement.
There are myriad locations to practice regular old indoor yoga
. And there is goat yoga.
Goat yoga is the practice of laying your mat down on a straw-covered floor and doing your chaturangas while four-legged horned beasts roam the room. The goats reportedly nibble on yogis ears and do cute things like crawl up on top of you while you're attempting strenuous moves. It's adorable.
This goat yoga is led by a certified instructor and takes place at Pingree Farms in a "barn-like setting" near Seven Mild Road and I-75. The 45-minute class costs $27.50 and you get to hang out with the goats afterward.
The urban farm, a nonprofit that cares for livestock that are part of a Michigan State University 4-H program, uses the cash from goat yoga to support their programming. They also make and sell wool socks.
Spring goat yoga classes are scheduled from now until June 30. You can find a full schedule
here
.