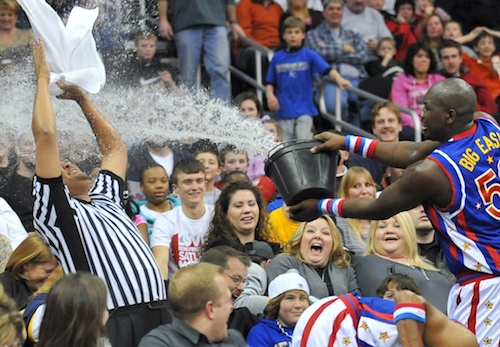 As the series of revelations regarding Flint's water crisis shows, it's a weird, topsy-turvy world. It's a world in which a buttoned-down fiscal conservative, Gov. Rick Snyder, is responsible for policies that led to something very serious. And it's a world in which those irrepressible jesters, the Harlem Globetrotters, are trying to be serious and responsible about their comedy antics.
If it all sounds weird, yes it is. We never imagined we'd utter "Rick Snyder" and "Harlem Globetrotters" in the same sentence, but we just received word from a spokesperson for the Globetrotters telling us that, "out of respect for Flint residents affected by the recent water crisis, the Globetrotters will remove their famous water bucket skit from the show."
So if seeing this particular comedy routine was on your "bucket list," you might want to think long and hard whether you'll see them when they appear at 7 p.m. Jan. 25, at Dort Federal Event Center.
What is this "bucket skit" anyway? We won't spoil the gag for you, but one part of it features a bucket of water that gets tossed on a referee, while audience members get splashed a bit. Undue splashing used to be the only controversy associated with this bit of comedy, but given the situation in Flint, water is suddenly freighted with all sorts of inflammatory meaning. Put it another way, the last thing they wanted audience members to think was, "Oh no, that isn't
Flint
water, is it?"
A spokesperson for the Harlem Globetrotters told us, "When there's a local crisis like this, and we have games coming in at the same time, we want to be sensitive to that community in any way." That's what played into the team's unusual decision to tweak their Flint performance. And it's also why the team has ensured that hundreds of free tickets have been made available to Flint residents.
Well, when you put it that way, it's hard to object to skipping the skit, or to letting people know that it's done on purpose.
After all, symbolism matters. And if a bunch of basketball show-stoppers know this, you'd think other people in higher positions should be aware of it as well.