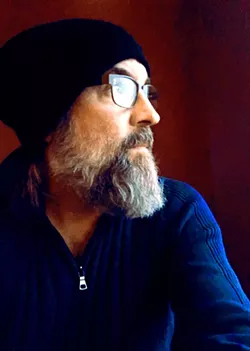 Glenn Barr will serve as the special guest artist at this year's 20th annual Dirty Show erotic art exhibition, event founder Jerry Vile tells
Metro Times
.
The longtime metro Detroit-based pop surrealist is the first local artist to serve as the show's special guest, a distinction that has been held by national and international artists like H.R. Giger, Bunny Yeager, David Černý, Colin Christian, and John Waters in the past.
But Vile says Barr is just as important as any of the event's previous distinguished guests.
"What we're looking for is somebody with name recognition that we liked. And when you start putting up names of painters that we really liked, Glenn Barr's name is right at the very top of the list," Vile tells
Metro Times.
"I mean, that's the art that influenced me most of all — the whole pop surrealist movement, those
Juxtapoz
artists. There's so many well-known artist that can't do erotic, and most of the pop surrealists can."
The former
Ren & Stimpy
background artist made a name for himself over the past two decades with a body of playful, retro-tinged paintings that oscillate between realistically rendered
noir
and sexually charged takes on Hanna-Barbera Saturday morning cartoon characters — and sometimes both in one painting. His work is associated with Los Angeles' influential La Luz de Jesus Gallery and helped make Detroit an important part of the pop surrealist movement.
"Glenn is probably the most perfect artist in the world for our 20th anniversary," Vile says. "Without Glenn, the Dirty Show might not even be here."
Vile says Barr will exhibit a special painting created just for the show, as well as multiple other works. Additionally, affordable limited edition fine art prints will be available at the Dirty Show gift shop, since Barr's highly sought paintings have commanded prices in the thousands of dollars for years now.
Another highlight is burlesque performer Dannie Diesel, better known as Danielle Colby from History Channel's
American Pickers
. Otherwise, Vile says to expect all the Dirty Show mainstays — erotic art in all mediums, spanking booths, bondage demonstrations, the "Daddy Hole" pop-up leather daddy bar, and more.
The Dirty Show is Feb. 8-10 and Feb. 14-16 at the Russell Industrial Center, 1600 Clay St., Detroit; The full schedule and more details are available at
dirtydetroit.com
; Tickets start at $40.
Get our top picks for the best events in Detroit every Thursday morning. Sign up for our events newsletter.