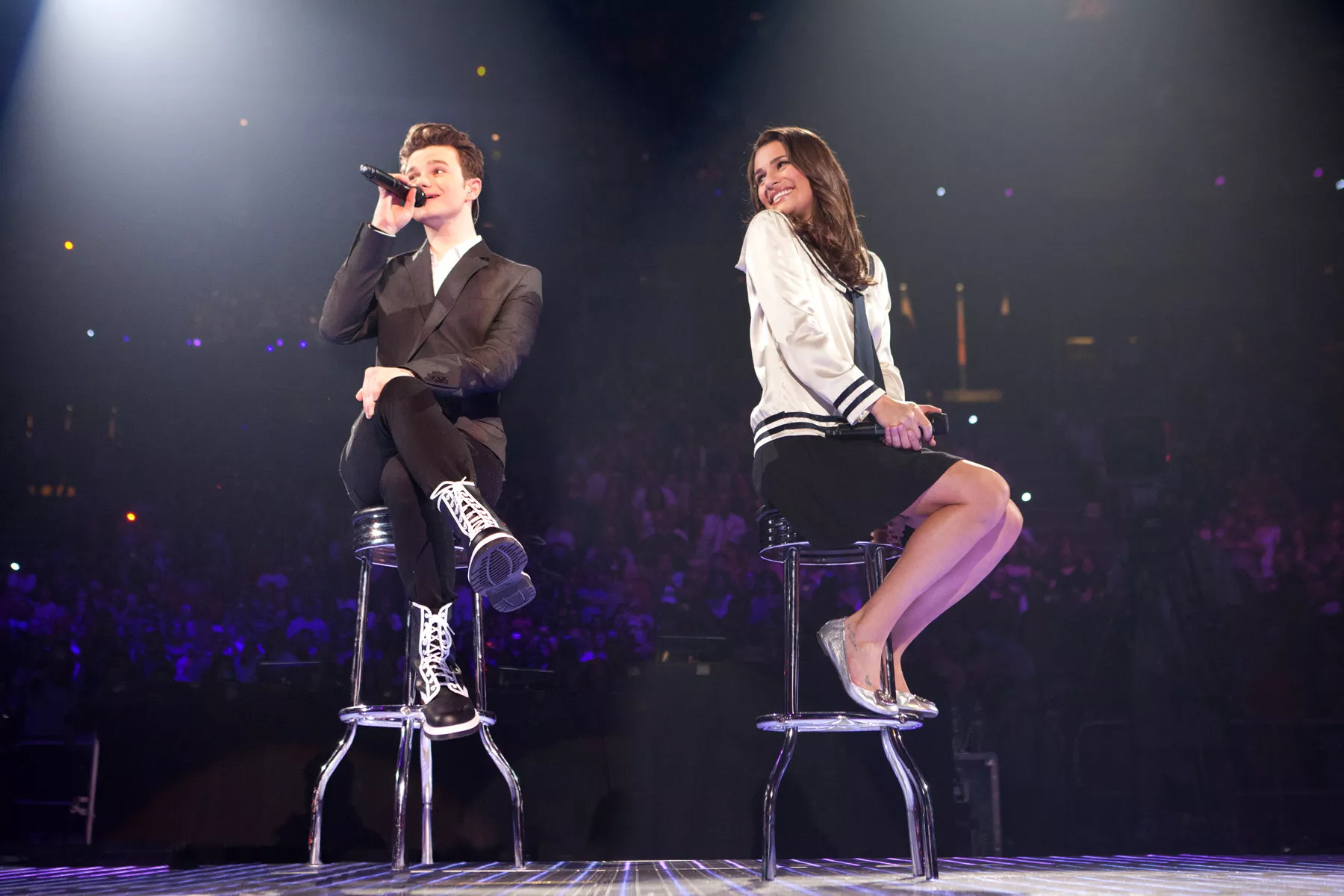 Glee: The 3-D Concert Movie
C+
Glee, at least in the first season, was the rare pop culture phenomenon that was smart, edgy and transgressive — a high school satire with bite and heart. Then it started taking itself seriously, creator Ryan Murphy contracted messianic diva syndrome, and media oversaturation began to drive all but the die-hard "gleeks" screaming off the bandwagon. So, with the bloom sagging, what better time to cash in with a glitzty, chintzy 3-D concert extravaganza?
North Korea couldn't choreograph a better pageant: Waves of jubilant multiethnic youth belting out hits from the capitalist hymnal. Free from the connecting tether of narrative, Glee becomes a blimp floating over a cheerful halftime show, sort of an Up With People 2.5. No one involved seems the least bit worried that a show about social outcasts has become an engine for conformity and consumption. How much of a weirdo can you really be if you're into Katy Perry?
On tour, the Glee experience has been scrubbed clean of any offending thoughts, yet the enthusiasm of the performers remains infectious. Watching the youthful cast (the adult regulars are nowhere to be found) bound around arena stages and warble pop standards amid glitter, lasers and pyro is a dizzying, tiring experience. The song selection, ranging from the Beatles to Rick Springfield, is eclectic and not too show tune-heavy, until ... oh, dear, sweet, merciful lord not another Streisand number! Yet here comes camera-conscious star Lea Michele, hamming her way through "Don't Rain on My Parade." Broadway vet Michele has all chops and tenacity to outlast the show's fame, though the same can't be said for some of her flatter-voiced co-stars.
There are bright spots: Amber Riley really wails on Aretha's "Ain't No Way," threatening to lend some authenticity to the proceedings. (Oddly, the cast remains in character backstage.)
The illusion is sort of shattered when wheelchair-bound Artie (Kevin McHale) jumps up for an aerobic take on " Safety Dance." While getting their hair done, the cast gets to improv a few gag lines, as when ditzy bombshell Brittney (Heather Morris) observes that her boobs will look great in 3-D. (She's right.)
The performances are intercut with a string of parking lot confessionals from the sweetly deluded teen faithful, who promote their favorites like delegates at a political convention. Out and proud Kurt (Chris Colfer) seems to inspire the most devotion, though Blaine (Darren Kriss) seems to be gaining on him in the heartthrob market. Reinforcing the show's all-inclusive "be who you are" message, we get longer looks a few super fans, like Janae, a plucky spirit who doesn't let her dwarfism get in the way of being a cheerleader, or going out for prom queen. We know she's getting the crowd, because this is Glee after all, where Lady Gaga's "Born This Way" is a mantra, a noble idea that will endure far beyond the show-biz hype.