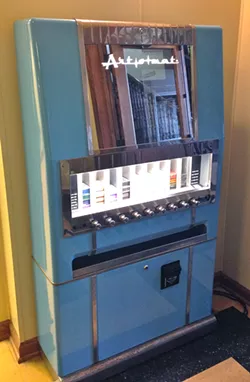 Art collecting is an expansive hobby to get into but the Downriver Council for the Arts and a worldwide collective of artists is making it a little more accessible for broke ass art lovers such as ourselves.
An Art-O-Mat, a retired and re-styled cigarette vending machine, is dispensing small pieces of art (jewelry, sculptures, collages, paintings, etc. made by over 400 artists from around the world) inside the DCA's building (an old Masonic Temple, which is cool in and of itself) in Wyandotte.
The Art-O-Mat is one of 130 similar vending machines that are located as far and wide as Las Vegas, Santa Fe, and Australia. Five of those 130 are located in Michigan, but the DCA's is the only one located in the metro Detroit area.
The DCA is located at 81 Chestnut St., Wyandotte. It's open to the public Tuesday-Saturday from 9 a.m. to 5 p.m.